---
Risk, Return and Responsibility
Risk, Return and Responsibility
Association of British Insurers
by Roger Cowe

SUMMARY
Corporate responsibility has advanced rapidly since the mid-1990s, and especially since the ABI published guidelines on corporate disclosure in 2001, designed to help institutional investors monitor corporate performance. But in general, financial markets have been slow to integrate the concepts into their assessments of risk and returns.

Companies have responded to the guidelines by beginning to publish useful information for investors, but more is needed from smaller public companies and more focus is required on what is material to each company, rather than general issues.

Early attempts to gauge the "business case" for corporate responsibility focused on revenue and cost benefits. But there is now greater awareness of the importance of risk as well as returns, including risk to reputation. Social, cultural, demographic and technological changes mean that social and environmental risks are now more significant than in the past and more volatile.

Growing awareness of the importance of corporate responsibility is a global trend, with significant developments in many markets, including Australia, South Africa and the US. The European Union has taken a close interest and created a Forum to advise on necessary action.

Three important trends are beginning to make it easier for investors to address these issues:

– attention to corporate responsibility has spread from a relatively small group of highly-exposed companies through the business world.

– it has begun to penetrate into the core of businesses rather than being concerned with relatively peripheral issues

– companies have begun to identify issues which are specific to themselves and their sectors

An emerging set of standards is beginning to build a general approach to reporting on corporate responsibility, but specific impacts are likely to be most important for investors. These will be addressed in the UK in a new Operating and Financial Review (OFR).

UK pension funds have been encouraged to address social, ethical and environmental (SEE) issues since the amendment to the Pensions Act came into force in 2000, but have been slow to translate statements of principle into specific mandates for investment managers.

A confluence of corporate governance and socially responsible investing (SRI) has stimulated activity in financial markets. As well as developing analytical skills, investment managers are also collaborating in specific areas, notably climate change.

Research has shown that incorporating social responsibility can reduce portfolio volatility and increase returns. The evidence is not conclusive, but rejects the view that screening will damage the risk/return performance by narrowing the available investment universe.

SRI is seen increasingly as an investment style, but one which can add value to other styles such as value or growth.

Most SRI activity "engages" with companies on their corporate responsibility, rather than screening for companies which meet or fail specific criteria. Evidence suggests that this kind of approach, which integrates analysis of social and financial performance, can yield the best results for equity portfolios.

These results also apply to bonds and credit ratings.

So far as underlying corporate performance is concerned, risk aspects of corporate responsibility are as important as bottom line impacts. Companies need to incorporate these matters into strategic risk management, because they can have important implications for drivers such as brand value, market acceptability, human capital and new fields such as biotechnology or nanotechnology.

Many companies are not yet managing these systemic risks adequately, posing threats to shareholder value which investors need to take into account.

Many studies have found direct financial benefits for companies embracing corporate responsibility. Although the evidence is not conclusive, it strongly suggests benefits in areas such as corporate reputation, consumer acceptance, employee loyalty and environmental management.

The benefits are not uniform across all companies or sectors, which makes it more important for investors and financial analysts to understand which companies are most affected and which are most effective at managing corporate responsibility.You can download the full report as a *.pdf : click here


CoreRatings' weightings of the four risk areas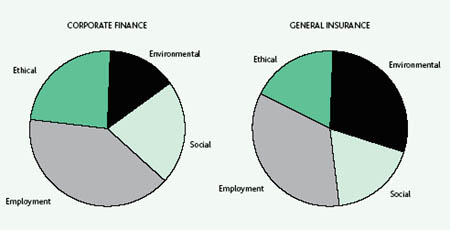 Summit for the Future 2006 on Risk May 3-5

Knowledge Stream:
Corporate Governance
Corporate Governance & Political and Economical Risk
Good governance continues to gain prominence in public debate but it is not clear how this can be provided on a global scale or what institutions are necessary for it to emerge. Global companies balance risks that are economical & political, research-based, market-oriented, organizational and technical. What does this mean for the board of directors – in terms of board composition, the duties of its members, their level of commitment and remuneration? And in terms of capacity for ongoing self-transformation? What does this mean for the sustainable creation of value – for the company, its stakeholders, clients and society at large?

The keynote speakers are
David Gutmann, Chairman, Praxis International, Advisers in Leadership
They Shoot Horses, Don't They?
Pierre Delsaux, acting Director, DG Internal Market, EU Commission, Free movement of Capital, Company Law and Corporate Governance
Elisabet Sahtouris, Evolution Biologist, Futurist, Living Systems Design
The Biology of Business: Key to a Sustainable Future
Jaap Winter, Partner, De Brauw Blackstone Westbroek
The power of uncertainty: non-mandatory corporate governance rules

And the catalysts: Neville Hobson, Accredited Communication Practitioner, ABC [Trend Watcher], Geoffrey Klempner, Philosophy for Business [Philosopher] and Clare Huffington, Director, Tavistock Consultancy Service [Psychologist]

Moderated by Erika Stern, Utrecht School of Governance
Club of Amsterdam blog

January 04: How now wit! Whither wander you?
January 04: Review: The Future of Software Architecture
January 02: the future of Futurist Tools
December 02: Summit for the Future 2006 on Risk
News about the future of Corporate Governance

Doing Business
The Doing Business database provides objective measures of business regulations and their enforcement. The Doing Business indicators are comparable across 155 economies. They indicate the regulatory costs of business and can be used to analyze specific regulations that enhance or constrain investment, productivity and growth.

CG Watch 2005
In late 2005, ACGA and CLSA Asia-Pacific Markets released "CG Watch 2005", our third joint annual survey of corporate governance in Asia (and the sixth that CLSA has carried out). Titled "The Holy Grail", the report assesses the quality of corporate governance in 10 Asian markets and provides aggregate data from 496 listed companies.
Major results include:
– Singapore remains in first place at 70%, but is now only fractionally ahead of Hong Kong at 69%. Singapore's score fell five percentage points this year.
– India and Malaysia remain in third and fourth place, respectively, at 61% and 56%.
– Taiwan's ranking has moved up from sixth to fifth – at 52%.
– Korea has slipped below Taiwan and shares sixth place with Thailand – at 50%. While the scores for both Korea and Thailand fell this year, Korea's score fell the most.
– The last three countries in the survey are, once again, the Philippines (46%), China (44%) and Indonesia (37%). China continues to score slightly lower than the Philippines on account of its generally weaker body of CG laws and rules and, in particular, its accounting and auditing standards. But we think that their relative rankings will change over the next few years.
News about the future
Transgenic Trees
by Center for International Forestry Research (CIFOR)

"The first genetically modified trees were produced in 1987, and by 1998 there had been at least 116 confirmed GM tree trials around the world.28 Organisations such as Greenpeace and Friends of the Earth, which have long expressed their fears about GMOs in agriculture, have been joined in their campaigns against 'Frankentrees' by groups like the Native Forest Network, which claims that 'native forests … are threatened worldwide by genetically engineered tree plantations.' But are they?

There are a variety of reasons why biotechnologists are attempting to develop genetically modified trees. Around a third of a plant's energy supply is used in reproduction, and researchers hope that the introduction of sterility into transgenic – genetically modified – trees might help to improve growth rates. Biotechnologists are also looking for genes that code for the enzyme that breaks down lignin. Up to a third of a tree's dry weight is lignin, which must be removed at considerable cost when pulpwood is turned into paper. Plantations of low-lignin trees could help reduce pulping costs. It is claimed that this would also be good for the environment, as lignin removal is an environmentally hazardous process. The possibility of inserting herbicide-resistant genes into trees is also attracting considerable attention. There is the possibility, too, that genes could be inserted into trees to endow them with resistance to insect pests. This means that trees would manufacture their own insecticide, which would be good both for the bottom line and for the environment.

TV to dominate future home entertainment spending
by Informa Telecoms & Media

New research shows that the world's households each spend an average of $182.4 on home entertainment. This is set to rise to $225 by 2010, and means there will be an average increase of 4.7% for every year since 2000.

Global average annual spend by home entertainment category ($)
| | | | |
| --- | --- | --- | --- |
| | 2000 | 2005 | 2010 |
| Music | 33.5 | 29.4 | 33.1 |
| TV | 61.8 | 90.1 | 119.0 |
| Game | 13.4 | 20.8 | 29.8 |
| Film | 33.9 | 42.0 | 43.2 |
| Total | 142.6 | 182.4 | 225.1 |
Next Event: Wednesday, January 25, 16:30-19:15
the future of Futurist Tools how to improve your strategy and planning processes

Wednesday, January 25, 2006
Registration: 16:00-16:30, Conference: 16:30-19:15
Where: PricewaterhouseCoopers, De Entree 201, 1101 HG Amsterdam Zuidoost, [next to the football stadium Arena]

With
Michael Jackson, Chairman, Shaping Tomorrow:
Business Futures in a Digital Age
Patrick Crehan, CEO and Founder, Crehan, Kusano & Associates, Director, Club of Amsterdam:
The Death of A Strategist
George Pór, Founder, CommunityIntelligence Ltd.:
The New Wave of Futuring: Co-Sensing –> Co-Presencing –> Co-Creating
and our Moderator Bert van Lamoen, Dean, EBBS International Business School
slowLab
slowLab
slowLab is a not-for-profit organization based in New York City and with activities worldwide.

The mission of the organization is to promote 'slowness' as a positive catalyst of individual, socio-cultural and environmental well-being, engaging the innate creative capacities of individuals and leveraging the collaborative potential of communities to spur networks of cooperation that incite new thinking and approaches.

To achieve this, slowLab has initiated and is growing a network of creative, civic-minded individuals from all areas the general public to exchange ideas and resources, share knowledge and cooperatively develop projects that positively impact the lives of individuals, the communities they participate in and the planet that we share.

projects recommended by slowLab: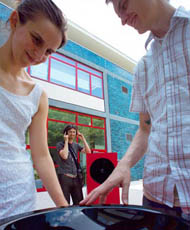 Architecture of Subtraction was the thesis of architect Karmen Franinovic at Interaction Design Institute Ivrea. Franinovic developed a collection of projects to explore ways that technologically-enhanced interaction between humans and environment can impact our perception of place and social interaction in cities, with the goal of engendering "experiences of subtraction" in the midst of the fast-moving urban flow.

The Recycled Soundscape project (shown at left) was designed as a system through which to explore the auditory aspects of experience in the city, while offering relief through sound and relational design. The project, subtitled 'Sonic Relaxation and Play in the City,' consists of 'a set of kinetic, human-scale interfaces' which seek to facilitate reflective activity in the public sphere. Engaged in diversions and concentrations of attention within the sonic context of a specific location, people are invited to augment, modify and perform acoustic landscapes by playing with surrounding sounds, tuning the composition of a sonic environment, and listening to/recording noises (human, natural, machine, electronic) that are otherwise difficult to take notice of. The result is 'an interactive system for public orchestration of an urban sound ecology' where anyone can transform the existing sonic characteristics of a place over time, recomposing its 'evolving memory in sound'.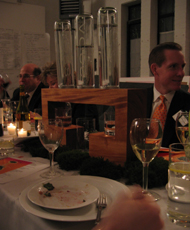 The result of a 2-day slow design charrette at the Cranbrook Academy of Art, 3D graduate students Mark Moskovitz, Jada Schumacher and Fei Zha worked together to create Slow Water, an exploration of slow design at the dinner table.

The students examined the perceived value of water to humanity and how in cultures that have a surplus, there is often an instant gratification and lack of thought given to water consumption. They created a product that allowed for a build-up in anticipation rather than a sense of entitlement as it relates to drinking water.

This table water system delivers water at a speed determined by the liveliness and activity at the table itself. When conversation and movement flow, so does the water, as the vibrations are translated from the table to the "fountain."

The project presents a new program for the 'on/off' switch while also enabling, through its sculptural form, a pause for contemplation of one of the most vital elements in life.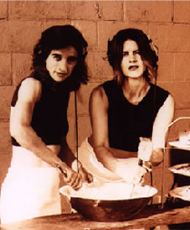 The exquisitely slow dj project Scratch'nSniff "mixes and bakes" ambient soundscapes, while at the same time mixing and baking delicious cookies for the people who come to hear them.

Scratch 'n Sniff is two women: Serena Jost of Switzerland and German native Cassis Birgit Staudt, both now living in New York. Unlike most dj's, these two have the utmost respect for the source of intellectual property -a noble model for the dj crowd and for the digital realm in general!

The dj duo fosters relationships with a small group of innovative composers and solely combines their source material with public domain sounds from nature, the city, or real-time sonic material in the immediate vicinity of their set. The result is a lovely ambient mix that, along with the smell of fresh-baked cookies, creates an inviting atmosphere of comfort and slow-ness.
Summit for the Future blog

Summit for the Future blog
http://summitforthefuture.blogspot.com

January 05: Asian Leadership in Trade and Associated Risks
December 04: Strategic Leadership: Achieving Your Preferred Future
December 04: Finding Spiritual Courage
December 04: Thinkers 50
December 04: Risk: The Human Adventure
December 04: Summit for the Future 2006 on Risk
Recommended Book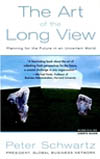 The Art of the Long View: Planning for the Future in an Uncertain World
by Peter Schwartz
"Artful scenario spinning is a form of convergent thinking about divergent futures. It ensures that you are not always right about the future but-better-that you are almost never wrong about the future. The technology is powerful, simple, and enjoyable, and so is Schwartz's book." -Stewart Brand What increasingly affects all of us, whether professional planners or individuals preparing for a better future, is not the tangibles of life-bottom-line numbers, for instance-but the intangibles: our hopes and fears, our beliefs and dreams. Only stories-scenarios-and our ability to visualize different kinds of futures adequately capture these intangibles. In The Art of the Long View, now for the first time in paperback and with the addition of an all-new User's Guide, Peter Schwartz outlines the "scenaric" approach, giving you the tools for developing a strategic vision within your business. Schwartz describes the new techniques, originally developed within Royal/Dutch Shell, based on many of his firsthand scenario exercises with the world's leading institutions and companies, including the White House, EPA, BellSouth, PG&E, and the International Stock Exchange.
Future face of knowledge transfer
INNOVATION, RESEARCH
Future face of knowledge transfer
Source: ProTon Europe
Achieving the EU's Lisbon goals of becoming the world's knowledge powerhouse means, among other things, being able to transfer know-how from its birthplace in Europe's labs and universities to where it can be put to good use in industry. Knowledge transfer offices (KTO) have traditionally served this purpose well, but as delegates at a recent conference learned, universities are looking at faster, more pervasive ways to deliver their 'knowledge' product to market.

Nicolaus Copernicus, Johannes Kepler, Isaac Newton, Marie Curie and in more recent times the internet Godfather Tim Berners-Lee are names synonymous with scientific greatness. European inventions put steam into the industrial revolution and drive some of the core systems in the 21st century's own industrial revolution – the telecommunications boom. While displaying guts and determination in the laboratory, Europeans' stomach for entrepreneurship and innovation – converting research to products and services – is not as strong as their counterparts in the USA and some other knowledge-creating regions of the world.

Why is this so? Delegates at the ProTon Europe 3rd Annual Conference in Berlin last month heard from a range of experts that Europe has reason to be optimistic, but also a little pessimistic about its innovation system's performance as global competition for finance 'hots up'. Entrepreneurs especially bemoan the funding gap – unflatteringly called "Death Valley" – they face in the early stages of growing a tech-based company in Europe. Venture capitalists who might fill this gap site the poor and sometimes negative returns on such investments as reason to steer clear of riskier start-ups.

Knowledge transfer specialists, working in universities, incubators and tech centres, speak of the difficulty in switching researchers' mindsets from 'investigator' to 'entrepreneur' mode – learning how to develop the business end of the innovation and to handle the intellectual property (IP) aspects, in particular.

Metal to gold
According to ProTon Europe, knowledge transfer in Europe increasingly requires a means of integrating intellectual property management into the scientific and business skills mix. Delegates at the Berlin event learned of the importance of introducing senior management into start-ups at the right time to help them tune their business and investment plan in line with technological development plans.

In the past decade or so, knowledge transfer offices have sprung up across Europe to provide university spin-offs with a range of services, from basic financial and IP advice through to full-service incubation and mentoring to budding entrepreneurs. But the idea of a physical 'office' where a bright young chemist would pitch her method for converting base metal to gold is not, it appears, how Europe will become the world's knowledge fortress.

John Latham who heads Coventry University Enterprise (CUE) told delegates that Coventry University (UK) has turned the KTO concept on its head. It set up a KTO because it was what universities were doing a decade ago. But times are a changing, he suggested.

"Now, it's not somewhere people go," he said, "but something more pervasive." Knowledge transfer in Coventry is now a function of the way people think. Taking the MIT model in the USA, which uses industry liaison people to scout and develop ideas, as inspiration, CUE is proactive in seeking out new opportunities to develop the university's know-how. And the approach has proven very successful. Although wholly owned by the university, CUE is an economic player in its own right, with around €15 million per annum turnover and a staff of 125 and growing.

Latham said knowledge transfers needs to be built into the core curriculum, with professors encouraged to act as external consultants and not bound by internal red tape. This boosts their real-world skills as well as the university's credentials and reach in the community.

KTOs of the future, he opined, should be pervasive not cordoned off in a musty room – and they must be underpinned by an "ours not mine" attitude. They should have authority to act, be given appropriate targets and be prepared to engage with the community. And if seen as an "investment not a cost", the returns to the university – and, indeed, the KTO itself – should be sustainable, he suggested.
The Eden Project
The Eden Project

What's Eden all about?
'To promote the understanding and responsible management of the vital relationship between plants, people and resources leading to a sustainable future for all'.

The Eden Project was established as one of the landmark Millennium projects in the UK to mark the year 2000 and is structured as an educational charitable trust.

"The Trust's interests lie in explaining how the natural world works seen through the lens of plants, exploring how people might best organise themselves in the face of this knowledge and thereby reach an understanding of what sustainability might mean and, through best practice of these principles, create an organisation that is sustainable to act as a model for others." (Tim Smit, CEO).

The Eden Project communicates its story in a 'Living Theatre of Plants and People' based in a large crater in which nestle two vast greenhouses (Biomes). These house plants, crops and landscapes from the humid tropics and warm temperate regions and act as a backdrop to the temperate landscape, which we call the Outdoor Biome. Eden uses exhibitions, art, storytelling, workshops, lectures and events to put messages across to both the public and formal education groups. The underlying concept presents to the widest possible public audience the need for environmental care through a celebration of what nature gives to us. Eden is demonstrating behaviour change on site, holding a mirror to our values and civilisation and encouraging respect for the things that sustain us.

The Eden Trust is the registered charity that owns the Eden Project. Money raised by the project is used to further its charitable aims. As a registered charitable trust we qualify for Gift Aid, where the government gives us 28p for every pound donated to us.

Eden is not for sale, it belongs to everyone. The Trust is unique in that it has deliberately set out to operate in the commercial arena. This is because we believe that only by demonstrating that ethical commerce is viable that we can affect real change in the global businesses that we would like to influence. We started locally with more than 200 suppliers and in our first year of trading put around £150 million of additional revenue into the local economy and have laid the foundations for concerted strategic action among our suppliers to deliver social and environmental benefits such as Waste Neutral.
Club of Amsterdam Agenda



Club of Amsterdam Open Business Club

Club of Amsterdam Open Business Club
Are you interested in networking, sharing visions, ideas about your future, the future of your industry, society, discussing issues, which are relevant for yourself as well as for the 'global' community? The future starts now – join our online platform …