---
The Future Belongs to Those Who…
The Future Belongs to Those Who…
A guide for thinking about the future
by Institute for Alternative Futures

WHY THINK ABOUT THE FUTURE?

The future is fundamentally uncertain, yet there are discernable directions, even if signs point to conflicting and multiple outcomes. For some, uncertainty justifies not thinking about the future, while for others the uncertainty is a source of opportunity. Without a concerted effort to be future-focused, organizations run grave risks of diminished importance or even oblivion in the fluctuating world of the early 21st century. Thinking about the future increases the likelihood of success in the long run.
All of our experience is with the past, but all of our decisions are about the future. Many people have assumed that their past experience is a fairly reliable guide to the future—the future will simply be a bigger and better version of the world with which they are familiar. However, the pace of change now makes it clear to thoughtful people that continuity can no longer be taken for granted. In area after area today, we are confronted by true uncertainty: we really do not know what will happen, but we know it is going to happen more quickly.
The future cannot be predicted. The word "futures" in futures studies is plural because there is no one preordained future that is fated to occur. Rather, there are many different possible alternative futures. Instead of predicting what the future will be, futurists use a wide range of methodologies to engage in structured and thoughtful speculation about future possibilities. This helps people prepare for whatever future comes, and positions them to be more able to create the future they prefer. Some of the methods futurists use to help organizations think about the future follow.


Club of Amsterdam blog

January 04: How now wit! Whither wander you?
January 04: Review: The future of Software Architecture
January 02: the future of Futurist Tools
December 02: Summit for the Future 2006 on Risk
News about the future of Healthcare
Drug Firms Make More Study Results Public
By The Associated Press
Drug companies are making public more information about medical studies they are conducting, but some still withhold key details, a new analysis of a federal registry finds.
Merck & Co., stung by allegations that it hid information on Vioxx's dangers, gets somewhat better marks in the new analysis than it did in an earlier one. However, Pfizer Inc., GlaxoSmithKline PLC and Novartis are lagging, according to the report in the New England Journal of Medicine.
The registry was created in 2000 as part of an overhaul of the US Food and Drug Administration monitoring. It requires certain types of studies to be listed, such as late-stage experiments involving life-threatening illnesses like cancer.
But it didn't get wide participation from industry or many voluntary listings until September 2004, when editors of leading medical journals said they would no longer publish results of any studies that were not first listed in a public registry.


Thinking the pain away?

A University of Michigan study brain-scan study shows the body's own painkillers may cause the "placebo effect".

The study provides the first direct evidence that the brain's own pain-fighting chemicals, called endorphins, play a role in the phenomenon known as the placebo effect – and that this response corresponds with a reduction in feelings of pain.

Previous studies at U-M and elsewhere have shown that the brain reacts physically when a person is given a sham pain treatment, which they believe will help them.

But the new study is the first to pinpoint a specific brain chemistry mechanism for a pain-related placebo effect. It may help explain why so many people say they get relief from therapies and remedies with no actual physical benefit. And, it may lead to better use of cognitive, or psychological, therapy for people with chronic pain.
News about the future

Each year 10,000 people take the MENSA IQ test – 2,500 pass to become members. Over the last century, the UK's average IQ has risen about 3 points every decade

NASA's Aerospace Technology Enterprise Goals for General Aviation
"NASA isn't just involved with space exploration. NASA also is involved with the Federal Aviation Administration (FAA) in programs to develop a range of new technologies to protect America's leadership role in aviation, including General Aviation (GA)."
Invigorate the general aviation industry, delivering 10,000 aircraft annually within 10 years, and 20,000 aircraft annually within 25 years.
Next Event: Wednesday, January 25, 16:30-19:15
the future of Futurist Tools how to improve your strategy and planning processes

Wednesday, January 25, 2006
Registration: 16:00-16:30, Conference: 16:30-19:15
Where: PricewaterhouseCoopers, De Entree 201, 1101 HG Amsterdam Zuidoost, [next to the football stadium Arena]

With
Michael Jackson, Chairman, Shaping Tomorrow:
Business Futures in a Digital Age
Patrick Crehan, CEO and Founder, Crehan, Kusano & Associates, Director, Club of Amsterdam:
The Death of A Strategist
George Pór, Founder, CommunityIntelligence Ltd.:
The New Wave of Futuring: Co-Sensing –> Co-Presencing –> Co-Creating
and our Moderator Bert van Lamoen, Dean, EBBS International Business School
Health And Wellness Healthcare Products in The Netherlands
Health And Wellness Healthcare Products in The Netherlands
by Euromonitor
Executive Summary
Few specific legal requirements for health and wellness medicines
Normal registration procedures apply for health and wellness medicines, although products may not be classed as medicines if they make no specific medical claims. During 2005, the EU directive on food supplements will come into effect in the Netherlands and there is also discussion about the possibility of imposing new regulations on products formulated for children within the Dutch government.
Market being driven by growing interest in self-medication
Growth in the Dutch OTC health and wellness market is being driven by interest in self-medication and preventative therapies, with these changes being driven primarily by the soaring costs of health care in the Netherlands. This is particularly evident in vitamins and dietary supplements. One sector that is being driven by trends other than these is slimming products, where growth is resulting from increased awareness of health problems associated with excessive weight. Specific diet programmes are not popular in the Netherlands, with dieters preferring to make up their own programmes, which include meal replacement products.
Vitamins and dietary supplements most important sector
Vitamins and dietary supplements is the most important sector for both the OTC health and wellness market in the Netherlands and the overall OTC market as a whole, and these products are also showing the highest levels of growth. Growth for vitamins has been driven by expansions to the range of multivitamins and single vitamins offered by manufacturers, especially in products formulated for specific target groups or for treating specific ailments. Child-specific formulations have shown good growth levels, albeit from a low level of sales. However, volume has grown faster than value owing to heavy discounting in the Netherlands as a result of price wars in the retail sector that began in 2004. Dietary supplements are growing in importance, driven by increased sales of products for warding off seasonal ailments and those formulated for ailments associated with age. Dietary supplements will continue to show strong growth in the future.
Interest in herbal and traditional products low
The continued importance of homeopathic remedies in preference to herbal products means that sales of herbal products form a relatively minor share of OTC healthcare sales. Only within dietary supplements do herbal products dominate, constituting around 65% of sales in 2004. However, interest is growing in herbal medicines, with sales in cough, cold and allergy remedies in particular showing good levels of growth. This growth is being driven by increased interest in preventative medicine owing to rapidly rising costs of health care in the Netherlands. Within dietary supplements, interest in products for warding off seasonal ailments is driving sales growth, as well as rising levels of interest in products formulated for conditions generally affecting the elderly.
Meal replacement products drive growth in slimming products
Meal replacement slimming products performed strongly over the review period, although few meal replacement products make any kind of medicinal claims. Sales benefited from the move to self-selection of these products in outlets from mid-2002 onwards. With regards to other types of slimming products such as slimming tablets, consumers do not generally feel that these products are effective and many will just buy them once. Going forward, growth will be strong for slimming products as awareness of overweight and obesity problems grows, but growth will be lower than in 2003 and 2004 as consumers increasingly choose healthier diets, rather than resorting to expensive, quick fixes.
Summit for the Future 2006 on Risk May 3-5

Knowledge Stream:
Healthcare
The most important thing for the future of healthcare is health and how medical practice fulfill the need of the core resource for the future: the self-perceived increasing quality of life. Health has gone from 'not being ill' to a quality, a potential. People will invest in this asset, not only in financial terms.
The extent to which healthcare transformation is taking place varies from countries to countries and regions in parallel with their economic status. Integration of evidence-based preventional and complimentary strategies into mainstream practice will be required to save the healthcare system in an aging society. As countries strengthen their economies they will also have the possibility to adapt their healthcare systems to meet the needs of the people. More and more people will be looking for services that will help understanding one's individual health profile and how this impacts personalised anti-aging and wellness strategies.
There will be an increasing demand for affordable approaches for high-risk identification, early detection and effective risk factor allocation. Healthcare is becoming detached from the purely physical, from purely functional disorders. It will be focusing more and more on the whole person, on putting physical, mental and spiritual fragments back together. Healthcare policy makers need to be aware of these new developments and decisions need to made what healthcare research and what policies need to be implemented as a priority.
The keynote speakers are
Chris De Bruijn, Chairman, Foundation, International Molecular Medicine Forum – IMMF: "My Genes, My Health"
Coenraad K. van Kalken, General Director, NDDO, Director, National Institute for Prevention and Early Diagnostics (NIPED): NIPED Prevention Passport
Gustav Dobos, Chair for Complementary and Integrative Medicine, University Duisburg-Essen, Germany: Integrating evidence based complimentary medicine into mainstream medicine
Mercedes Lassus, Founder, Director, M Lassus Consulting Srl: Oncology prevention and early detection strategies
Summit for the Future blog

Summit for the Future blog
http://summitforthefuture.blogspot.com

January 05: Asian Leadership in Trade and Associated Risks
December 04: Strategic Leadership: Achieving Your Preferred Future
December 04: Finding Spiritual Courage
December 04: Thinkers 50
December 04: Risk: The Human Adventure
December 04: Summit for the Future 2006 on Risk
Recommended Book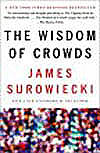 The Wisdom of Crowds
by James Surowiecki
In this endlessly fascinating book, New Yorker columnist James Surowiecki explores a deceptively simple idea that has profound implications: large groups of people are smarter than an elite few, no matter how brilliant – better at solving problems, fostering innovation, coming to wise decisions, even predicting the future.
This seemingly counterintuitive notion has endless and major ramifications for how businesses operate, how knowledge is advanced, how economies are (or should be) organized and how we live our daily lives. With seemingly boundless erudition and in delightfully clear prose, Surowiecki ranges across fields as diverse as popular culture, psychology, ant biology, economic behaviorism, artificial intelligence, military history and political theory to show just how this principle operates in the real world.
Despite the sophistication of his arguments, Surowiecki presents them in a wonderfully entertaining manner. The examples he uses are all down-to-earth, surprising, and fun to ponder. Why is the line in which you're standing always the longest? Why is it that you can buy a screw anywhere in the world and it will fit a bolt bought ten-thousand miles away? Why is network television so awful? If you had to meet someone in Paris on a specific day but had no way of contacting them, when and where would you meet? Why are there traffic jams? What's the best way to win money on a game show? Why, when you walk into a convenience store at 2:00 A.M. to buy a quart of orange juice, is it there waiting for you? What do Hollywood mafia movies have to teach us about why corporations exist?
The Wisdom of Crowds is a brilliant but accessible biography of an idea, one with important lessons for how we live our lives, select our leaders, conduct our business, and think about our world.
The micro compact home
The micro compact home
The micro compact home [m-ch] is a lightweight, modular and mobile minimal dwelling for one or two people. Its compact dimensions of 2.6m cube adapt it to a variety of sites and circumstances, and its functioning spaces of sleeping, working – dining, cooking, and hygiene make it suitable for everyday use.

Informed by aviation and automotive design and manufactured at the micro compact home production centre in Austria, the m-ch can be delivered throughout Europe with project individual graphics and interior finishes.

The design of the micro compact home has been informed by the classic scale and order of a Japanese tea house, combined with advanced concepts and technologies in Europe.

The tiny cube provides a double bed on an upper level and working table and dining space for four or five people on a lower level. The kitchen bar is accordingly arranged to serve these two levels. The entrance lobby has triple use and functions as a bathroom and drying space for clothing. Storage is provided off each of these four functioning spaces.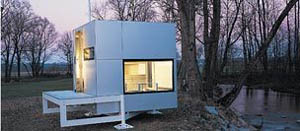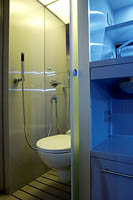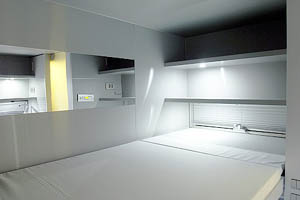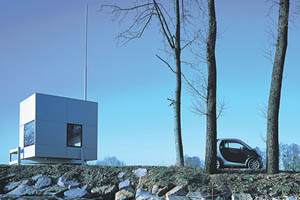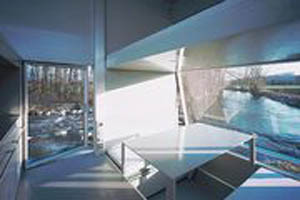 O2 student village

Club of Amsterdam Agenda


Club of Amsterdam Open Business Club

Club of Amsterdam Open Business Club
Are you interested in networking, sharing visions, ideas about your future, the future of your industry, society, discussing issues, which are relevant for yourself as well as for the 'global' community? The future starts now – join our online platform …