Corporate Longitude: What You Need to Know to Navigate the Knowledge Economy


Leif Edvinsson
CEO, Universal Networking Intellectual Capital
Corporate Longitude: What You Need to Know to Navigate the Knowledge Economy
By Leif Edvinsson
Leif Edvinsson is a keynote speaker at our Summit for the Future on Risk [May 3-5, 2006] in the Life Science Knowledge Stream. He is considered the world's leading intellectual capital 'guru'.
It is wise to have some idea of where you are going.

In the knowledge economy it's equally important to be prepared to change direction at a moment's notice.
In business, we too often know all about our latest financial position without having any idea of our real or potential position. Do you know where you're going in the knowledge economomy?
Where do we register the resignation of a key person? Where do we register the loss of a key customer? or the success of a key project? The measures by which we all manage only give us half an understanding of where we are or where we're going.
In 1675, King Charles II of England set up the Royal Observatory, tasked with finding a method of accurately determining longitude at sea.
A similar challenge currently faces the business world.

Modern corporations habitually calibrate along a single measure: a financial one. This is corporate latitude. The trouble is that it only gives part of the picture, only half of the co-ordinates required to know their precise location and to map out the route to their destination. Without a practicable method for measuring corporate longitude – a measurement for intellectual capital – companies are unable to locate their true position or chart a meaningful course.
Intellectual capital is a combination of human capital – the brains, skills, insights and potential of those in an organization – and structured capital – wrapped up in customers, processes, databases, brands and systems. It is the only meaningful way to gauge the potential energy of a company.
Corporate Longitude provides a way to measure these intangibles as well as the financial facts, and to navigate accurately through the turbulent waters of business.
With the rise of the knowldge economy, the search for corporate longitude is on. The the founding guru of intellectual capital knows where to find it, and here provdes a compass for the entrepreneurial knowledge leader. Find out how intelligent enterprising will set apart the new navigators of knowldge markets.

"Our journey in Corporate Longitude has a number of important markers. The first is that I believe there is a new commercial reality — knowledge economics — which transforms the concept of value and of value creation. Intangibles, such as intelligence, brands, trust and networks, are the driving force of knowledge economics."
"The rise of knowledge economics highlights a mismatch between current financial reporting systems and intellectual assets – these I see as akin to corporate latitude and corporate longitude. One without the other gets us nowhere."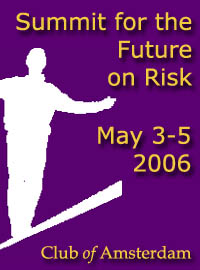 News about the future of Life Sciences
Simile Life Sciences
Life science is, at root, a collaborative discipline. Each scientist draws upon the canon of knowledge, established through experimentation and verified through peer review and publication. But modern technological approaches to managing data and papers in the life sciences in many cases can make the discovery process harder. Data is stored in different formats, exposed in different interfaces, and knowledge is locked up in document formats that don't bring the full power of computation to bear on behalf of the individual scientist. In many ways, the researcher is forced to play a complex strategy without a map.
The Simile project seeks to enhance inter-operability among digital assets, schemata/vocabularies/ontologies, metadata, and services by using Semantic Web technologies. A key challenge is that the collections which must inter-operate are often distributed across individual, community, and institutional stores. While the domain focus of the Simile project is in Digitial Libraries, the problem is a very similar one to many other domains.

Export as you would be exported to…
by NewScientist.com
Having spent 10 years insisting it should be free to export GM crops and food, the US is realising other countries may ask them to return the favour
The genetically modified chickens are coming home to roost. Having spent the past decade insisting that it should be free to export GM crops and foods derived from them, the US is waking up to the possibility that it may soon be asked to accept imports of similar GM material from other countries, such as China and Argentina, which are now producing more than they consume.
News about the future

Inspired by Jeremy Rifkin's vision of the Hydrogen Economy, the ENERGENCY Manifesto joins a selected number of Regional Governments wanting to engage in the battle to preserve our biosphere according to the Kyoto Protocol and beyond it.
You can download the manifesto as a *.pdf

Discover the cosmos! Each day a different image or photograph of our fascinating universe is featured, along with a brief explanation written by a professional astronomer.
Next Event: Wednesday, January 25, 16:30-19:15
Wednesday, January 25, 2006
Registration: 16:00-16:30, Conference: 16:30-19:15
Where: PricewaterhouseCoopers, De Entree 201, 1101 HG Amsterdam Zuidoost, [next to the football stadium Arena]
Please download the route description
With Michael Jackson, Chairman, Shaping Tomorrow:
Business Futures in a Digital Age
Patrick Crehan, CEO and Founder, Crehan, Kusano & Associates, Director, Clubof Amsterdam:
George Pór, Founder, CommunityIntelligence Ltd.:
The New Wave of Futuring: Co-Sensing –> Co-Presencing –> Co-Creating
and our Moderator Buddy R. Kluin, Co-founder and lead strategist, Y-now
The European Approach to Corporate Governance: A Model for Japan?
The European Approach to Corporate Governance: A Model for Japan?
Research Institute of Economy, Trade and Industry (RIETI)Interview with Professor Mayer
Professor Mayer is Peter Moores Professor of Management Studies at the Saïd Business School and director of the Oxford Financial Research Centre, University of Oxford. Professor Mayer has written widely on corporate finance, taxation and corporate governance, and on the regulation of financial markets.
[…]
RIETI: In the last couple of years, the EU and many European countries have developed new corporate governance codes such as the Combined Code in the UK and the Cromme Code in Germany. Why did European reformers opt for code-writing instead of imposing strict rules like the Sarbanes-Oxley Act?
Mayer: The importance of codes in Europe stems from two factors. The first is that, while in the U.S., shareholders' rights are typically upheld through the courts, this is less prevalent in Europe. Instead, there is a greater reliance on companies abiding by codes of conduct that, if they fail to adhere to, may result in their exclusion from capital markets in the future. Second, there is a greater diversity in ownership structures in Europe that makes the imposition of common legal rules difficult. An example of this is the problem that the European Commission encountered in introducing a takeover directive that imposed common rules for conducting takeovers in Europe. Governance codes, particularly those of the "comply or explain" form, permit of a greater degree of variety of conduct than laws.
RIETI: In your paper, "The Origins of the German Corporation – Finance, Ownership and Control," you analyze the financing and ownership of German corporations. Given the similarities in ownership structure between German and Japanese corporations, what measures Japan can take to strengthen investor protection?
Mayer: While there are some similarities in the structure of German and Japanese corporate sectors, and while they have common origins, the similarities should not be overstated. The ownership and financing of firms is quite different. The size of shareholdings, the nature of shareholdings, and in particular the role of families is very different between the two countries. And while both Germany and Japan are described as bank-oriented financial systems, their differences are as pronounced as their similarities. For example, German banks have played a much more important role in the functioning of stock markets than in the direct financing of firms, which has been an important feature of Japan.
Care should therefore be taken in trying to draw conclusions about the relevance of policies to protect investors in Germany for those in Japan. A critical question that Japan needs to address as it moves away from its traditional system of bank monitoring is who will play the main monitoring role of companies in the future that banks have played in the past. Will it, as it has been in the UK and U.S., other financial institutions such as pension funds and life insurance firms? If so, is it envisaged that a takeover market will emerge, as exists in the UK and U.S., to discipline bad management and restructure poorly performing firms. Or are large blocks expected to accumulate in the hands of individual and family investors as they have done in many Continental European and Far Eastern countries? Or is it the case that banks will be expected to play the type of custodianship function that they perform in Germany? Identifying who will be performing active corporate governance is the critical issue that Japan will need to address going forward.
Recommended Book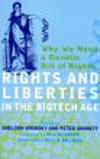 Rights And Liberties In The Biotech Age
by Bill McKibben (Foreword), Paul R. Billings (Afterword), Sheldon Krimsky (Editor), Peter Shorett
Rights and Liberties in the Biotech Age is the first book reaching broadly into biotechnology that imbeds the issues into a rights framework for the social management of technology. The contributors to the volume comprise prominent university scientists, civil rights lawyers, and public interest activists who bring their perspectives to issues where science and civil liberties meet head on. This book explores the impact of new genetic technologies on how people define their "personhood" and their basic civil liberties. It questions the thesis of "scientism" where "rights" must adapt and conform to technological changes. Instead, the authors explore the expansion of human rights in the face of new biomedical and bio-agricultural advances so that "rights" and not "technologies" are at the forefront of discussion.
FLY pentop computer
FLY Pentop Computer
Computer power on paper! FLY pentop computer's power comes from an optical scanner that sees everything you scan and write on special dot-matrix FLY paper. It's got a brain (a built-in computer processor) and it's got a voice. It's even got its own language. If you've got a math problem, FLY pentop computer can solve it. You can schedule anything and FLY pentop computer will remind you. You can draw drums and keyboards and record your own tunes. Play games with your friends – anywhere, any time!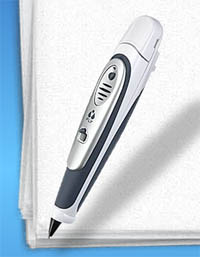 What it Teaches

Math
Children learn important mathematical concepts and processes in the areas of numbers and operations (e.g., addition, division), algebra, geometry, measurement, data analysis and probability, and math reasoning (e.g., recognizing and describing connections between problems). Children begin to develop math skills as infants and expand upon their understanding as they get older.

Reading & Language
Language arts refers to the elements of language use – typically oral language (speech); listening; reading; and writing, including spelling and vocabulary. Reading refers to the process of understanding a written, linguistic message; the process of obtaining meaning from printed language; or the process of orally expressing printed language in a meaningful way.

Science
Each branch of science (earth, life and physical) deals with the structure and behavior of the physical world, and includes the systematic observation, identification, experimentation and investigation used to determine general laws about the physical world. Children begin to develop science skills as infants and expand upon their understanding as they get older.


Club of Amsterdam Agenda
Club of Amsterdam Open Business Club
Club of Amsterdam Open Business Club

Are you interested in networking, sharing visions, ideas about your future, the future of your industry, society, discussing issues, which are relevant for yourself as well as for the 'global' community? The future starts now – join our online platform – and it's for free …