Welcome to the Club of Amsterdam Journal.
Most Hollywood mind confections are cotton candy that reverts back into sugar and coloring as it enters your mouth. What's missing is any substance that you take away after the movie. There's no nutrition there. When the movie is over, you're left with nothing.
We need to take back the powerful media of film – the media should be teaching us valuable lessons about how to survive, keep the earth clean and healthy. There are so many important discussions, new philosophies, concepts, ways to living, so many valuable ways the media could function, instead of focusing only on killing, wealth and excess. Who will teach us how to survive the coming ecological and economic storms?

The one idea that Hollywood movies strive to suppress more than any other is the idea of an egalitarian society. We are constantly reminded of how bad we are, how criminal, how bloody, how deadly.

In a psychological test, 70% of us seem to readjust our brains to believe what a peer group says happened, rather than what we actually witnessed ourselves in real life.

Movies and media dictate people's consciousness by glorifying the lives of the rich and criminal, simplifying our stratified social order and making the unspeakable norm. Do we accept the rule of the 1% over the 99%?

Thoughts by Dimitri Devyatkin – an American filmmaker, writer that specializes in social documentaries, historical feature films.
We'll see you at the future of Film – Thursday, 26 January!
…. interested in knowing more and sharing thoughts and ideas …. email us!
Felix Bopp, editor-in-chief
10 Big Ideas for the Future of Film

By Tiffany Shlain.
Honored by Newsweek as one of the "Women Shaping the 21st Century," Tiffany Shlain is a filmmaker, artist, founder of The Webby Awards, co-founder of the International Academy of Digital Arts & Sciences and a Henry Crown Fellow of The Aspen Institute.

Alfred Hitchcock said a film is made three times: when you write it, when you shoot it, and when you edit it. Today there's a fourth: when you distribute it. With all the new technologies and D.I.Y. opportunities available to reach people with your project in fresh and exciting ways, you get to be just as creative when you take a film out into the world.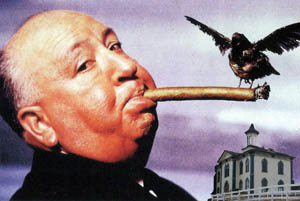 My team and I have done a lot of experiments in distribution with our film "The Tribe," which played at Tribeca Film Festival in 2006. In many ways, I felt like we were throwing spaghetti at the constantly receding wall of the Internet to see what sticks. A lot stuck. Our 18 minute film, "The Tribe," became the first documentary to ever reach #1 on iTunes.
This was thanks to an amazing community that we connected with at festivals like Tribeca. They supported us, followed us, linked to us and continued to spread the word, which ultimately made it so we raced past Pixar and Universal on that iTunes list.
That was five years ago. With all the new tools available today, we're not only able to throw pasta strands but able to have a big feast with all the people that want to engage with our films.
10 Big Ideas
In terms of the future of film, below is a list of things I want to help make happen in the future.
1. All films would be translatable to every language on Earth so everyone could experience them.
2. All video images/songs you found online could be easily negotiated with a simple rights page, or through Creative Commons.
3. There will be a true transparency on distribution sales, expenses and with aggregators.
4. The crazy time labels/constraints will be removed. No longer a world of just "shorts & features." Time is a construct and there is room for every length and every length should receive the same respect.
5. When you search a subject on Google, the results you get — along with books and articles — you would also see trailers of videos about the subject too (that one is not too far away).
6. In whichever theater the audience member wants to stay connected to the issue, to the director, you can find an easy way to stay connected (oh yeah, we already can do that).
7. As a documentarian, there could be a website where you could show a whole film and hyperlink outward every clip that you can contextualize or get more info.
8. 3D documentaries will be inexpensive to make so the visceral experience of important subjects of our day can be conveyed in immersive forms.
9. Last, I hope some filmmakers will call themselves interdependent rather than independent filmmakers. All these new tools are about the power of us being connected, helping each other, sharing best practices, sharing networks, strength in the network. So ultimately, we are interdependent filmmakers.
10. Any small idea repeated thousands or millions of times via the web becomes a big idea. That's the power of the network. That's the future.
Triggering Conversations


The goal with all of my films is to trigger conversations about important issues of our day. In some ways I no longer think of myself as a filmmaker but more like a conversation maker. We want to provide people a way to engage with the core ideas in the film through many entry points and experiences…whether it's the film, physical objects to read or play with, mobile phone apps and live events.
While nothing will replace the bonding that happens in the dark watching a movie together, there are many tools that can help extend a conversation that a film sparks. For "The Tribe," we created a discussion kit that included the film, a written guide, conversation cards, and curriculum. 2006 was also when critical mass had finally appeared on Facebook so we were able to expand the discussion and community. I also have had an email newsletter for a decade since I started The Webby Awards called, "Breakfast at Tiffany's" which I send out to my community 4 times a year. Old school email is still a great way to engage people in dialogue and experiments.
For our new feature documentary film Connected: An Autoblogography about Love, Death & Technology (Sundance 2011), we engaged our community — even while we were making the film. Filmmaking to me at its core is one big collaborative interconnected idea fest. I write collaboratively, edit collaboratively, get a lot of feedback from minds I love as well as from the hive mind online through Twitter and Facebook. During the script writing, I asked questions about subjects we were wrestling with, song suggestions, archival shot ideas and received amazing responses — many of which ended up in the film. It's ultimately all about the push and pull of other people's perspectives that excites me about the collaborative nature of filmmaking and the Internet.
We want to take all forms of engagement with our audience to a whole new level with our new film, "Connected" by giving our community even more ways to experience the ideas of the film now that it's been released. "Connected" explores what it means to be connected in the 21st century — both personally and globally. Here's the trailer for it:
For the film, we have a mobile phone app coming out and an iPad app with Mopix we are working on. We just released our educational kit for the film that includes a curriculum, a 100-page book and conversation cards. We were able to use a new eco-friendly DVD that is recyclable and the whole kit is handmade. We also just released an educational guide to the film. Even though we are fully living in digital times, I am still very into the handmade, and we have a lot of exciting plans coming up in the fall. There are various ways we hope to trigger a global conversation about what it means to be connected in the 21st century.
Going Farther
It's an incredibly exciting time to be a filmmaker. Not only are we able to make films with inexpensive tools that allow each of us to really have our own production studio, but now we can have this direct connection with our audience. To challenge us, to support us, to engage with ideas so we can all understand them further.
One of my favorite quotes about the future is by John Pierpont Morgan, "Go as far as you can see; when you get there, you'll be able to see farther." The future of film is about us all seeing as far as we can see, imagining new forms of connection, making it happen with other filmmakers, supporters and those that engage with our films so we can all see farther …together.
This article was cross-posted at The Future of Film blog, launched as part of the Tribeca (Online) Film Festival, features leading filmmakers and other experts within the film industry sharing their thoughts on film, technology and the future of media. Click here to follow Tiffany Shlain and other experts from film and technology as they comment on the changing media environment on the Tribeca Future of Film Blog.

Honored by Newsweek as one of the "Women Shaping the 21st Century," Tiffany Shlain is a filmmaker, artist, founder of The Webby Awards and co-founder of the International Academy of Digital Arts & Sciences. Her new feature documentary is Connected: An Autoblogography about Love, Death & Technology. You can follower her on Twitter @tiffanyshlain
Next Event
the future of Film
Thursday, January 26, 2012
Registration: 18:30-19:00, Conference: 19:00-21:15
Location: Pakhuis de Zwijger, Expo Zaal, Piet Heinkade 179, first floor, 1019 HC Amsterdam
The conference language is English.
In collaboration with Freelance Factory
The speakers and topics are
Eline Flipse, Independent Motion Pictures and Film Professional
Her film NASHA GAZETA, about a one-man Russian newspaper, brought Flipse the Jury Award at the 2010 Hot Docs Film Festival in Toronto.

Wendy L. Bernfeld, Founder, Managing Director, Rights Stuff
Wendy Bernfeld will present a short talk on the evolving future of film, from the business and creative perspective. She will outline various new approaches and opportunities regarding producing / distributing / funding films, embracing cross- platform / transmedia via international VOD platforms, brands, tech companies and other new partners, and also via innovative (non traditional) "windows". The importance of engaging with audiences long before the film is released eg via online sourcing and social networks, is also discussed.
Paul Breuls, CEO, Corsan NV, Producer & Director
Dialogue about European Dreams
Corsan has cast the top American actors Robert De Niro and John Travolta in its new production "Killing Season".
Moderated by Jonathan Marks, Director, Critical Distance
Italo – the "Ferrari" train
Thinking of Ferrari cars …
NTV is the first private operator on the Italian high speed rail network and the first operator in the world to use the new Alstom AGV train, the train currently holds the high speed train record.

"AGV won't be the first train that will run at this speed in Italy, but it will be the most modern," said Bruno Sol-Rolland, vice president for rolling stock mainlines at Alstom Transport.
The service will start by the end of 2011 with the name of "Italo".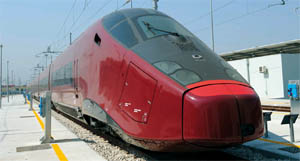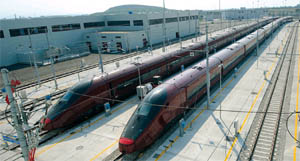 The technological leadership of the train Italo
Italo is based on the latest Alstom AGV technology in terms of high speed train, features a system of locomotion distributed throughout the different cars of the train, rather than being concentrated in the front and back locomotives. The space made available by the elimination of the locomotives is placed at the disposal of the passengers (increase of 20% in onboard capacity).
The structural architecture made possible by the distributed locomotion almost eliminates mush of the onboard vibration and noise, while attenuating the movements between cars, optimising the aerodynamics and guaranteeing maximum safety, in addition to reducing maintenance costs by 15%.
What is more, the combination of this technological innovation with composite materials and traction systems brought to even further heights of perfection has made it possible to lighten Italo by approximately 70 tons, compared to the trains manufactured by the competition.
As a result, Italo, the future train of NTV, offers extremely high environmental performance, with energy consumption reduced by 15%.
In detail, the primary advantages of the new Italo train regard all aspects of performance: weight/power ratio, onboard space and comfort, energy consumption, safety and maintenance.
Weight/power ratio the bogies house synchronous engines that operate with permanent magnets and put out excellent levels of power, at the same time as they permit reduction in mass and volume, all to the benefit of energy savings. In fact, Italo generates an unequalled weight/power ratio of 22.6 kW/ton, a figure 23% higher than the competition.
Onboard space and comfort The elimination of the locomotives, replaced by the system of distributed locomotion, freed up space which was given over to the passengers, further increasing the liveability of the internal spaces (a 20% increase in the surface area).
In terms of width as well, with a body of 3 metres and an internal space of 2.75 metres, Italo ranks as the best in its class in terms of liveability, providing increased comfort in terms of both seating and aisles, whose size allows passengers to move and pass by each other with ease, even when carrying bulky luggage.
Completing the optimisation of the space layout is the attentive handling of light (+15% window surfaces), ergonomics and the onboard equipment and accessories for passengers. In addition, travelling noise and vibration are limited by the deck, ensuring maximum comfort for passengers.
The train has been made easy to enter for all passengers, thanks to a floor that is a full 10 centimetres lower than those on trains built according to traditional architecture.
The care taken with ergonomics is also reflected in the driver's cabin, designed in accordance with the international programs European Driver Desk and European Cabin. Drivers are able to control of the control station rapidly, making for optimal operation.
A final guarantee of elevated passenger comfort on Italo is the low level of noise inside the train, made possible by numerous inventions in the field of aero-acoustics. In addition to the general reduction in travelling noise, a number of highly refined solutions, such as a body lining unaffected by pressure waves, will make it possible to limit the effect of air pressure on eardrums when passing through tunnels.
Energy consumption Thanks to the reduction in the number of bogies brought about by the new architecture of Italo (resulting in less turbulence and, therefore, less resistance), together with the accurate aerodynamic features of the new design, especially high levels of environmental performance are possible, with energy consumption reduced by 15%. Compared to a TGV, the energy consumption per seat is roughly 30% lower.
Safety Italo is designed to guarantee maximum passenger safety. In the case of collision, passenger protection is guaranteed by the criteria used to set the dimensions of the body structure and by the energy absorbers, which fully satisfy European standards for passive safety. Furthermore, the configuration of the train as a whole, an approach that introduces a stronger link between the cars than is the case with conventional trains (the bodies are connected to each other with a bogie) provides the train with greater rigidity: resistance to side winds is improved, and, in the case of a derailment, the train does not crumple "accordion style", unlike what would occur with a train lacking such links.
Maintenance Bogies alone account for 35-40% of the total maintenance cost for a train, seeing that they contain the largest number of parts subject to wear. The reduction in the number of bogies, as compared to a classic train, makes possible not only increased passenger capacity but also a 30% per-seat reduction in the cost of maintenance.
Club of Amsterdam blog

October 23 : Burning Issues: Education
October 23 : Burning Issues: Resources: Water, Energy, Air, Food
October 23 : Burning Issues: Health
October 25 : Burning Issues: Climate Change / Sustainability (1)
October 25 : Burning Issues: Climate Change / Sustainability (2)
October 25 : Burning Issues: Economy / Stock Market / Poverty
October 25 : Burning Issues: Waste / Pollution
October 23 : Burning Issues: Globalization
October 20 : The ultimate freedom: beyond time
October 5 : Limits to Knowing
March 24: Socratic Innovation
News about the Future

Global Crop Diversity: How will we feed in 2050?
Global Crop Diversity Trust was founded in 2004 by the Food and Agriculture Organization (FAO), a United Nations structure, and Bioversity International as an initiative following the uprising concern over the last decade for global food security. Global Crop Diversity Trust, in a partnership with major private foundations such as the Bill Gates foundation and the Rockefeller foundation and the FAO, focuses on getting a fix on the global food security issue which has become increasingly preoccupying. The global population will have grown to nine billion individuals within the next forty years and Global Crop Diversity Trust, by its publications, actions and partnerships, is studying and acting on all the possibilities to best feed the planet in 2050. The organism stresses the importance of climate change and its effects on the food security issue for the future, setting it even before urbanization or the lack of cultivatable grounds in the major obstacles in feeding the global population for the next decades. The necessity of adapting the current agricultural methods and seeking for new cultivable plants more resistant to dryness should be set as upmost priorities according to Cary Folwer, executive director at the Global Crop Diversity Trust. The situation is not alarming but he stresses the importance of acting now to ensure as much as possible food security worldwide in the future.

A Polish Bank a 100% Facebook
The Polish Bank Alior announced in November the opening of a new branch which would be only accessible from social networks such as Facebook. This innovation could be seen as a new generations of banks fitting our now globalized, technology-oriented and highly connected world. Wojciech Sobieraj, CEO of Alior Sync, with this move focuses on the needs, desires and timetable of the young generations who spend a lot of their free time on social networks and rely on them more and more for information research and other services in development. This new branch of Alior would propose classic financial services available in any bank but also the possibility of organizing the client's budget via these same social networks. This project is very likely to be successful for it appears that the Polish population is already up to 20% for using on-line banking and this number is said to rise to 40% by 2016. The use of on-line banking is, after all, only a step away from "social-network banking".
International Year of Cooperatives (IYC)
The United Nations General Assembly has declared 2012 as the International Year of Cooperatives, highlighting the contribution of cooperatives to socio-economic development, particularly their impact on poverty reduction, employment generation and social integration.With the theme of "Cooperative Enterprises Build a Better World", the Year seeks to encourage the growth and establishment of cooperatives all over the world. It also encourages individuals, communities and governments to recognize the agency of cooperatives in helping to achieve internationally agreed upon development goals, such as the Millennium Development Goals.
So what exactly are cooperatives? What differentiates them from other forms of business? What are the advantages of cooperatives for members and communities in general?
Cooperatives are business enterprises owned and controlled by the very members that they serve. Their member-driven nature is one of the most clearly differentiating factors of cooperative enterprises. This fact means that decisions made in cooperatives are balanced by the pursuit of profit, and the needs and interests of members and their communities.
Cooperatives take many forms and operate in all sectors of society. Most share a unique set of principles which keep them attuned with their member-driven characterization.
Become a part of our Campaign: Tell the World What Cooperatives Are!
Recommended Book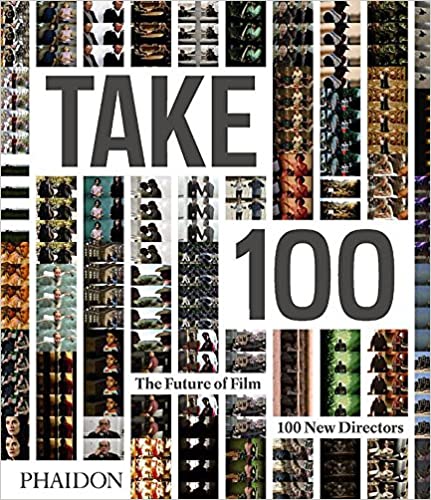 Take 100: The Future of Film: 100 New Directors
By Editors of Phaidon Press
Following the successful formula of previous Phaidon "10×10" titles, this new book in the series will present 100 of the world's most exceptional emerging film directors, selected by internationally prominent festival directors including Frederic Maire/Locarno, Piers Handling & Cameron Bailey/Toronto, Sergio Wolf/Buenos Aires, Wieland Speck/Berlin, Kim Dong-Ho/Pusan, Korea, Marco Muller/Venice, Michel Ouedraogo/Ouagadougou, Burkina Faso, and Li Cheuk-to/Hong Kong.
Arranged alphabetically by film director, the book explores the work of each director through the close analysis of one key film per director featured on 2 spreads, providing the reader with detailed information about each film and its author both in words and pictures, including film stills, on-set photographs, posters, and more. In addition, each festival director-curator will present one seminal film, which has influenced his understanding of contemporary cinema. Each curator will write an essay about the film director and the selected film. For each film, the reader will learn about the plot, the cast, the full credits, the film location, the budget, the release date, the nominations and awards, as well the genesis, the production and post-production elements. Each film will be illustrated by sequences of films stills as well as sketches, location scouting shots and storyboards. Finally, at the end of the book, each curator will select one cultural reference from varying genres and media to illustrate the context in which film directors operate today. The book will include a short biography for each film director and each curator. The result is unique source book, a fresh and up-to-the-minute collection of the best global and regional cinematographic creations in all fictional genre – drama, crime, horror, fantasy, science-fiction – around the world.
Criteria for selection: each curator (nominators) will select ten film directors and one long feature film which the director made, produced and distributed in the last five years. Each selected film must be a long feature film and should be his or her first, second or third film.
Shaping our Evolution

by Chris Thomson, School of Consciousness

"Our scientific power has outrun our spiritual power. We have guided missiles, but misguided men." – Martin Luther King
If you start a discussion about human evolution, you are likely to end up talking about the past, about the history of evolution. And if you start a discussion about the future, you are likely to end up talking about the future of technology, or the future of society or the future of the planet. You are very unlikely to end up talking about the future of evolution or the future of the human being. In this short piece I outline why I believe we are still evolving, that we still have a long way to go, and that there is much that we could, and should, do to shape the pace and direction of our individual and collective evolution.
Are we still evolving?
There is no a priori reason to suggest that we have stopped evolving. If our evolution has stopped, did it stop suddenly, in 1956, for example? In any event, how would we know? On the other hand, there are compelling signs that we are still evolving in two important aspects – consciousness and intelligence – and that we still have a very long way to go. When I say consciousness, I mean three things. We know more, we are more awake, and we experience in new ways. And when I say intelligence, I mean wisdom and effectiveness right across the whole spectrum of human ability.
Clearly, we are not all evolving at the same pace or in the same ways. Indeed, some of us seem stuck. But I do feel that, taken as a whole, humanity is definitely evolving in consciousness and intelligence, and that we will eventually reach levels of consciousness and intelligence that we can barely imagine today.
The evolution of consciousness
Human consciousness is evolving both collectively and individually. We have witnessed three major forms of collective consciousness emerge in the last 100 years alone – "human race consciousness", "Nature consciousness", and "planet earth consciousness". First, we became aware of the idea of the human race as a whole, as a single entity. This awareness has taken many forms, such as the emergence of the United Nations, the concept of the human family, and so on. Second, we developed an awareness of Nature as a whole. This has taken the form of our interest in wildlife, threatened species, the environment, ecology, and the fact that we are all part of these things. Third, and thanks to pictures of Earth taken from space and to writers such as James Lovelock, many of us now see the planet as a single, unified entity. Some of us even think of it as an intelligent, living being – Gaia. Three things have accelerated this collective consciousness in the last 25 years or so – the Internet, globalisation, and David Attenborough.
So, yes, many of us are more aware, more conscious, in this collective sense. At the same time, many of us are more "awake", more aware of ourselves, of others, and of what is happening in the world. Our individual consciousness has also evolved. But there is even more, because some of us have been able to experience forms of consciousness that are just not part of the normal daily diet of modern life. I will say a few words about two forms with which I am familiar. I call them "teleconsciousness" and "paraconsciousness".
Teleconsciousness can be defined as knowing at a distance, through space or time, without any physical means. It includes basic intuition, telepathy (literally "feeling at a distance), and precognition – knowing something in the future. Although many people have had these kinds of experience, they do not happen often, and they are not regarded as part of normal life. And there is a widespread misconception that that this form of consciousness is a "gift", available only to a very few. If it is a gift, then so are our eyes and hands and legs! I believe that teleconsciousness is part of our birth-right, available to anyone who makes the effort to awaken and train it.
Paraconsciousness ("knowing beyond") is direct experience of the non-physical aspects of the world and ourselves, the aspects that can never be perceived by any of our five physical senses. As with teleconsciousness, I believe that the ability to perceive non-physical aspects of the world and the human being is also available to all of us, should we choose to develop and use this faculty. But it does not come easily, because we are so conditioned to believe that the physical reality is the only possible reality. However, if we developed this form of consciousness, it would change our knowledge base completely. Science, for example, would cease to be science of the physical, which it is at present, and become "science of the whole", because it would be the whole human being looking at the whole world.
What has all this to do with our future evolution? I believe that, if some of us are able to awaken and use these forms of consciousness, this suggests that, in time, all of us can. I am convinced that the evolution of our collective and individual consciousness is central to our future. Indeed, I cannot imagine a viable human future if we do not evolve in this way.
The evolution of intelligence
Although some of us continue to insist that we human beings are the most intelligent species on this planet, the sad fact is that we have become the most dangerous and destructive. We kill and damage our own species with a ferocity that is unrivalled anywhere. And we are destroying the biosphere at an alarming rate. It may be true that we have the potential to be the most intelligent species, but we have a long way to go before this becomes a fact. Meanwhile, all other species put us to shame by the ecological, intelligent ways they live their lives.
As for human knowledge, an important part of our intelligence, it is true that we know a lot about ourselves and the universe. We have clearly come a long way. But a little humility is in order. If we think about how far we have come in the last hundred years, for example, it should give us a sense of how far we can go in the next hundred, and the next thousand. We still have a great deal to learn and understand about ourselves and the universe. When some people tell us that we already know nearly all the important things there are to know, or that we are getting close to the "mind of God", this simply does not sound right.
Intelligence is notoriously difficult to define, so I prefer to describe its qualities. When we meet highly intelligent people, we are usually impressed. There is something compelling about the way they look, the way they speak, and even the way they move. They tend to be economical in their use of words and their use of energy. They seem to be able to get things done without really trying. And it is reassuring to have them around, because they always know what to do when something goes wrong. We feel good when we are in their company, because they are cheerful and friendly, but also because they seem to understand us at least as much as we understand ourselves. If we were able to look inside highly intelligent people, we would see that they are acutely sensitive to the world around them. They notice a lot and miss very little. And we would see that they are masters of their feelings, and are able to tune into, and empathise with, the feelings of others. They have exceptionally good minds, which enable them to think clearly, communicate simply and effectively and see, at a deeper level, why things are the way they are and how they are likely to be in the future. They have learned to trust their intuition, and they have learned to transcend many of the conventions and beliefs that restrict human development and creativity. They are very obviously mentally and emotionally intelligent, but it goes far beyond that. Everything about them is intelligent. We have a sense that everything they do and say makes the world a better place. And they seem to have ascended to a higher order childhood.
I recognise that all this may sound too good to be true. It is rare that we come across the kind of people I am talking about. But there are good reasons for this. We live in an age of specialisation, with a strong emphasis on technology and on the skills and knowledge that can be used profitably in the economy. The few schools and colleges that do offer a "whole-person" education are so rare that they have to make a special point of advertising their unusual offering (see, for example www.wellingtoncollege.org.uk).
As you can see, I understand intelligence as the whole range of human behaviour – the way we are, the way we move, the way we speak, the way we feel, the way we think, and so much more. For me, a truly intelligent person is good, in every sense of the word. It goes without saying that there is much that we could do to become better, in every sense of the word. When I think of the evolution of our intelligence, it is this that I have in mind. If large numbers of people worked on themselves to be more intelligent, in this fuller sense, the world would change out of all recognition.
A route map
Some of us may believe that evolution happens of its own accord, as part of the natural order if things, and that there is nothing we can do to change it. If that is true, then why do so many of us put in the time and energy to develop ourselves in one way or another? We educate and train ourselves in a huge range of knowledge and skills. We have literally millions of initiatives to make the world a better place, and many of us engage in some form of therapy or spiritual practice to nudge forward our own evolution. Although we may not think of it as such, many of us are already influencing the pace and direction of our own evolution and that of humanity as a whole.
It is by no means easy to prescribe a route out of the deep hole of materialism that we keep digging for ourselves. But I can think of a few things that might help.
A new central purpose
There can be little doubt that the current central purpose of humanity today is material growth. For countries, this manifests as perpetual economic growth. For businesses, it manifests as ever increasing profits. And for large numbers of individuals, it manifests as having more money and things. Although economic growth has been useful in some respects – it raised the living standards of billions of people – it is well past its sell-by date, because it now brings more problems than benefits. As Clive Hamilton points out in his book Growth Fetish: "Growth not only fails to make people contented; it destroys many of the things that do. Growth fosters empty consumerism, degrades the natural environment, weakens social cohesion and corrodes character." It is clear that we urgently need a new central purpose. Imagine how different things would be if the central purpose of society was to develop people to their highest potential and to care for this planet as if it really mattered. If this was our central purpose, our whole lives would change, as would the way we work, the way we govern ourselves, and the way we relate to each other. It would be a very different world. There is important work to be done here, in developing and promoting a new central purpose.
This is no idle matter. The central purpose of any system, be it a society, a company, a health service, a tree or a galaxy, determines everything about that system, because all aspects of the system have to serve the central purpose. Indeed, the most effective way to change any system is to change its central purpose. If, for example, the main purpose of a business is to make as much profit as possible, then everything about the business will be in service to money. But if its main purpose is to provide excellent services to its customers, then it will be a very different business and attract very different people to it. If we want shape the pace and direction of our own evolution, as I believe we must, then our central purpose needs to reflect this desire explicitly.
Systematic work on our consciousness and intelligence
In the last 12 years or so, I have given many courses in intelligence and in consciousness, to individuals and to organisations. It has often been a case of learning by doing. I have learned a lot. Above all, I confirmed to myself what I already sensed to be true, that all of us have the potential to become much more intelligent and much conscious. Just to be clear, they are not the same. Although consciousness may be the necessary precursor of intelligence, it is not the guarantor! Knowing something does not guarantee that we will act on that knowledge. I am sure many of us can recall, with some discomfort, situations where we knew something but did not act on that knowledge. We all know about climate change, for example. But how many of us can put our hands on our hearts and say that we do nothing to cause climate change? So, intelligence is as intelligence does. It has meaning only in the doing. And, for many of us, the doing can be challenging. For most of us, being more intelligent and more conscious requires regular, systematic work on ourselves. This will not come easy, because it can be difficult to give up the habits, beliefs and behaviours of a lifetime, especially if they feel like our source of security. And it can be doubly difficult when faced with pressures from employers, government, and society in general, to believe certain things and behave in certain ways. That said, change we must if we are to have any hope of a decent human future.
Interestingly, there seem to be no upper limits to intelligence and consciousness. There are practical limits, yes, such as time and laziness, but the fact is that, the more we work on our intelligence and consciousness, the more intelligent and conscious we become. This has far-reaching implications, but that discussion will have to be for another time.
A liberating worldview
Do we believe that we are basically higher animals, alone in the universe, and separate from it? Do we believe we are here only because life evolved by chance on this planet? Do we believe that we do not exist after death? Do we believe that the physical reality is the only possible reality? And do we believe that the universe has no deeper meaning or higher intelligence? If we believe these things, then we are likely to give high value to material things and temporary pleasures. And it would not be surprising if we did not care much about people and the planet.
If we believe these things, then any attempt to make "progress" will end up being some variant of materialism. It could "fair materialism" (social justice, equality, human rights etc.) It could be "ecological materialism" (economic growth as usual, but with a weather eye on the environment). Or it could be the latest fashion, "happy materialism" (e.g. the Happiness Project www.happiness-project.com) where we are all cheerful on the surface, but not much is changing at a deeper level.
Or, do we believe that we are much more than higher animals, that we are not alone in the universe, and that we are intimately connected to it? Do we believe that we are here for reasons that have nothing to do with chance? Do we believe that we continue to exist in some form after death? Do we believe that the physical reality is just part of a much greater reality that we have yet to experience? And do we believe that the universe is packed with deeper meaning and higher intelligence? If we believe all, or most, of these things, then our values and behaviour would reflect this, and we would be more likely to care for each other and the planet. We would also be more likely to be engaged in some kind of conscious evolution.
Afterword
It is not easy to do justice to this topic in 3000 words. I have, for example, said nothing about the evolution of the human body. I will note, however, that while many of us seem finer, more beautiful, large numbers of us are clinically obese. Nor have I mentioned the evolution of "human capacity", which interests me greatly. I believe that, as we continue to evolve, especially in unusual forms of consciousness, we will eventually develop the capacity to do some things that we can do now only with the aid of technology. But that, too, will have to be another discussion.
If I have stimulated you to think about the future of human evolution and to wonder how we might influence it, then my purpose is served.
Preferred Futuring

Lawrence Lippitt is the author of Preferred Futuring

What is "Preferred Futuring"?
Larry Lippitt: "Preferred Futuring is a way to engage everyone in the system to be able to communicate with each other. Communication is so important and so basic to operating as an organization effectively and, nowadays, it happens so very quickly, too.

Preferred Futuring helps people come together and discuss "How on earth did we get to where we are?" and "Where are we, actually?"

Once we've agreed on these issues, we can discuss "Do we have any values or beliefs that have participated in getting us there?" because our basic values and beliefs affect the way we behave.

And finally, "What are some of the trends and developments on the horizon?". As we hope and plan to arrive at the future we want, we need to ask, "Which trends might impact us?" So we need to be smart in our strategic thinking.

Then, collectively, we all participate in determining "Where to we want to be?" Not, "Where should we be?" or "Where ought we to be?" but "Where do we want to be?" It's about listening to the passion in my heart that says "This is exciting, and I want us to get there together."

We need to talk with each other in order for us all to work together towards getting there. This is then followed by planning and implementation. That's basically the process."

Futurist Portrait: Faith Popcorn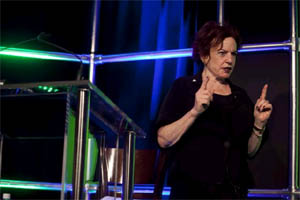 Faith Popcorn, CEO of BrainReserve
Trend Forecasting and Strategy specializing in Applied Futurism
Faith Popcorn, born Faith Plotkin, started off as a graduate student of both New York University and the High School of Performing Arts of New York. Before founding her marketing consulting firm BrainReserve in 1974, Faith Popcorn worked in the advertising industry as creative director in an agency.
Her reputation has been rightly established by the exactitude and acuteness of her predictions such as in the late 1990's the "cocooning boom". BrainReserve has a clientele spread all over the world and the business scale, from small businesses to major companies such as, overtime, American Express, Pepsi and Tyson. The attention given to analyzing customer behavior enables Faith Popcorn and her team to identify imminent trends which have directly applicable solutions.
Faith: "A documented 95% accuracy rate, I predicted the demand for fresh foods and four-wheel drives, as well as the spiritual tenor of the millennium with Cocooning. I was the first to anticipate the explosive growth of home delivery, home businesses and home shopping. My FutureView, which focuses on how trends are affecting consumer lifestyles and purchasing behavior, has been presented to thousands of audiences across the globe.

Recently I am giving a talk globally about the increasing power of females and the prediction that the next decade will be the SheCade and the search for good with The Ark."
Popcorn, aside from her work at BrainReserve as founder and CEO, exercises many other professional activities as a reknown author and speaker. The Popcorn Report: Faith Popcorn on the Future of Your Company, Your World, Your Life, her best-selling book, Clicking: 17 Trends to Future Fit Your Life, Your Work, Your Business, and Dictionary of the Future: The Words, Terms, and Trends that Define the Way We'll Live, Work and Talk stand as two of her most famous work as a futurist writer and analyst. Approached by major news sources such as the Wall Street Journal and the New York Times for her market expertise and valued trend analyses, Faith Popcorn is also a much sought-out speaker.

Faith Popcorn – The Trends That Define Our Culture


Agenda
Season Events 2011/2012

October 13, 2011
the future of the Living Room
In collaboration with Museum Geelvinck

November 3, 2011
the future of the Future
In collaboration with Gendo
January 26, 2012
the future of Film
Location: Pakhuis de Zwijger, Expo Zaal, Piet Heinkade 179, first floor, 1019 HC Amsterdam
In collaboration with the Freelance Factory

February 23, 2012
the future of Social Biomimicry
What we can learn from nature
Location: Volkskrantgebouw, Wibautstraat 150, 1091 GR Amsterdam
March 29, 2012
the future of Languages – more than just words
Location: OBA – Openbare Bibliotheek Amsterdam, Oosterdokseiland 143, 1011 DL Amsterdam
In collaboration with the British Council
April 2012
the future of Germany
May 31, 2012
the future of Taxes
Location: Info.nl, Sint Antoniesbreestraat 16. 1011 HB, Amsterdam
Supported by Info.nl
June 28, 2012
the future of Urban Energy
Option: Guided Tour 17:00
Location: Van Eesterenmuseum, Burgemeester De Vlugtlaan 125, 1063 BJ Amsterdam
Supported by the Van Eesterenmuseum
Credentials
Felix Bopp, Editor-in-Chief
Raphaelle Beguinel, Assistant Editor