Welcome to the Club of Amsterdam Journal.
Ecological Architecture is a subject much in debate now with the growing consciousness of global warming, especially since it appears buildings are the first greenhouse gas emitters, before industry, transport and any other sector. The challenge of ecological architecture is a time battle because of the escalating damage due to colossal real estate and urban development, particularly in developing countries and new hot spots such as Dubai and Shanghai. Even though these can also be seen as opportunities, it is most likely that much of what will be built in the near future will dramatically increase our ecological footprint, and unless viable and exiting solutions make some headway, we will continue to exert pressure on our environment with consequences we cannot predict fully but that are obviously not desirable.
The purpose of our next event is to demonstrate that there are true "visions" out there being tested and experimented that actually develop and enhance our lifestyles instead of simply constraining them.
the future of Ecological Architecture – Thursday, March 20, 18:30-21:15Where: Netherlands Architecture Institute, Museumpark 25, 3015 CB ROTTERDAM
Felix Bopp, editor-in-chief
The Hannover Principles for Sustainable Design
The Hannover Principles are a set of statements about designing buildings and objects with forethought about their environmental impact, their effect on the sustainability of growth, and their overall impact on society. They were first formulated by William McDonough and Michael Braungart for planning Expo 2000 in Hanover and are presented in a copyrighted 1992 document.

The principles may be summarized as:
Insist on human rights and sustainability.
Recognize the interaction of design with the environment.
Consider the social and spiritual aspects of buildings and designed objects.
Be responsible for the effect of design decisions.
Ensure that objects have long-term value.
Eliminate waste and consider the entire life-cycle of designed objects.
Make use of "natural energy flows" such as solar power and its derivatives.
Be humble, and use nature as a model for design.
Share knowledge, strive for continuous improvement, and encourage open communication among stakeholders.

The original document states: "The Hannover Principles should be seen as a living document committed to the transformation and growth in the understanding of our interdependence with nature, so that they may adapt as our knowledge of the world evolves."

Cradle-to-Cradle Design
MBDC is articulating and putting into practice a new design paradigm; what Time calls "a unified philosophy that – in demonstrable and practical ways – is changing the design of the world."

McDonough Braungart Design Chemistry is a product and process design firm dedicated to transforming the design of products, processes, and services worldwide. The firm was founded in 1995 by William McDonough and Michael Braungart to promote and power "the Next Industrial Revolution" through intelligent design. We employ Cradle to Cradle Design using strategies we call "eco-effective" (rather than the widely promoted "eco-efficiency") to create products and systems that contribute to economic, social, and environmental prosperity.Instead of designing cradle-to-grave products, dumped in landfills at the end of their 'life,' MBDC transforms industry by creating products for cradle-to-cradle cycles, whose materials are perpetually circulated in closed loops. Maintaining materials in closed loops maximizes material value without damaging ecosystems.

Michael Braungart of EPEA and George Beylerian of Material ConneXion discuss their Cradle to Cradle collaboration with William McDonough of MBDC.
and
William McDonough: The wisdom of designing Cradle to Cradle
Architect and designer William McDonough asks what our buildings and products would look like if designers took into account "All children, all species, for all time." A tireless proponent of absolute sustainability (with a deadpan sense of humor), he explains his philosophy of "cradle to cradle" design, which bridge the needs of ecology and economics. He also shares some of his most inspiring work, including the world's largest green roof (at the Ford plant in Dearborn, Michigan), and the entire sustainable cities he's designing in China.
Next Event
the future of Ecological Architecture
Thursday, March 20, 2008
Registration: 18:30-19:00, Conference: 19:00-21:15

Where: Netherlands Architecture Institute, Museumpark 25, 3015 CB ROTTERDAM

The speakers are
Malcolm Smith, Director of Integrated Urbanism, ARUP
About the Dongtan eco-city project in Shanghai
Bill Holdsworth, environmental, architectural and energy engineer
Design with a global impact
Thomas Rau, Director, Rau Architects
Oneplanetarchitecture
Moderated by Thomas Ugo Ermacora, Founder and Creative Director, Etikstudio


Club of Amsterdam blog

News about the Future

10 Emerging Technologies 2008
Technology Review presents a list of the 10 technologies that are most likely to change the way we live:
Modeling Surprise – Combining massive quantities of data, insights into human psychology, and machine learning can help manage surprising events, says Eric Horvitz.
Probabilistic Chips – Krishna Palem thinks a little uncertainty in chips could extend battery life in mobile devices – and maybe the duration of Moore's Law, too.
NanoRadio – Alex Zettl's tiny radios, built from nanotubes, could improve everything from cell phones to medical diagnostics.
Wireless Power – Physicist Marin Soljacic is working toward a world of wireless electricity.
Atomic Magnetometers – John Kitching's tiny magnetic-field sensors will take MRI where it's never gone before.
Offline Web Applications – Adobe's Kevin Lynch believes that computing applications will become more powerful when they take advantage of the browser and the desktop.
Graphene Transistors – A new form of carbon being pioneered by Walter de Heer of Georgia Tech could lead to speedy, compact computer processors.
Connectomics – Jeff Lichtman hopes to elucidate brain development and disease with new technologies that illuminate the web of neural circuits.
Reality Mining – Sandy Pentland is using data gathered by cell phones to learn about human behavior.
Cellulolytic Enzymes – Frances Arnold is designing better enzymes for making biofuels from cellulose.

Frozen Garden Eden
The Svalbard Global Seed Vault is located on the Norwegian island of Spitsbergen near the town of Longyearbyen (population 2,075) in the remote arctic Svalbard archipelago. The island is about 1,120 kilometres (700 mi) from the North Pole.
The Seed Vault is managed under terms spelled out in a tripartite agreement between the Norwegian government, the Global Crop Diversity Trust and the Nordic Genetic Resource Center.

The seedbank is constructed 120 metres (394 ft) inside a sandstone mountain. Prior to construction, a feasibility study determined that the vault could preserve seeds from most major food crops for hundreds of years. Some seeds, including those of important grains, could survive far longer, possibly thousands of years. The variety and volume of seeds stored will depend on the number of countries participating – the facility has a capacity to conserve 4.5 million. The first seeds arrived in January 2008.
International Green Roof Association
Green Roofs have become a very important component of sustainable urban development within the last 30 years. Growing environmental awareness and the striking economical and ecological advantages are the driving forces for this great success.
At present, Green Roofs, sky gardens and rooftop gardens can be found in nearly all big cities around the world, benefiting the urban environment and their inhabitants.
Finally, landscaped roofs provide many positive effects for the life expectancy and the energy balance of a building. In order to guarantee lasting function, Extensive Green Roofs, Semi-Intensive Greening and Intensive Green Roofs are all based on the same principles: high quality materials, professional planning and installation, state of the art technology and acknowledged guidelines
An international exchange of ideas and technologies within the Green Roof sector, therefore, is not only desirable, but simply a necessity with regard to efficient environmental strategies.
The International Green Roof Association (IGRA) offers the platform for the worldwide promotion and dissemination of ecological Green Roof ideas.
Recommended Book
EcoDesign: A Manual for Ecological Design
by Ken Yeang
Saving the environment from continued devastation by our built environment is the single most important issue for our tomorrow, feeding into our post-millennial fears that this third millennium will indeed be our last.
Ken Yeang reconstructs and revisions how and why our current design approach and perception of architecture must radically change if we are to ensure a sustainable future. He argues forcefully that this can only be achieved by adopting the environmentalist's view that, aesthetics apart, regards our environment simply as an assembly of materials (mostly transported over long distances), that are transciently concentrated on to a single locality and used for living, working and leisure whose footprints affect that locality's ecology and whose eventual disposal has to be accommodated somewhere in the biosphere.
This manual offers clear instructions to designers on how to design, build and use a green sustainable architecture. The aim is to produce and maintain ecosystem-like structures and systems whose content and outputs not only integrate benignly with the natural environment, but whose built form and systems function with sensitivity to the locality's ecology as well in relation to global biospheric processes, and contribute positively to biodiversity (as opposed to reducing it). The goal is structures and systems that are low consumers of non-renewable resources, built with materials that have low ecological consequences and are designed to facilitate disassembly, continuous reuse and recycling a (a cyclic process that mimics the way ecosystems recycle materials), and that at the end of their useful lives can be reintegrated seamlessly back into the natural environment. Each of these aspects (and other attendant ones) is examined in detail with regards to how they influence design and planning.
Ecodesign provides designers with a comprehensive set of strategies for approaching ecological design and planning combined with in-depth analysis and research material not found elsewhere.
San Francisco in 2108
IwamotoScott won the Grand Prize in the History Channel City of the Future: A Design and Engineering Challenge, San Francisco. The competition was held Jan. 20, at the Ferry Building, against 7 other teams including: Anderson, Anderson Architecture; Fougeron Architecture; Gelfand Partners Architects; IF Architecture; Kuth Ranieri Architects; Pfau Architecture; and SLOMobility. The brief asked each architect to rethink and envision San Francisco 100 years in the future. IwamotoScott now goes up against the Grand Prize winners of Washington DC and Atlanta for the title of National Champion, via an online public voting process.
Symbiotic and multi-scalar, SF HYDRO-NET is an occupiable infrastructure that organizes critical flows of the city. HYDRO-NET provides an underground arterial traffic network for hydrogen-fueled hover-cars, while simultaneously collecting, storing and distributing water and power tapped from existing aquifer and geothermal sources beneath San Francisco. A new aquaculture zone with ponds of algae and forests of sinuous housing towers reoccupy Baylands inundated by rising sea levels. Hydrogen fuel is produced by the algae, and is stored and distributed within the nanotube wall structure of HYDRO-NET's robotically-drilled tunnels. At key waterfront and neighborhood locales, HYDRO-NET emerges to form linkages between the terrestrial and subterranean worlds. Here new architectures bloom as opportunistic urban caves and outcroppings, fostering new social spaces and densified urban forms, fed by the resources and connectivity provided by HYDRO-NET. These locally responsive and distributed nodes and tendrils facilitate both the preservation and organic evolution of San Francisco.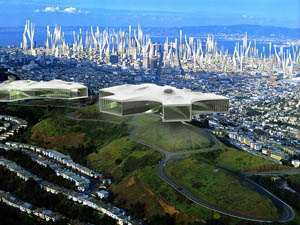 'Geothermal Mushrooms' at Twin Peaks, view down Market Street to 'Algae Towers' downtown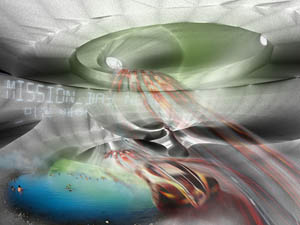 'Fog Flower' in foreground, 'Ocean Fringe' housing at Ocean Beach / Sunset District, 'Loop Spa-Hotel and 'Geothermal Mushroom' in distance.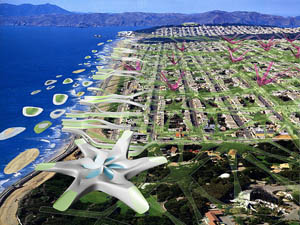 'Fog Flower' in foreground, 'Ocean Fringe' housing at Ocean Beach / Sunset District, 'Loop Spa-Hotel and 'Geothermal Mushroom' in distance.
Futurist Portrait: Ray Kurzweil

Raymond Kurzweil (born February 12, 1948) is an inventor and futurist. He has been a pioneer in the fields of optical character recognition (OCR), text-to-speech synthesis, speech recognition technology, and electronic keyboard instruments. He is the author of several books on health, artificial intelligence, transhumanism, technological singularity, and futurism.
Ray Kurzweil has been described as "the restless genius" by the Wall Street Journal, and "the ultimate thinking machine" by Forbes. Inc. magazine ranked him #8 among entrepreneurs in the United States, calling him the "rightful heir to Thomas Edison," and PBS included Ray as one of 16 "revolutionaries who made America," along with other inventors of the past two centuries.
As one of the leading inventors of our time, Ray was the principal developer of the first CCD flat-bed scanner, the first omni-font optical character recognition, the first print-to-speech reading machine for the blind, the first text-to-speech synthesizer, the first music synthesizer capable of recreating the grand piano and other orchestral instruments, and the first commercially marketed large-vocabulary speech recognition. Ray's web site Kurzweil AI.net has over one million readers.
Among Ray's many honors, he is the recipient of the $500,000 MIT-Lemelson Prize, the world's largest for innovation. In 1999, he received the National Medal of Technology, the nation's highest honor in technology, from President Clinton in a White House ceremony. And in 2002, he was inducted into the National Inventor's Hall of Fame , established by the US Patent Office.
He has received fifteen honorary Doctorates and honors from three U.S. presidents.
Ray's latest book The Singularity is Near, was a New York Times best seller, and has been the #1 book on Amazon in both science and philosophy.

See also his book: Are We Spiritual Machines?: Ray Kurzweil vs. the Critics of Strong A.I.


Ray Kurzweil is currently making a movie due for release in 2008 called The Singularity is Near: A True Story About the Future. Part fiction, part non-fiction, he interviews 20 big thinkers like Marvin Minsky, plus there is a B-line narrative story that illustrates some of the ideas, where a computer avatar (Ramona) saves the world from self-replicating microscopic robots. In an on-stage interview with Moira Gunn about the book on October 11, 2005, Dr. Gunn reluctantly allowed the question "How will the singularity help me to get more sex?" and Kurzweil and Gunn then engaged an elaborate and playful yet serious half-hour discussion of why "version 3.0" of the coming virtual reality or augmented reality will provide really good sex while avoiding some of the risks of traditional sexual intercourse as experienced circa 2000.

Ray Kurzweil's keynote address at The Singularity Summit at Stanford put on by the Singularity Institute in May 2006.

Part 1
Part 2
Part 3
Agenda
The Season Events are on Thursdays
Registration: 18:30-19:00, Conference: 19:00-21:15
Club of Amsterdam Open Business Club

Club of Amsterdam Open Business Club
Are you interested in networking, sharing visions, ideas about your future, the future of your industry, society, discussing issues, which are relevant for yourself as well as for the 'global' community? The future starts now – join ouronline platform …