Welcome to the Club of Amsterdam Journal.

The Future Now Show about 5G with Peter Cochrane

"5G looks set to deliver more change into the mobile space than anything that has gone before. It is clear that 5G marks a new era in the evolution of wireless, but only if we dare to think and do different to the past." – Peter Cochrane

Felix B Bopp, Founder & Chairman
Batteries made with sulfur could be cheaper, greener and hold more energy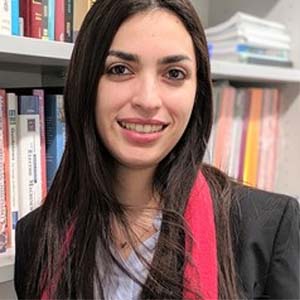 by Mahdokht Shaibani, Research Fellow, Mechanical & Aerospace Engineering, Monash University
Lithium-ion batteries have changed the world. Without the ability to store meaningful amounts of energy in a rechargeable, portable format we would have no smartphones or other personal electronic devices. The pioneers of the technology were awarded the 2019 Nobel Prize for chemistry.
But as society moves away from fossil fuels, we will need more radical new technologies for storing energy to support renewable electricity generation, electric vehicles and other needs.
One such technology could be lithium-sulfur batteries: they store considerably more energy than their lithium-ion cousins – in theory as much as six times the energy for a given weight. What's more, they can be made from cheap materials that are readily available around the world.
Until now, lithium-sulfur batteries have been impractical. Their chemistry allows them to store so much energy that the battery physically breaks apart under the stress.
However, my colleagues and I have engineered a new design for these batteries which allows them to be charged and discharged hundreds of times without breaking down. We hope to have a commercial product ready in the next 2–4 years.
What's so good about sulfur?
Lithium-ion batteries require minerals such as rare earths, nickel and cobalt to produce their positive electrodes. Supply of these metals is limited, prices are rising, and their mining often has great social and environmental costs.
Industry insiders have even predicted serious shortages of these key materials in the near future, possibly as early as 2022.
In contrast, sulfur is relatively common and cheap. Sulfur is the 16th most abundant element on Earth, and miners produce around 70 million tonnes of it each year. This makes it an ideal ingredient for batteries if we want them to be widely used.
What's more, lithium-sulfur batteries rely on a different kind of chemical reaction which means their ability to store energy (known as "specific capacity") is much greater than that of lithium-ion batteries.
Great capacity brings great stress
A person faced with a demanding job may feel stress if the demands exceed their ability to cope, resulting in a drop in productivity or performance. In much the same way, a battery electrode asked to store a lot of energy may be subjected to increased stress.
In a lithium-sulfur battery, energy is stored when positively charged lithium ions are absorbed by an electrode made of sulfur particles in a carbon matrix held together with a polymer binder. The high storage capacity means that the electrode swells up to almost double its size when fully charged.
The cycle of swelling and shrinking as the battery charges and discharges leads to a progressive loss of cohesion of particles and permanent distortion of the carbon matrix and the polymer binder.
The carbon matrix is a vital component of the battery that delivers electrons to the insulating sulfur, and the polymer glues the sulfur and carbon together. When they are distorted, the paths for electrons to move across the electrode (effectively the electrical wiring) are destroyed and the battery's performance decays very quickly.
Giving particles some space to breathe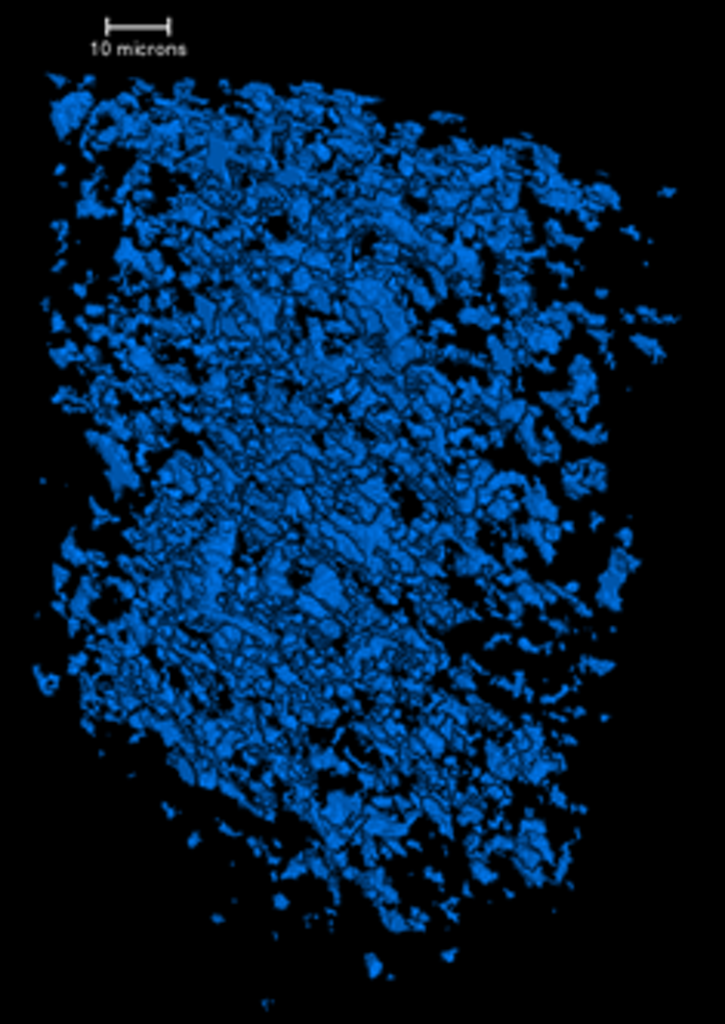 The conventional way of producing batteries creates a continuous dense network of binder across the bulk of the electrode, which doesn't leave much free space for movement.
The conventional method works for lithium-ion batteries, but for sulfur we have had to develop a new technique.
To make sure our batteries would be easy and cheap to manufacture, we used the same material as a binder but processed it a little differently. The result is a web-like network of binder that holds particles together but also leaves plenty of space for material to expand.
These expansion-tolerant electrodes can efficiently accommodate cycling stresses, allowing the sulfur particles to live up to their full energy storage capacity.
When will we see working sulfur batteries?
My colleagues Mainak Majumder and Matthew Hill have long histories of translating lab-scale discoveries to practical industry applications, and our multidisciplinary team contains expertise from materials synthesis and functionalization, to design and prototyping, to device implementation in power grids and electric vehicles.
The other key ingredient in these batteries is of course lithium. Given that Australia is a leading global producer, we think it is a natural fit to make the batteries herea.
We hope to have a commercial product ready in the next 2–4 years. We are working with industry partners to scale up the breakthrough, and looking toward developing a manufacturing line for commercial-level production.

This article is republished from The Conversation under a Creative Commons license.
Rinspeed's "MetroSnap"
Rinspeed's "MetroSnap" displays innovative solution for the key question of modular vehicle systems and mobility options: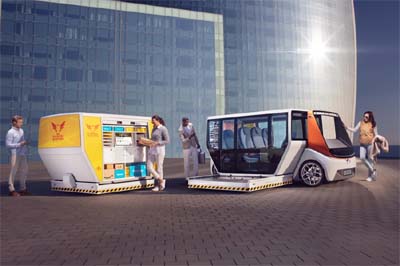 Clever modular concept solves the issue of cost
Frank M. Rinderknecht: "The crucial step towards series production has now been taken."
As the first company in the world, Swiss powerhouse of ideas Rinspeed demonstrated the "Snap" and the "microSNAP" at the CES in Las Vegas in the past two years, vehicles whose chassis and bodies go their own ways. With the revolutionary separation of the two vehicle components, Rinspeed confronts the increasingly diverging life cycles of hardware and software. And by doing so, creates a sustainable foundation for the transport of people and goods in the world of tomorrow.
The future belongs to modular mobility systems. That is evident in the number of imitators in the industry that have picked up Rinspeed's ingenious idea. However, the systems also have to make economic sense in order to gain broad acceptance. And that is precisely where Rinspeed is now once more taking a crucial step ahead: In the "MetroSnap", Rinspeed presents a simple, fast, safe and inexpensive swapping system for the vehicle bodies for which the Swiss company has filed for patent protection.
Modular vehicles can help solve a majority of the problems and questions posed by modern mobility that arise as the result of new IT technologies such as autonomous driving and of traffic congestion and the associated inefficiency and air pollution. Due to the flexible use of different vehicle bodies, these vehicles not only reduce the number of tremendously expensive and systemically short-lived automated vehicles, they also satisfy – depending on the time of day and current needs – the different transport requirements of people and goods.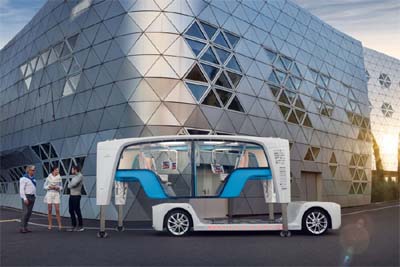 Thanks to the unique swapping system – inspired by aviation, and tried and tested there around the world in all weather conditions – entirely new applications become possible. Among other things, the desired service now comes to the customer quickly and simply, regardless where he or she may be at the time – at home or at work. This can be customer-accessible parcel stations that are dropped off in the customer's neighborhood for a certain period. Even combinations with a "corner health food shop" are conceivable. Limited business hours, long drives and the endless and unpopular courier caravans are thus things of the past. And quite as an aside: no more unattended packages, no more thefts and failed delivery attempts – and no more associated pollution and traffic burden. And the really great thing about it is: This innovative way of getting parcels to the customer faster and easier can already be used today with a human driver. Parcel stations on wheels, right around the corner.
Because the batteries are split up between the "Pod" (vehicle body) and the "Skateboard" (chassis), the vehicle does not need to be parked for charging. The charging process takes place elegantly and without wasted time while cleaning or loading the "Pod." The Swiss drivers of innovation refer to this as "Hot Swap", the swapping of the vehicle bodies including the batteries in a matter of seconds – the vehicle is ready to go almost as quickly as a racecar after a pit stop.

The unique "MetroSnap" concept, which fuses together smart city, supply chain and passenger transport, is meeting with very strong interest in the industry even before its actual premiere. The Rinspeed motto at the CES 2020 is 'customer focus.' The customer – and thus people – take center stage. Because Rinspeed boss Frank M. Rinderknecht is sure: "People desire ever more convenience and simplicity in their lives, and we want to make this possible with our innovative transport solutions."
The electric vehicle – as always when Rinderknecht is at work – is full of technical and visual treats contributed by a reputable network of companies from around the world. In keeping with a proven tradition, Rinspeed's 26th concept car was designed by Swiss company 4erC and constructed and realized technically at Esoro.
When it comes to electric mobility, special attention is on the batteries. The heat conducting Keba-blend/TC plastics from Barlog Group based in the German town of Overath ensure optimized bat-tery cooling. The 'Clean Energy Pack,' the modular and scalable battery system of the "MetroSnap" skateboard, comes from Clean Energy Global based in Berlin. Speaking of energy supply: Thermal management specialist Eberspächer controls the temperature in the "Pax Pod" with its heating and cooling solutions by app and provides powerful heated and refrigerated containers for the "Cargo Pod" – both with autonomous power supply thanks to accumulators. A clever interface/plug-in connector from Harting ensures the transfer of data, signals and power as soon as "Pod" and vehicle body are interlocked.
Various partners contribute the digital services for the "MetroSnap." MHP focuses on the intelligent mobility ecosystem for automated multimodal transport solutions. SAP provides a digital plat-form, which orchestrates and optimizes future mobility concepts and transportation through data analysis, machine learning and the IoT. EY ensures the automated use-based settlement of transactions between platform participants as well as transparency on and trust in the supply chains with solutions based on blockchain technology. ESG Mobility focuses on smart connectivity apps, a fleet management system supported by AI, and on the development of the electronics architecture for swappable vehicle components.

When it comes to easy, fast and secure payment and its processing, Wirecard from Aschheim comes into play. Thanks to state-of-the-art palm vein recognition, the access system is considered to provide ultimate security. Zürich Insurance Group is thinking intensively about new business models of the digital future. They include time- and use-dependent models for insurance premiums as well as insurance coverage as a service model.
Harman is actively helping to shape the transformation of mobility with innovative user experiences. The focus of the advanced digital cockpit solutions is on greater safety and comfort as well as on productivity and entertainment.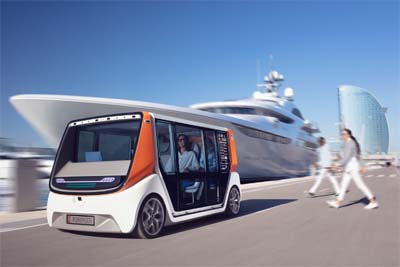 The latest project, the "MetroSnap", runs on Borbet wheels, too. The perfectly shaped Y design of the 18-inch rims captivates in every aspect. Also, not commonplace on a concept vehicle: The "MetroSnap" uses a 'Space Drive' drive-by-wire system from Schaeffler-Paravan Technologie Company. Street-legal and triple-redundant steering and braking systems guarantee maximum safety. Ibeo Automotive Systems, the world leader in laser scanner sensors for the automotive field, with its Lidar sensors ensures that obstacles and people are detected early and correctly – while the vehicle is moving and during the "Pod" swap – and that the "MetroSnap" is traveling the roads safely in autonomous mode.
The lighting technology comes from Osram. The exterior lights – for example the digital license plate – are used to communicate with other road users. In addition to no-dazzle high beams, the micro-pixel LED Eviyos also make it possible to project warning symbols onto the road. The interior lights are adapted to the mood of the driver with the help of health tracking functions. With regard to the headlights of the "MetroSnap", Rinspeed relies on state-of-the-art LED technology as well as on the innovative product solutions from Prettl Lighting & Interior based in Pfullingen, which also make the visual messaging with other road users possible.
Dekra, a globally leading experts' organization, tested the security and proper functioning of the data and information transfer. TTTech Auto from Vienna contributes crucial components: Their In-Car Compute Platform (ICCP) combines all vehicle functions in a single high-performance control unit and in this way advances the transition to the software-based vehicle of the future.
Rinspeed devotes great attention to the feel-good appointments of the interior. FoamPartner is the perfect address for this. The company contributes its expertise in acoustically and thermally effective foams. With Tencel fibers for automotive interiors in the "MetroSnap", Austrian company Lenzing commits to the joint creation of an innovative transport concept of the future that strikes out in new directions in matters of sustainability, while elevating comfort to a new level at the same time. South Korean manufacturer Kolon Glotech sets visually appealing highlights with tradi-tional Korean Sanggam printing on the center console, the interior trim panels and on the "Skate-board" shrouds. Dutch chemical company Stahl, a specialist for sustainable leather, textile and various plastic surfaces in automotive interiors, likewise contributes its expertise.
When it comes to innovative textile products, Rinspeed has been justifiably relying on its coalition partner Strähle+Hess for years. The knitted fabric used in the vehicle seat was manufactured from recycled PES. Stratasys from Rheinmünster supplies innovative single-operation 3D printing on var-ious materials for interior and exterior components.
The Future Now Show

Shape the future now, where near-future impact counts and visions and strategies for preferred futures start. – Club of Amsterdam
Do we rise above global challenges? Or do we succumb to them? The Future Now Show explores how we can shape our future now – where near-future impact counts. We showcase strategies and solutions that create futures that work.
Every month we roam through current events, discoveries, and challenges – sparking discussion about the connection between today and the futures we're making – and what we need, from strategy to vision – to make the best ones.
February 2020

5G
with
Peter Cochrane
"Philippe Gerwill talks mainly about digital transformation, focusing on how to use technology to better serve humanity and not the other way around. He illustrates his talk with interesting concrete examples and amazing people that he met on his journey."
The Future Now Show
Credits
Professor Peter Cochrane OBE, Cochrane Associates Co-Founder, Sentient Systems University of Suffolk UK
https://petercochrane.com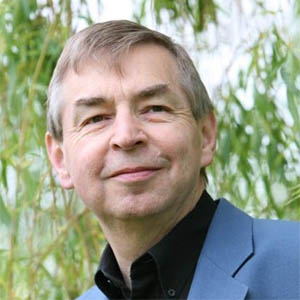 Food and nutrition security
Food security is defined as the availability and the access of food to all people; whereas nutrition security demands the intake of a wide range of foods which provides the essential needed nutrients. It is estimated that the average dietary intake in India is 2280 calories.

The State of Food Security and Nutrition in the World

by Food and Agriculture Organization of the United Nations
News about the Future

A new way to irrigate crops year-round
Startup Khethworks is deploying solar-powered pumps to help poor farmers in India irrigate crops all year long.
Toward the end of 2019, startup Khethworks began selling what the team refers to internally as "version one" of its 320-watt solar-powered water pump. The pump allows farmers in India who rely on crop harvests to feed their families to farm year-round instead of being limited to the four-month monsoon season. In just a couple of months, the product has started to change the fortunes of underserved farmers in India, lifting up families and impacting entire villages.
"We didn't create this fancy technology at MIT and then think about where it was applicable," Taylor says. "We were taking input from farmers from day one."

Foresight Africa: Top priorities for the continent 2020-2030
This special edition of Foresight Africa highlights the triumphs of past years as well as strategies from our experts to tackle forthcoming, but surmountable, obstacles to a prosperous continent by 2030.
Achieving the Sustainable Development Goals. The state of play and policy options. …
Deepening good governance. Inclusion, democracy, and security. …
Leveraging demographic trends for economic transformation. …
Combating climate change. …
Bolstering Africa's role in the global economy
Existence of Fear Precedes Essence


by Desh Subba, Philosopher, Author, Hong Kong

Jean Paul Sartre, "Existence precedes essence."
Desh Subba, "Existence of fear precedes essence."
The ontological relationship of essence to existence is one of the controversial big topics in philosophical history. What is their right relationship? Is it merely a joke? Or is it a serious challenge in the human quest for truth?
In my experience, readers mostly don't want to enter into very serious thought of the inner core part of philosophy's debates, and with essence and existence this is also the case. They usually either comment from a surface reaction or a mocking smile. It is a characteristic of mass general readers to not engage deeper into such queries because they read for the sake of reading itself. After reading, they do nothing. They are free in their choice, duty and responsibility, no pressure to go further because they are independent reader. Few readers have the deeper interest. They might think once about these two sayings above. I hope they will think beyond a mere blind belief of classical existentialism (e.g., Sartre). Erecting beliefs upon the Eifel Tower of Old Existentialism, cannot penetrate unveiling new logic, no, not even hammering with a new logical hammer will be enough. So to see through original existentialism's beliefs we need to throw provocative light upon the old shadows of Existentialism and philosophy itself.
I think an example of a challenging question for them is the case of the Mad Man.
In original existentialism belief (e.g., Jean Paul Sartre) says existence precedes essence. It is a breath of Existentialist or Existentialism via their Land Mark? If existentialists are surviving in the philosophical world; Reason is their trusty Land Mark. But I think an example of a challenging question for them is the case of the Mad Man.
Why a Mad Man doesn't precede essence? He is an existence and he has consciousness. Existence of insane is like essence vice versa. In practical terms, Existence doesn't directly precede essence. If we accept it then, why existence of Mad Man doesn't precede essence?
My conclusion is: Only existence of fear precedes essence. Exploring for food, shelter and practicing a worship of nature was not because of existence, it was because of existence of fear. Existence itself is virtually a senseless entity or state of being. It cannot activate towards essence without motivational drive(s); activation towards essence is made due to fear. Even Mad Man has some sense though he/she cannot precede any essence. We can take another example of an infant. Existence of Infant doesn't precede essence because their consciousness, sense and knowledge are not ready to explorer essence. Until they don't know themselves whether they are stone or man, how one can precede to essence. Condition of the infant and insane is more or less the same. In their condition existence precedes essence or essence precedes existence; it doesn't make a difference to them.
Later Kant mixed up empiricist and rationalist and developed critical philosophy.
First existence is like nominal sense. Nominal means in the sense equal to infant and insane. Nominal sense processes towards more consciousness. Sense, step by step separates into consciousness and knowledge. Many philosophers have worked out how knowledge comes after consciousness(?). Later Kant mixed up empiricist and rationalist and developed critical philosophy. I have given a map of understanding life-consciousness-knowledge-fear as developmental. This knowledge is acquired from sense organs, incident, environment, necessity and conditional reflex in the stage of unconsciousness, semi-consciousness and consciousness accordingly. When it comes to age of knowledge, first stage is fear of existence. Fear of existence changes into existence of fear. Existence of fear precedes essence. Existence of fear means knowledge of fear. Knowledge of fear precedes essence. Thus existence of fear precedes essence not only existence precedes to essence.
Article is edited by R. Michael Fisher
Recommended Book
There Is No Planet B: A Handbook for the Make or Break Years
by Mike Berners-Lee

Feeding the world, climate change, biodiversity, antibiotics, plastics – the list of concerns seems endless. But what is most pressing, what are the knock-on effects of our actions, and what should we do first? Do we all need to become vegetarian? How can we fly in a low-carbon world? Should we frack? How can we take control of technology? Does it all come down to population? And, given the global nature of the challenges we now face, what on Earth can any of us do? Fortunately, Mike Berners-Lee has crunched the numbers and plotted a course of action that is practical and even enjoyable. There is No Planet B maps it out in an accessible and entertaining way, filled with astonishing facts and analysis. For the first time you'll find big-picture perspective on the environmental and economic challenges of the day laid out in one place, and traced through to the underlying roots – questions of how we live and think. This book will shock you, surprise you – and then make you laugh. And you'll find practical and even inspiring ideas for what you can actually do to help humanity thrive on this – our only – planet.
The pitfalls of eco-efficiency

By Régis Chenavaz, Enseignant-chercheur en économie et marketing, Kedge Business School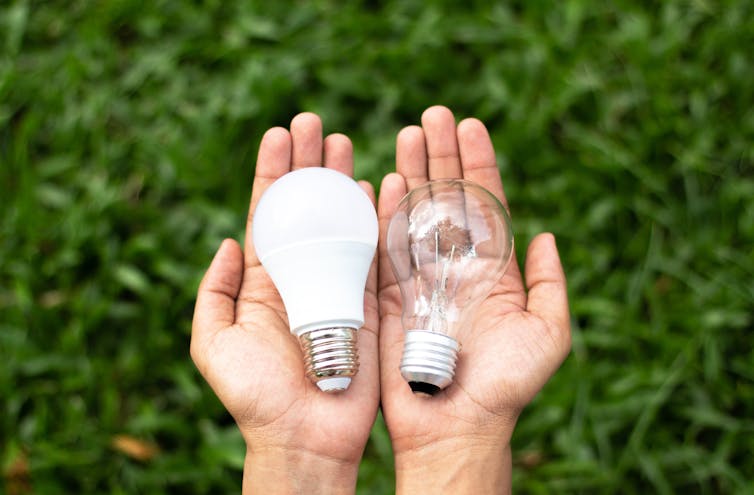 Régis Chenavaz, Kedge Business School
The saying "the road to hell is paved with good intentions" can be applied to many situations, and among them are companies' efforts to preserve natural resources. For example, changes intended to reduce resource use can in the end have the opposite effect.
For a company, "eco-efficiency" means using fewer natural resources in the production process to obtain the same quality and quantity of a particular product. Coca-Cola and Nestlé, for example, strive to reduce their water use and Siemens is trying to use less electricity. This environmental effort is important, knowing that Coca-Cola needs 70 litres of water to produce 1 litre of soda and that they are responsible for considerable plastic pollution.
While "greener" products are very much in vogue, energy savings have the advantage of lowering production costs. Offering consumers products that are less resource intensive also sends out a positive signal. Let's take a closer look at the mechanics of such an approach and how it can sometimes backfire.
Rebound effects
Many believe that an eco-efficiency approach aligns business' economic objectives with the environmental objectives of reducing the use of natural resources. However, it is not that simple. We need to distinguish between the natural resources used per unit produced – often highlighted by companies engaged in an eco-efficiency approach – and the natural resources consumed overall, which are linked to global demand for these resources. It is this last point that determines the environmental impact.
For example, let's examine the case of a car that is more fuel efficient, travelling more miles per gallon of gasoline. Less fuel is required to make the same trip, which also means that the same trip has now become cheaper. This money savings can encourage us to drive more, and therefore to consume more petrol – this is known as the "rebound effect".
We observe the same effect for LED bulbs, which cost less to use than incandescent bulbs. We can make fewer efforts to turn off these low-consumption lights than those with incandescent bulbs, which can paradoxically can increase energy use.
By reducing production costs, eco-efficiency can thus have a "cost effect": As production costs decrease, the selling price also decreases and, consequently, demand and production can rise. We consume more, which runs counter to our environmental objectives. This argument seems valid in mass markets. When total resource use increases as a result of an eco-efficiency policy, it is said that there is a "rebound", with an ultimately negative impact on the environment.
The case of luxury goods
But there is also what we call a "negative rebound", when resource use decreases more than expected. This is the case for luxury goods or niche markets, when companies use the green credentials of their products as a sign of differentiation. The consumer is then ready to pay more for greener products – for example for electric or hybrid cars or recyclable batteries. Today, hybrid cars are more expensive to produce than conventional ones, the process being relatively new and cost of development needing to be amortized. But at the same time, price is also higher because consumers are attracted to hybrid cars.
If companies take advantage of this and increase their prices, this results in a decrease in the quantities demanded and therefore in the total resources consumed. In the end, the environmental benefit is greater than expected. Paradoxically, it is when companies raise their prices for more eco-efficient products that the environmental impact will be most favourable.
To be genuinely beneficial to the environment, eco-efficiency policies must therefore not encourage demand too much and manage both the efficiency of resource use and the total amount of resources consumed. Such an holistic eco-efficiency management carefully balances the impact on price and demand, ensuring that good intentions become good environmental deeds.


Stanko Dimitrov (Associate Professor at the University of Waterloo, Canada) and Frank Figge (Professor at Kedge Business School) contributed to this article.
This article is republished from The Conversation under a Creative Commons license.
Climate Change Success Story: Impossible Foods
2019 UN Global Climate Action Award winner

Impossible Foods is creating plant-based replacements for meat products that are more sustainable and help displace market demand for meat products. By replacing animal products, consumers have enormous power to spare land for biodiversity and carbon capture, halt greenhouse gas emissions at the source, and alleviate demand on fresh water needed for healthy ecosystems.
Launched in 2016, Impossible Burgers are now served in more than 17,000 restaurants, including traditional fast food outlets like White Castle and Burger King. Their burgers have had proven successful in appealing to non-vegetarians, by converting them to Impossible Foods' plant-based meat alternatives. For example, priced at only one dollar more than the Burger King Whopper, the Impossible Burger has the potential to replace meat products and cut greenhouse gas emissions in the process.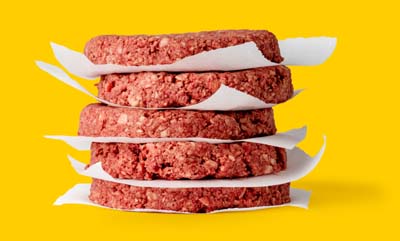 "Hi. We're Impossible Foods, and we make meat, dairy and fish from plants. Our mission is to make the global food system truly sustainable by eliminating the need to make food from animals. Why? Animal agriculture uses a tremendous amount of the world's natural resources. In 2016, we launched our first product, the Impossible™ Burger. It's delicious, nutritious, and made using but a small fraction of the land, water and energy required to make meat from a cow."

MISSION
Our mission is to restore biodiversity and reduce the impact of climate change by transforming the global food system. To do this, we make delicious, nutritious, affordable and sustainable meat, fish and dairy from plants.
Animal agriculture occupies nearly half of the world's land, is responsible for 15% of global greenhouse gas emissions and consumes 25% of the world's freshwater. We make meat using a small fraction of land, water and energy, so people can keep eating what they love.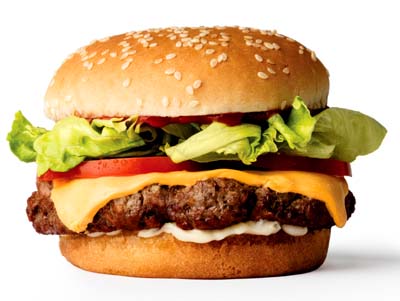 FOUNDING STORY
During a sabbatical in 2009, Stanford University Professor Dr. Patrick O. Brown decided to switch the course of his career to address the urgent problem of climate change. In particular, he wanted to make the global food system sustainable by making meat, fish and dairy from plants — which have a much lower carbon footprint than meat, fish and dairy from animals. Pat brought together a team of top scientists to analyze meat at the molecular level and determine precisely why meat smells, handles, cooks and tastes the way it does. Together, we developed a world-class archive of proprietary research and technology to recreate the entire sensory experience of meat, dairy and fish using plants. We debuted our first product, Impossible Burger, in 2016, and we plan to commercialize additional meat, fish and dairy products around the world.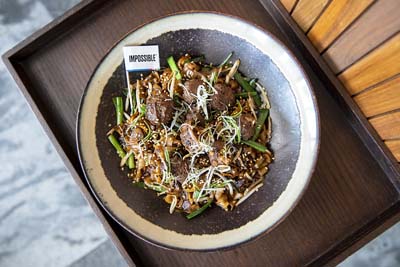 Futurist Portrait: Sirkka Heinonen


Professor Sirkka Heinonen works as Senior Advisor, Finland Futures Research Centre (FFRC) Professor emerita, Adjunct Professor, Guest Professor at University of Science and Technology of China (USTC), PhD
Peer-to-peer and circular economy principles in the fourth industrial revolution (4IR) – New risks and opportunities

Abstract:
Exploring anticipated transformative changes must include a critical and holistic view. In the context of large-scale energy transitions, analytical approaches are often narrowly constrained around techno-economic, political and environmental aspects as drivers of change. Discussing renewable energy technologies in the context of an increasingly omnipresent peer-to-peer logic and the fourth industrial revolution (4IR) underscore the role of cultural change as a potential game changer. This paper focuses on the different modes and implications of peer-to-peer principles, as a means of organizing social interaction, assumed to have an increasingly important role in forthcoming energy transitions. In addition to these novel organisational principles, circular economy aspirations are gaining strength. Taken together, these socio-technical imaginaries can be interpreted as possibly converging building blocks for a desirable future society. Assuming a systems thinking view, this paper presents the key findings of foresight work. Such issues were discussed in a futures workshop organised in June 2018 in Finland, with the Millennium Project, a global futures think tank. The workshop explored the possible interactions of decentralised renewable energy, peer-to-peer and circular economy. The workshop results reflect new opportunities, risks, and the potential impacts of identified developments. The results indicate that synergetic advantages can be demonstrated, although a few notable caveats remain on the convergence of emerging peer-to-peer practices with circular economy. Furthermore, relevance to other geographic regions warrants urgent attention.
Professor Sirkka Heinonen: Futures Studies and Corporate Foresight, Part I