Welcome to the Club of Amsterdam Journal.
Today is the Opening Day of the Olympic Games in Beijing.
Some thoughts by Confucius:
"Life is really simple, but we insist on making it complicated."
"A journey of a thousand miles begins with one step."
"He who will not economize will have to agonize."
"Success has many fathers, failure is an orphan."
"It does not matter how slowly you go so long as you do not stop."
Felix Bopp, editor-in-chief
User-generated content and weblogs – a new challenge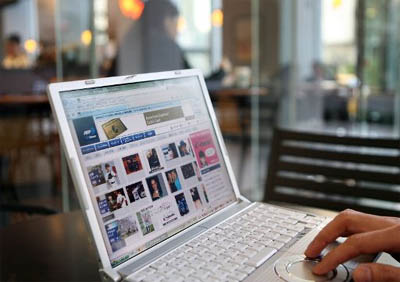 By EU – Information Society
As weblogs represent an important new contribution to media pluralism, there is a need to clarify their status, and to create legal safeguards for use in the event of lawsuits as well as to establish a right to reply, says a recent own initiative report drafted by Estonian Socialist Marianne Mikko. Own initiative reports are drafted by individual MEPs and are not proposals for EU laws. The report was later adopted by Parliament's Culture Committee
This article has been corrected to reflect amendments by Parliament's Culture Committee, which affected some of the positions in the draft report that we had previously reported.

The report – adopted by MEPs on the Culture Committee on 3 June – also says there is "considerable risk" that the private media's pursuit of profit could compromise its ability to act as a watchdog for democracy. It goes on to suggest "implies a need to establish legal safeguards providing for the assignment of liability in the event of lawsuits, and establishing the right to reply".

"The cases of unrestricted ownership concentration or of scarce content pluralism in the media are endangering cultural diversity and freedom of expression not only within national markets but also at European level. We need therefore strong European commitment to overcome those challenges especially in view of the new technologies and services in the media sector", said Committee chair Greek Socialist Katarina Batzeli (PES).

Weblogs and other new on-line media pose new challenges, say MEPs. The growth of commercial media outlets for user-generated content, such as photos and videos, used without paying a fee, raises problems of ethics and privacy, and puts journalists and other media professionals under pressure, they say.

The report "on concentration and pluralism in the media in the European Union" – drafted by Estonian Socialist Marianne Mikko – also warns against the concentration of the media in the hands of a few companies because the media is vital to safeguarding democracy. "The media remains a powerful tool, which should not be treated solely in economic terms," she said. The report calls for social and legal guarantees to journalists and editors. It will be put to the vote in the full plenary in the future.

Ms Mikko told us "the blogosphere has so far been a haven of good intentions and relatively honest dealing. However, with blogs becoming commonplace, less principled people will want to use them".

Asked if she considered bloggers to be "a threat", she said "we do not see bloggers as a threat. They are in position, however, to considerably pollute cyberspace. We already have too much spam, misinformation and malicious intent in cyberspace". She added, "I think the public is still very trusting towards blogs, it is still seen as sincere. And it should remain sincere. For that we need a quality mark, a disclosure of who is really writing and why. "

Belgian MEP Ivo Belet (who acted as an advisor on the report for the Industry committee) said "weblogs and user generated content contribute in a lively and fresh way to a colourful and many-sided media landscape. They should not be restrained". The centre right EPP-ED member did concede however that some legal issues such as privacy and the right of reply need to be addressed.

German Liberal Jorgo Chatzimarkakis acted as advisor for the Economic and Monetary committee. He told us that "bloggers cannot automatically be considered a threat, but imagine pressure groups, professional interests or any other groups using blogs to pass on their message. Blogs are powerful tools, they can represent an advance form of lobbyism, which in turn can be seen as a threat". He said "any blogger representing or expressing more than their personal view should be affected by this report."
Next Event
Organised by Final Cut Pro User Group Los Angeles

Sunday, September 14, 2008
Registration: 17:00-19:00
Presentations: 19:00-22:00
After Party: 22:00-01:00

This event is open to the public. Seating is first come first serve.


Where: Westergasfabriek – Gashouder, Klönneplein 3, Amsterdam

Event Management & Catering by SONARIS:
Mediterranean food, beer, wine, champagne, non-alcoholic and tropical drinks.
The event is supported byApple, Adobe, Blackmagicdesign, Thomson, the Westergasfabriek and many more ..
Club of Amsterdam blog

News about the Future

Cars that talk
EU Commission earmarks single radio frequency for road safety and traffic management

As part of its overall fight against road accidents and traffic jams, the Commission decided today to reserve, across Europe, part of the radio spectrum for smart vehicle communications systems (so called co-operative systems). They are based on wireless communication technology and allow cars to 'talk' to other cars and to the road infrastructure providers. They can, for example, warn other drivers of slippery roads or of a crash which just happened. Smart vehicle communication systems have the potential to make safer and ease the lives of Europe's drivers: in 2006, more than 42,000 people died in road accidents in the European Union and more than 1.6 million were injured while every day there are some 7,500 km of traffic jams on the EU's roads. The Commission Decision also intends to foster investment in smart vehicle communication systems by the automotive industry, at the same time spurring public funding in essential roadside infrastructure.

Top Six Trends in Communications and Media Technologies, Applications and Services – Possible Implications
The Top Six Trends report was developed by ACMA – Australian Communications and Media Authority – to provide a concise overview of technology, applications and services trends over the next five to 10 years.

1. An accelerating pace of change driven by overlapping developments in technology, and connections between people, databases and objects.
2. Diversity in the development of physical infrastructure including broadband, digital broadcasting, smart radio systems, sensor networks, mesh networks, efficiency techniques in multimedia transmission, location sensing and context-aware technologies, intelligent transport systems and satellite services.
3. Continuing spread of connectivity through the integration of information processing beyond the desktop into everyday objects and activities.
4. Enhanced content and network management capabilities driven by developments in deep packet inspection and content filtering technologies, coupled with the need to improve e-security, identity management, intellectual property protection and energy efficiency.
5. The emerging social web acting both as platform and database, enabling innovation and creativity by users and service providers.
6. Continuing scientific and technological innovation, which in combination are driving advances in computing power, display technologies, artificial intelligence and nanotechnology.


Westergasfabriek Amsterdam
If you're looking for an adventurous place in Amsterdam, then the Westergasfabriek Culture Park is worth a visit. Art and culture form the basis of this down-to-earth industrial complex close to the centre of Amsterdam. The new energy is tangible for everyone who visits for work, play, exercise, entertainment or events.
Just about anything goes in these historic buildings; from a photo shoot to major audience events, from weddings to exclusive product presentations. The venues available for a temporary hire are: the magnificent circular Gasometer (2500 m2), the Transformer House with its sacred mood (700 m2), the impressive Purification Hall (1200 m2), the intimate Machine Building with chapel (340 m2) and the small Eastern Meter House (60 m2), furnished as a meeting room. The outdoor spaces such as the quayside, the larger meadow or the gardens of the park can also be used for events.
The Westergasfabriek is freely accessible all day. From early in the morning, there's fresh bread and fine coffee at the Baker's Shop (open every day) and the Espresso Factory (open tue – sun). There are various galleries and shops, Pacific Parc cafe/restaurant/dancing (open everyday) and the food-design studio Proef (open: fri-sun). The Ketelhuis Cinema (open everyday) shows the latest films and in the Flex Bar (open thu – sun) you can dance late in the night. Opening soon: The WestergasTerras for drinks, dinner, parties & salsa near the wetlands. The modern park surrounding the site offers plenty of space, peace and nature; for a picknick, to throw a frisby or a pleasant walk. You are most welcome.
Westergasfabriek / Pazzanistraat 41 / 1041 DB Amsterdam /
T: + 31 (0) 20 5860710 / F: + 31 (0) 20 6813062 /
E info@westergasfabriek.nl I www.westergasfabriek.com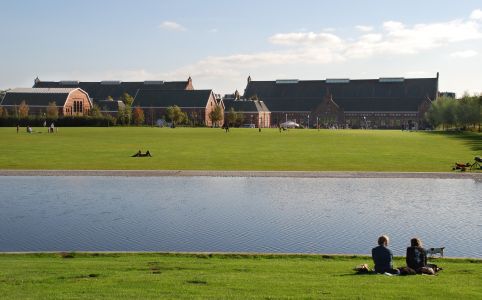 Studio Monte Rosa
Studio Monte Rosa is a special mountain hut, which has been planned for the Swiss Alpine Club (SAC) by the Department of Architecture. The project covers from the conception to the final execution all the phases and technological blocks needed for the realization of this unique building. In fact, the new Studio Monte Rosa is in the middle of a natural reserve with extreme alpine conditions, yet energeticaly to 90% self-contained and self-sufficient (90% autarchy).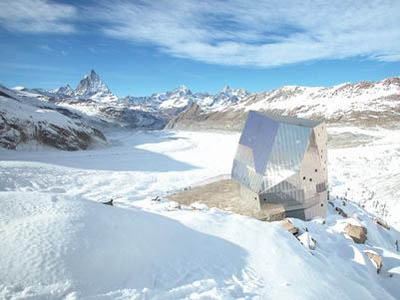 n splendid isolation, on the edge of a glacier in pristine wilderness, the hut will be able to host 125 guests in the restaurant and hotel with very little environmental impact. The four floors will be realised in a wooden pre-fabricated structure. The realisation of bio-gas generation for human waste recycling is also being considered.
Recommended Book
'Major discovery' from MIT
'Major discovery' from MIT primed to unleash solar revolution

Scientists mimic essence of plants' energy storage system

By Anne Trafton, News Office
In a revolutionary leap that could transform solar power from a marginal, boutique alternative into a mainstream energy source, MIT researchers have overcome a major barrier to large-scale solar power: storing energy for use when the sun doesn't shine.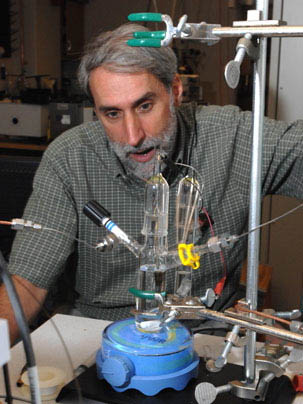 Until now, solar power has been a daytime-only energy source, because storing extra solar energy for later use is prohibitively expensive and grossly inefficient. With today's announcement, MIT researchers have hit upon a simple, inexpensive, highly efficient process for storing solar energy.
Requiring nothing but abundant, non-toxic natural materials, this discovery could unlock the most potent, carbon-free energy source of all: the sun. "This is the nirvana of what we've been talking about for years," said MIT's Daniel Nocera, the Henry Dreyfus Professor of Energy at MIT and senior author of a paper describing the work in the July 31 issue of Science. "Solar power has always been a limited, far-off solution. Now we can seriously think about solar power as unlimited and soon."
Inspired by the photosynthesis performed by plants, Nocera and Matthew Kanan, a postdoctoral fellow in Nocera's lab, have developed an unprecedented process that will allow the sun's energy to be used to split water into hydrogen and oxygen gases. Later, the oxygen and hydrogen may be recombined inside a fuel cell, creating carbon-free electricity to power your house or your electric car, day or night.
The key component in Nocera and Kanan's new process is a new catalyst that produces oxygen gas from water; another catalyst produces valuable hydrogen gas. The new catalyst consists of cobalt metal, phosphate and an electrode, placed in water. When electricity — whether from a photovoltaic cell, a wind turbine or any other source — runs through the electrode, the cobalt and phosphate form a thin film on the electrode, and oxygen gas is produced.
Combined with another catalyst, such as platinum, that can produce hydrogen gas from water, the system can duplicate the water splitting reaction that occurs during photosynthesis.
The new catalyst works at room temperature, in neutral pH water, and it's easy to set up, Nocera said. "That's why I know this is going to work. It's so easy to implement," he said.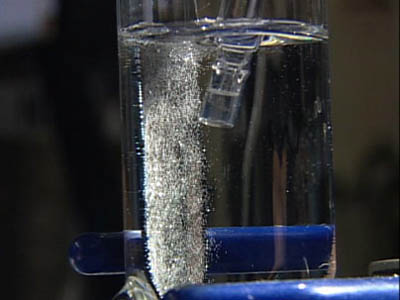 Giant leap' for clean energy
Sunlight has the greatest potential of any power source to solve the world's energy problems, said Nocera. In one hour, enough sunlight strikes the Earth to provide the entire planet's energy needs for one year.
James Barber, a leader in the study of photosynthesis who was not involved in this research, called the discovery by Nocera and Kanan a "giant leap" toward generating clean, carbon-free energy on a massive scale.
"This is a major discovery with enormous implications for the future prosperity of humankind," said Barber, the Ernst Chain Professor of Biochemistry at Imperial College London. "The importance of their discovery cannot be overstated since it opens up the door for developing new technologies for energy production thus reducing our dependence for fossil fuels and addressing the global climate change problem."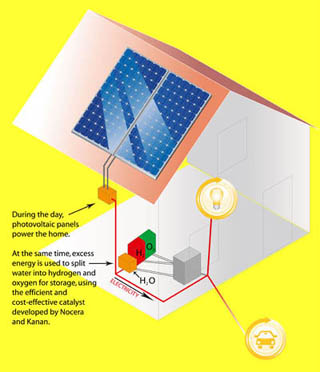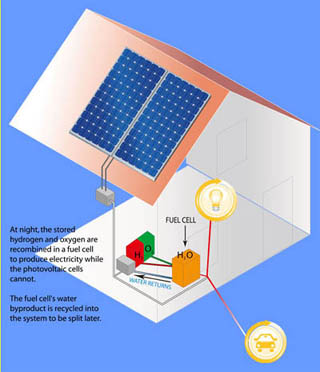 'Just the beginning'
Currently available electrolyzers, which split water with electricity and are often used industrially, are not suited for artificial photosynthesis because they are very expensive and require a highly basic (non-benign) environment that has little to do with the conditions under which photosynthesis operates.

More engineering work needs to be done to integrate the new scientific discovery into existing photovoltaic systems, but Nocera said he is confident that such systems will become a reality.

"This is just the beginning," said Nocera, principal investigator for the Solar Revolution Project funded by the Chesonis Family Foundation and co-director of the Eni-MIT Solar Frontiers Center. "The scientific community is really going to run with this."
Nocera hopes that within 10 years, homeowners will be able to power their homes in daylight through photovoltaic cells, while using excess solar energy to produce hydrogen and oxygen to power their own household fuel cell. Electricity-by-wire from a central source could be a thing of the past.
The project is part of the MIT Energy Initiative, a program designed to help transform the global energy system to meet the needs of the future and to help build a bridge to that future by improving today's energy systems. MITEI Director Ernest Moniz, Cecil and Ida Green Professor of Physics and Engineering Systems, noted that "this discovery in the Nocera lab demonstrates that moving up the transformation of our energy supply system to one based on renewables will depend heavily on frontier basic science."

The success of the Nocera lab shows the impact of a mixture of funding sources – governments, philanthropy, and industry. This project was funded by the National Science Foundation and by the Chesonis Family Foundation, which gave MIT $10 million this spring to launch the Solar Revolution Project, with a goal to make the large scale deployment of solar energy within 10 years.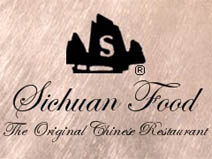 Sichuan Food
Reguliersdwarsstraat 35, 1017BK Amsterdam
tel. +31 (0)20 626 9327, fax +31 (0)20 627 7281
Open daily from 17.30 to 23.00
http://sichuan-food.orientalrestaurants.nl
"First Michelin star Chinese restaurant in Europe. Top Chinese kitchen and quality service. The Peking duck is amazing. The restaurant owner is a member of the Order of Oranje." – Six Star Society
"Considered one of the area's top Chinese restaurants, this small venue entertains a host of adherents. Although it boasts a somewhat formal atmosphere, it isn't in the least bit off-putting. The cuisine is of good quality too, judiciously spiced and rife with fresh ingredients. Peking duck is excellent, and an array of chicken, beef, pork, and seafood dishes also please local palates. Set menus take care of those who desire the full dining experience, and the value is generally quite satisfying." – 10Best Restaurant Reviews
"Not far from Rembrandtplein, this restaurant (honored several times over by restaurant guides) prepares authentic Chinese food, most notably Szechuan specialties as its name indicates. Inside, the Chinese decor is sombre, drawing attention to a mysteriously blue-lit aquarium of exotic fish." – Thalys
Futurist Portrait: Jane McGonigal
Jane McGonigal is a game designer, a games researcher, a future forecaster, and a very playful human being.
"I make games that give a damn. I study how games change lives. I spend a lot of my time figuring out how the games we play today shape our real-world future. And so I'm trying to make sure that a game developer wins a Nobel Prize by the year 2032."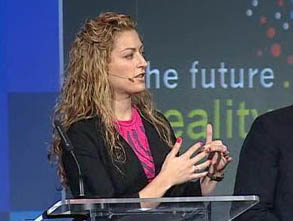 As an "alternate reality" designer, she specializes in projects that connect game worlds with the real world.
Her games are usually physically active, massively multi-player and highly collaborative.
Her primary goal as a designer is to create large-scale collaborative communities, to improve players' real quality of life, and to solve real-world problems, by overlaying game systems and game content on top of everyday reality.
Her best known projects include The Lost Ring (with AKQA, 2008) and The Lost Sport (2008), World Without Oil (with Ken Eklund and ITVS, 2007), a collaborative simulation of a global oil shortage; Cruel 2 B Kind (with Ian Bogost, 2006), a real-world assassination game that replaced weapons with random acts of kindness; Tombstone Hold 'Em (with 42 Entertainment and Activision, 2005), which infused historic cemeteries with live adventure; and I Love Bees (with 42 Entertainment and Microsoft, 2004), the groundbreaking alternate reality game that turned 1000 payphones worldwide into a platform for collective intelligence.
Previously, she was a lead designer at 42 Entertainment, the company that invented the genre of alternate reality games.

RESEARCH
As a games researcher, she focuses on how games can save the real world.
Most recently, her research has focused on how to teach collaboration strategies and collective intelligence skills through alternate reality games, and was supported by the MacArthur Foundation's initiative on digital media and youth.
She has a PhD in performance studies from UC Berkeley. Her dissertation, "This Might Be a Game", which she completed in 2006, focuses on the ways that alternate reality games influence and change the real world. Her dissertation received the international Leonardo Art + Technology Award for the most significant new media research filed in Fall 2006.
While at UC Berkeley, she was a member of UC Berkeley's Alpha Lab in the Department of Industrial Engineering and Operations Research and a resident game designer for the Berkeley Institute of Design. Her most widely cited research games include PlaceStormers (2005), Tele-Twister (2003), and Organum (2004).
THE FUTURE
As a future forecaster, she explores how games are changing the way we conduct and influence real business, real health care, real scientific research, and our real social lives.
She focuses on ways that alternate reality games in particular could lead to a higher quality of life in both Western and developing nations, and how they could produce more engaging and thriving democracies worldwide.
She has been a researcher with the Institute for the Future since January 2007, where she also develops massively multiplayer forecasting games.


Part 1
Part 2
Agenda
Club of Amsterdam Open Business Club

Club of Amsterdam Open Business Club
Are you interested in networking, sharing visions, ideas about your future, the future of your industry, society, discussing issues, which are relevant for yourself as well as for the 'global' community? The future starts now – join our online platform …