Welcome to the Club of Amsterdam Journal.
Join the Club of Amsterdam in April about
the future of Women in Business, Thursday, April 24, 18:30 – 21:15
and in May the future of Green Architecture
Retrofitting existing houses and historic buildings. Zero-energy buildings.
May 29, 2014, 18:30 – 21:15
Felix F Bopp, Founder & Chairman
Revamping existing buildings to make them energy efficient



by Koen Mortelmans
Source: www.youris.com
Energy efficient building companies join forces with researchers to cut the energy bill of existing buildings using both passive and active designs to reach energy efficiency.

Tackling energy loss from buildings is one of the key objectives to reach greater sustainability, when it comes to energy consumption. The EU-funded BRICKER project aims to develop ways of reducing energy consumption by 50% in existing buildings, within the next four years. Specifically, it will turn public buildings in Spain, Turkey and Belgium into showcases to demonstrate the level of energy savings that can be achieved. Project coordinator Juan Ramón de las Cuevas Jiménez, is a mechanical engineer and a member of the Energy Efficiency Installations group at the technological centre of Spanish building contractor company Acciona, based in Madrid. He talks to youris.com about ways of improving energy efficiency in buildings.

What are the main trends in making buildings more sustainable?

Trends include the reduction of energy consumption through insulation and the use of energy from renewable sources, such as solar, biomass and geothermal energy. The market is moving towards low-energy consumption buildings. This is covered in the project.

What is the key aspect, which makes this project unique?

It combines different active and passive technologies to achieve energy efficiency, in an innovative way. The main breakthrough will stem from the development of an innovative trigeneration system for simultaneous generation of power, heating and cooling. Its power capacity will be around 150 kW and its thermal capacity, around 600 kW.

How will you implement this solution?

To produce the activation heat for this system, we will use roof mounted parabolic solar collectors, working on a higher-than-usual temperature, at about 250 to 270 °C. This system is already used in industry, but not yet for public buildings.

Which other measures are you planning to use?

In the best practices book that the project is planning to publish, we will take into consideration the renewable resources locally available in each region. We will use biomass boilers, generating heat from biomass, geothermal district heating and absorption chillers, which use a heat source providing the energy needed to drive the cooling system. This technology already exists, but installations will be tailor-made for the project.

Passive technologies include new aerating windows, with an integrated, newly patented electronic heat exchanger, new PIR (PolyIsocyanurate)-based insulation foams with embedded phase-change materials (PCM's)— which are substances capable of storing and releasing large amounts of energy—and state of the art ventilated facades, commercial windows and insulation panels.

All in all, some technologies we use are already on the market, some are innovative. It remains a challenge to integrate both in real demonstration buildings.

Are retrofitted buildings a better solution than building entirely new and more efficient buildings?

We made calculations to prove that a 50% reduction of energy consumption is possible with retrofitting, starting from old and non-efficient buildings. The investment levels in such measures are limited to about 20% of the price to build a new similar building.

The original article can be found here.
April Event: the future of Women in Business
May Event: the future of Green Architecture
India e-commerce
How can design change the world?
The Savannah College of Art and Design (SCAD) is a private, nonprofit, accredited institution conferring bachelor's and master's degrees at distinctive locations and online to prepare talented students for professional careers. SCAD offers degrees in more than 40 majors, as well as minors in more than 60 disciplines, in Savannah and Atlanta, Georgia; in Hong Kong; in Lacoste, France; and online through SCAD eLearning.

What is SCADpad?
SCADpad evolved from one powerful question: How can design change the world? As our global population continues to grow and concentrate in cities, SCAD, as a transformer in art and design education, has cultivated an entirely new vision of an urban community.
SCADpad embraces and advances the university's deeply rooted commitment to adaptive reuse by utilizing a parking structure at SCAD Atlanta to create an inspirational and sustainable community that proposes an answer to the growing urban housing challenges cities are facing around the world. An interdisciplinary group of SCAD students, faculty, and alumni worked for 10 months to design and develop SCADpad — from its architectural footprint to custom furniture to remote home control — to fit in the mere 135-square-feet of a standard parking space. Each of the three SCADpad units has a unique theme and visual identity, reflecting SCAD's global footprint. A common green space extends the living area, creating a community environment. An organic garden is fed by a greywater filtration and delivery system, while a composting and recycling center helps ensure there is minimal waste.
A rapid prototyping area featuring a 3D printer lets residents customize their unit to their preferences and needs – a perfect way to maximize life in a micro house.
Club of Amsterdam blog


Club of Amsterdam blog
http://clubofamsterdam.blogspot.com

The Ukrainian Dilemma and the Bigger Picture
by Hardy F. Schloer, Owner, Schloer Consulting Group – SCG, Advisory Board of the Club of Amsterdam

The impact of culture on education
by Huib Wursten, Senior Partner, itim International and
Carel Jacobs is senior consultant/trainer for itim in The Netherlands, he is also Certification Agent for the Educational Sector of the Hofstede Centre.

What more demand for meat means for the future
by Christophe Pelletier, The Happy Future Group Consulting Ltd.

Inner peace and generosity
by Elisabet Sahtouris, Holder of the Elisabet Sahtouris Chair in Living Economies, World Business Academy

ICT4D: Top trends for 2014
by Madanmohan Rao

TPP — copyright versus free speech
by Annie Machon, Director, LEAP Europe. Formerly MI5

Long-Term Science and Technology Policy – Russian Priorities for 2030
by Alexander Sokolov, Alexander Chulok, Vladimir Mesropyan

A couple of billion reasons why Africa is a priority for the future
by Christophe Pelletier, The Happy Future Group Consulting Ltd.
News about the Future

More than 50% of global IG (Internet Governance) is conducted in Geneva. The Internet Governance Forum (IGF), the main IG umbrella body, is based in Geneva. Telecommunication issues are addressed by the International Telecommunication Union (ITU). For online human rights, there is the UN Human Rights Council. The Geneva Internet Platform will add to this vibrant scene by bridging policy silos, strengthening the participation of small and developing countries, monitoring digital policies, and facilitating research for evidence-based IG

Take part in UNESCO's Comprehensive Study on Internet Topics
UNESCO is seeking input from major stakeholders and experts for its study of Internet-related issues and future options within the UNESCO mandate. Responses are requested before 30 November 2014. Governments, private sector, civil society, academia, international organizations and the technical community are amongst those encouraged to respond.
Recommended Book
What keeps energy leaders awake at night?
World Energy Issues Monitor 2014
by the World Energy CouncilIn times of unprecedented uncertainty for the energy sector, the pressure and challenge to further develop and transform the our systems to secure a sustainable energy future is immense. WEC's Energy Leaders' dialogue over the year 2013 has shown that with this outlook business as usual is not an option.

The World Energy Issues Monitor 2014 helps to define the world energy agenda and its evolution over time. It provides a high-level perception of what constitute issues of critical uncertainty, in contrast to those that require immediate action or act as a developing signal for the future. As such, it has developed into an essential tool in understanding the complex and uncertain environment within which energy leaders must operate and a tool through which decision makers can challenge their own assumptions on the key drivers within the energy landscape.

The 2014 edition is the culmination of a six-month study capturing the views of over 800 energy leaders including ministers, chief executives and the heads of the WEC's national members committees covering 84 countries. The report, which highlights strong regional variations, looks at the global energy agenda and analyses the trends and outlook in six world regions plus 24 countries.

Readers are encouraged to further explore the evolution of critical issues across years and in different regions and to download the results using the interactive issues monitor in the data section.
Futurist Portrait: Jørgen Randers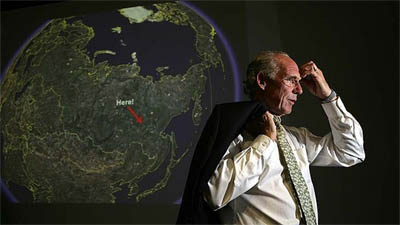 (born 1945) is a Norwegian academic, professor of climate strategy at the , and practitioner in the field of future studies.
Jørgen Randers (born 1945) is professor of climate strategy at the BI Norwegian Business School, where he works on climate and energy issues, scenario analysis and system dynamics. He lectures widely at home and abroad on sustainable development issues – particularly climate change – for all types of corporate and non-corporate audiences. Jorgen Randers is non-executive member of several corporate boards in Norway, including the state owned Postal Service. He also sits on the sustainability council of The Dow Chemical Company in the US and (until recently) of British Telecom in the UK. He chaired the Commission on Low Greenhouse Gas Emissions who reported in 2006 to the Norwegian cabinet on how Norway can cut is climate gas emissions by two thirds by 2050. He was President of the Norwegian Business School BI 1981 – 89, and Deputy Director General of WWF International (World Wide Fund for Nature) in Switzerland 1994 – 99.
He has authored a number of books and scientific papers, including co-authoring "The Limits to Growth" (1972) and its sequels in 1992 and 2004. He recently wrote "2052 – A Global Forecast for the Next Forty Years".
Jørgen Randers: Five recommendations for global action
What could be done to avoid my sad forecast? Five recommendations stand out:
1) Slow population growth
Have fewer children – especially in the rich world where each child has a high footprint.
Concretely this means to reduce the tacit, pro-natalist attitudes which still dominate modern societies, both rich and poor. More fundamentally, it amounts to welcoming women who choose a career rather than more children. It amounts to agreeing that caring for a larger number of old people is not best solved through immigration, but through an increase in the pension age. It amounts to understanding that when the fraction of old increases, the fraction of young declines, so the total "support burden" of young and old divided by those aged 15-65 actually stays relatively constant throughout. The working age groups will have to care for the old – not in addition to, but instead of, caring for the young.
2) Reduce the ecological footprint
Eliminate greenhouse gas emissions from coal, oil and gas, first in the rich world
The simplest approach would be to ban the use of coal, oil and gas in rich countries. One practical way would be to introduce a carbon tax of 100 euro per ton of CO2 emitted and a border tax adjustment to reduce carbon leakage. (This would roughly treble the price of coal-based electricity from 5 to 15 eurocents per kWh, and make it more expensive than many renewable energy sources.)
But it is politically impossible to introduce a high carbon tax because voters resist the resulting jump in the energy bill in the short run. Thus reducing the footprint amounts to gaining public acceptance for a small sacrifice today in order to create a better life for our grandchildren. It amounts to making voters accept slightly higher living costs. It amounts to obtaining political support for deliberate slowing of consumption growth in order to give room for more growth in long term investment.
3) Help the poor with clean energy
Construct a modern low-carbon energy system in the poor world, paid for by the rich world.
Concretely this means that the rich world would take the initiative, obtain agreement with the recipient countries, and pay for a climate-friendly energy system in the poor world. The energy system would be based on sustainable hydro, wind, solar and biomass resources, and most likely supplemented with carbon capture and storage retrofits on utilities burning fossil fuels. This energy system would both reduce climate emissions and suffering.
At the more fundamental level this recommendation amounts to obtaining political support for a reorientation of existing funds for development assistance.
4) Temper short-termism
Establish supra-national institutions to help nations adopt policy that help our grandchildren.
Concretely this means to delegate the authority to decide on certain matters to wise, quick and powerful entities which are beyond the day-to-day control of national parliaments and their voters.
There is a good model in the central banks that exist in most civilized countries and decide on the size of the money supply without frequent democratic interference. A "Global Central Bank for Climate" authorized to decide on the maximum greenhouse gas emissions for each member nation, and providing advice (and preferably finance) to achieve the cuts, might do the trick. It could be built on the shoulders of the IPCC.
At the deepest level, this proposal amounts to gaining acceptance in the population for the benefits of strong government in situations where a problem is better solved by a supernational institution than by market democracy.
5) Establish new goals for rich society
Pursue increased well-being in a world without growth.
Once beyond a certain threshold, increased income does not lead to increased well-being. At least when you haven't anyone to compare with. But there is always the neighbour or friend who gets a raise and triggers your desire/need for higher income – irrespective of how rich you were in the first place. This vicious circle could be broken by banning future income raise, and concentrating social attention on increasing your well-being within the limitations of a fixed annual income. This shift from growth in income to growth in well-being will make even more sense in the future when per capita income will remain stable in spite of the rich countries continuing attempts to achieve growth.
But I don't think we will see democratic decisions to stop income growth. Slightly less improbable is a future decision to reduce the number of hours worked per year. A shorter work year could be sold as a gradual increase in the number of vacation days (replacing the gradual increase in wages). This would reduce income growth, and motivate for further focus on increased well-being – which is natural when people have more free time and less money.
This amounts to convincing the majority of something that most middle and upper class people already know (but do not follow) namely that more money does not make you happier.
Will the rich world follow these five recommendations? I don't think so. At least not beyond the level assumed in the 2052 forecast. Capitalism and democracy will prevail more or less as is, and respond to global problems once they have occurred, not up front. And when responding, focus on what is cheapest in the short run.
2052-A GLOBAL FORECAST FOR THE NEXT FORTY YEARS
Agenda
Special Supporters