Q&A with Wim H. Gijselaers
Wim H. Gijselaers, Professor of education, Maastricht University
C
lub of Amsterdam: You have a global overview of the developments in education and learning. What would you consider the main issues that universities face, to stay competitive in thee future?
Wim H. Gijselaers:
Our Universities are expected to produce the educated citizens necessary for our society and to transmit our cultural heritage through creation of new knowledge and provision of adequate learning experiences to our students. However, to stay competitive universities have to identify market forces playing a significant role in shaping their organizations and realizing their purposes. One powerful force which is likely to affect universities will be the significant expansion of demand for educational services. The future workforce will require more sophisticated education and training from universities. Knowledge workers are likely to make less and less distinction between work and learning. Probably our greatest challenge lies in approaching the growing market for advanced education and learning.
How can the gap between the world of education and the world of work be closed?
Wim H. Gijselaers:
For Bachelor programs, I don't expect revolutionary changes, because students will look for excellent on-campus education, for acceptable tuition fees. But, if universities aim to address the changing needs of the workforce (and if the workforce is calling for change), this demand cannot be met by current on-campus teaching programs. Universities can not control and dictate who will get access to their knowledge. Either new providers will emerge, or new technologies will force universities to alter their teaching-learning paradigms.
Could you name any universities that are well prepared for the future? What are the elements of their success?
Wim H. Gijselaers:
Several US researchers have argued that we will get various university types. On one side the established "Brand-name Universities" such as Leiden, Oxford, Cambridge, and on the other side mass-provider institutions and "Convenience Institutions". It is expected that those who decide on a clear-cut profile, and it doesn't matter whatever profile, will be well prepared for the future. Those who want to do everything will get in trouble. I am not sure whether we will follow US trends and whether this kind of analysis will hold true for the EU.
Wim H. Gijsselaers speaks at our Club of Amsterdam Event about
the future of Education & Learning on Wednesday, February 18, 18:30-22:15!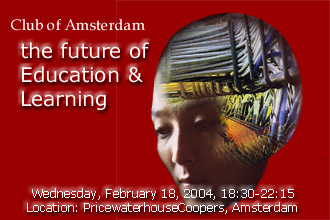 About the future of Education & Learning

Knowledge creation and management
by Philippa Cordingley, CUREE
This paper explores the process or developing an appropriate research strategy within an initiative oriented towards knowledge production. It does so through an examination of early strategic decisions relating to programme values, empirical and theoretical approaches to research utilisation, drawing in particular on the work of Huberman (1993) and concludes with case study examples of early research related work.
Breaking the boundaries between academic degrees and lifelong learning
by Thomas J.P. Thijssen, Fons T.J. Vernooij
Many educational institutes and their staff, struggle with the issue of capturing the market of lifelong learning, whilst continuing to offer traditional courses. Whereas traditional courses are more or less fixed in curricula and cover certain topics in a planned period of time, lifelong learning requires agreements between teachers and students on specific topics related to competencies acquired before.
News about the Future
Ambient Networks project
The Ambient Networks project develops solutions for automatically installable wireless network services as well as their seamless interconnecting and use. The project will be initiated in early 2004.
The project includes a large number of parties, such as equipment suppliers (e.g. Nokia, Ericsson, Alcatel, Siemens, Lucent), operators (e.g. Elisa, Vodafone, BT, FT, Telenor, Telefonica, TeliaSonera) and research institutions (e.g. VTT Technical Research Centre of Finland). There are forty partners in total, also from Canada, Australia and Japan.
The EU Commission has approved the project to be funded as a part of the sixth framework programme of the EU. Ericsson AB coordinates the Ambient Networks project.
HEALTHCARE
Physicists use fractals to help Parkinson's sufferers
A new portable system for analyzing the walking patterns of people with Parkinson's disease has been developed by researchers in the US and Japan. The system, described in the Institute of Physics publication Journal of Neural Engineering, will help doctors monitor the progress of the disease in patients and so tailor their therapy and drug regime more accurately than previously possible.
Parkinson's disease is a progressive disorder of the central nervous system. Its symptoms include: uncontrollable trembling, difficulty walking, and postural problems that often lead to falls. These symptoms are usually controlled with dopamine agonist drugs. However, these can have a number of side-effects, such as jerking movements. It is also known that the body builds up a tolerance to the drug.
Understanding the nature and severity of symptoms for individual patients, which is reflected in their walking pattern, could help doctors improve a patient's quality of life, by guiding their treatment more effectively, and so reduce side-effects.
Paul Scherrer Institute – PSI
Paul Scherrer Institute – PSI
General Energy Research Department (ENE)
Research at PSI comprises all aspects of human energy use, with the ultimate goal of promoting development towards a sustainable energy supply system. Technologies are being advanced for the utilization of renewable energy sources, low-loss energy storage, efficient conversion, and low emission energy use. Experimental and model-based assessment of these emissions forms the basis of a comprehensive assessment of economic, ecological and environmental consequences, for both present and future energy supply systems.
Electrochemistry Laboratory (ECL)
The Electrochemistry Laboratory is part of the General Energy Research Department at the Paul Scherrer Institute. It is dedicated to modern aspects of electrochemical energy storage and conversion.
Micro- and Nanostructuring Technology: Nano Imprint Lithography
Nano Imprint Lithography (Hot Embossing Lithography) is a novel technique for the fabrication of nanostructures on large surfaces. The method is based on the excellent replication fidelity obtained with polymers and combines thermo-plastic molding with common pattern transfer methods. Once a solid stamp with a nanorelief on the surface is fabricated it can be used for the replication of many identical surface patterns. It therefore circumvents many limitations of conventional optical lithography.
Center for Radiopharmaceutical Science
Our Vision
To create smart radioactive drugs – radiodiagnostics/therapeutics to target metastatic diseases
To visualize molecular functions of brain and tumors with PET-radioligands
Laboratory for Astrophysics
Our Laboratory is involved in experimental, observational, and theoretical astrophysics, in the building of space harware components, as well as in the development of cryogenic detectors. Major projects developed or being developed include contributions to the XMM-Newton, Hessi, Integral, GWST-MIRI space observatories.
Recommended Book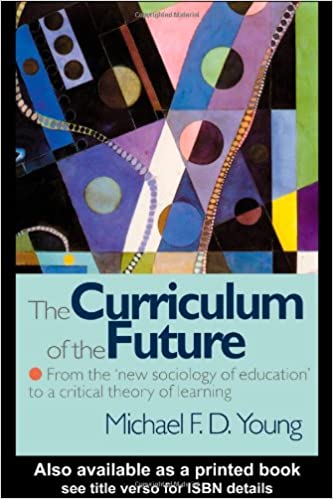 Curriculum of the Future : From the New Sociology of Education to a Critical Theory of Learning
by Michael F. D. Young
In this important new book the author looks back on the 'knowing question'. What knowledge is selected to be validated as school knowledge, or as part of the curriculum, and why is it selected? Looking forward to the next decade, Young discusses how most developed countries have high levels of participation in post-compulsory education but still use curricula designed for a time when only the elite pursued further education. He argues the need to rethink post-16 education to shift focus onto vocational education, schoolwork issues and lifelong learning.
Supporter of the Club of Amsterdam event about 'the future of Education & Learning' on Wednesday, February 18, 2004 is:
The Club of Amsterdam Round Table: Job Romijn

Job Romijn
Vision of the future society.

A youth-like simplicity:
People don't want to take decisions anymore, at least no irreversible ones. They try to live a carefree kind of life as most of us experienced in our youth: You just enjoy the day-to-day life, knowing a parent watches over you. That parent makes all the mid-term and long-term decisions for you.

Therefore a new kind of 'parent' or 'mentor' organisation will appear: this will take all the important decisions for you (career move, retirement, pay raise, savings, time for holiday, etc). You just choose the person who is going to be your new parent. This might be a person representing the organisation or a politician, pop star or guru who chooses to give this service in addition to his/her daily profession. Even fictional or legendary figures may be used for this role.

The newfound sense of freedom will have a very visible effect on everyday life:
– clothing will be simple; you hang your overall-type suit in a cleaning device at night. In the morning you wear the same suit, maybe with different add-ons.
– houses and cars are modular; you just add or delete parts to reshape it.
– house are transportable; you link it to the community at the place you want to live at that moment.
– cities will be formed by several communities, linked together by choice or chance. They will change continuously.

So although there is only a limited variety in basic house/car/clothes available, everything is made very individual through accessories and personal combinations of the composing parts.
Club of Amsterdam Events 2003/2004