Welcome to the Club of Amsterdam Journal.

A special evening:
Taste of Diversity on Thursday, June 28 is
This evening has two parts: the Conference & the Cultural Market
Join us at the Cultural Market
– FREE entrance – enjoy: Letcho from the Poesta – Hungarian food, "Caipirinha", Golden Temple – one of the best vegetarian (and vegan) options in town, Raclette & Swiss Wines, Dutch Shakuhachi Society KAITO, Bridging Diversity – an Art Workshop, Bubbels from Budapest, Welcome to India – Art of Living, Children define a powerful vision of the 21st Century, DJ Nico from Bulgaria, Viva Brazil! – Samba, Axe, Lambada Zouk and Capoeira brought to you by Viva Lambada and native Brazilian, Edilson Conceicao Pires, Yoga, food from Japan, India and more…
Felix Bopp, editor-in-chief
Strategies for cultural diversity
Report on the conference: 'Regulations in Favour of Cultural Diversity' held at De Balie, Centre for Culture and Politics
Amsterdam, The Netherlands
An excerpt
Space for debate
This is an ongoing process because culture, policies and circumstances are constantly changing. Civil society needs to engage with government in a positive ongoing manner in negotiating partnerships, measures and campaigns that foster cultural diversity. The need is to talk, communicate and convince. It is an effort on behalf of all citizens to keep an open space for debate and an open space for diversity in culture. Ideas can be disruptive and threatening. Organising for change is difficult. Sensitive communication of ideas is essential in developing global respect and democracy. It is important to find common aims that are central to the people in general, of whom artists are one group involved.
It is important that cultural workers and activists are self-questioning, keep open to others' ideas and are careful not to exclude possibilities or dismiss suggestions, and above all, not to close up access to their patch of space.
Economic dominance exists and, despite avowals, there is still a deeply ingrained assumption that what is happening in the west is best and that the rest of the world should follow. People living within the western paradigm are sometimes unwilling or unable to give it up. The South must press ahead, decide which measures suit their circumstances and articulate their ideas clearly. International understanding and support will be more likely if there is a practical, democratically formulated, local document, based on the convention and related measures, as a starting point for debate. Regional groups need to meet, discuss, share information and set their agenda.
Existing laws
Contract, antitrust, copyright and competition laws are useful for comparisons in formulating measures to strengthen culture and foster cultural diversity.
Debate is needed on copyright. Current copyright law facilitates control of historical material. Most rights are claimed on people who are long dead. It is suggested that the time factor needs review and that such material should pass into the public domain. Corporations should not be allowed to buy up material and prevent people's access to, and creative use of, knowledge.
The profit motive has undermined ethics and there are numerous abuses. People do research and then claim patents and copyright over material with no benefit going to the communities whose knowledge they are using. There is a need for legally binding control of people claiming patents on material from outside their country and prescribed international negotiation before any such patent right is given. The right to claim the return of illegally obtained community cultural goods, particularly of heritage value, should be included in the convention. International data and information on actions in this regard could be part of the convention's monitoring and dispute resolution mechanisms.
Social movements
The cultural sector's role in the anti-globalisation movement has so far been effectively sidelined and many cultural operators don't see the connections between their concerns and the treatment of agriculture, investment policies or the environment. Culture is not just a decorative addition or useful tool for social action – not just the band and posters at the demonstration. Culture needs to rise to the centre of political action, culture ministers should have power in governments. Cultural diversity is important for the economy, for tourism, in international relations and for national identity and social cohesion. One persuasive argument is that successful cultural enterprises bring in tax revenue.
Finding common cause
People working on their own projects are part of a greater whole; their interests relate to other sectors. The cultural sector needs to join the struggle of other sectors in the battle against homogenisation and dominance by either government or corporations. It is important for cultural workers to get involved in various bodies whose agenda impacts on culture.
NGOs
In the struggle for cultural diversity, dominant players such as governments, transnationals and local monopoly corporations are quick to manipulate whatever challenges they meet. They seek to retain and even increase their control. There are attempts to co-opt and re-brand any opposition. Recently, attempts have been made to homogenise 'civil society' and to use NGOs as camouflage for their activities. Some NGOs find themselves restricted in their actions because they receive funding from government and corporations. In some countries, NGOs have been commandeered by the middle classes with the aim of keeping control of resources and are used as covers to work against grassroots movements. All cultural change is created by real local needs, but these needs should be made public to prevent abuse. !For this reason the objectives and agendas of NGOs and 'civil society' bodies need to be assessed and questioned regarding their attitudes to cultural issues and their perspective on diversity. All NGOs should be encouraged to include diversity in their agenda.
Difficulties
Some social movements have strong nationalistic or conservative agendas which may have both positive and negative effects. Women fled from Guatemala during the civil war. Many went to Mexico where they encountered and lived with greater gender equality. On their return, the traditional macho society of their home villages found the women's new outlook unacceptable and the social fabric was threatened. Such situations pose dilemmas that have to be worked out through local negotiation and adaptation. The questions are how to know what to keep and why, and what are the consequences of maintaining some cultural practices? It is important not to let an 'us against them' attitude develop and to stress that we are all participants with ideas, beliefs and lives to lead.
In cultural politics there are inherent difficulties that arise from diversity. Cultural practices that are abhorred by some people may be traditional, for good reason, among other groups. Sensitivity is needed to engage with such issues. Cultural practices and human rights need to be communicated, discussed and understood. Some cultural practices die out in time; some dialects fade from use. Only people themselves can encourage or defend their cultural practices. In previously colonised countries, cultural identity and national cohesion are important and often fragile. 'Diversity' can appear threatening to local producers. People may wish to retreat rather than seek diversity and interaction. Ideas from dominant groups, no matter how good or friendly or well-meant, may still appear threatening. The problem is that while such groups worry there is delay; the dominant players and the profit-driven corporations encroach further and use the time to their advantage. In addition, accusations of 'nationalism' are used by dominant trading countries and corporations to manipulate and persuade small countries to open their markets.
Ideally, each country should articulate its vision, what it is working to achieve. How would the people like to live and see their culture and cultural activities change? When the goal is described in as much detail as possible, in consultation with as many people as possible, then policies and measures can be found to achieve it. Other countries' experiences and models may or may not suit the local vision but they are useful for comparisons and brainstorming.
Operating social movements
Methods of operating depend on the local circumstances. There are places where people have very little freedom to make suggestions or to take practical steps; where there is little space to challenge the authorities or the existing scheme. In some countries social movements have to remain careful and act within the political regime or else they will be closed down. Lawyers need to be made socially responsible and not just allowed to play a detached game for their clients. Lawyers can be very useful members of social movements. Vigilance is necessary to keep the vision and principles in focus. In a repressive context, working with international networks and NGOs to get support and protection is an option.
The cultural sector can use the actions of the environmental sector and the human rights lobby to model their actions. Culture is integral to many other arenas, such as education and tourism. Separating culture with its own convention brings risks. Policies on culture need to work with and match policies in other sectors, such as trade and tourism.
A social movement is a gauge of the environment in which it arises. Sometimes a cultural association may find itself propelled into confrontation with government or taking on all sorts of social issues that appear to be beyond its scope. In non-democratic states, a new organisation is a vehicle for hope.
Large corporations are concerned with their image so companies that dominate culture can be shamed. This can only happen if there is a space and channels for expressing such challenges. If a newspaper or radio programme presents facts to show that diversity is being reduced, information reaches the public and stimulates open debate. The corporation may then have to do something to regain a good reputation.
History shows that there is always capacity in people to create knowledge and to drive forward for their needs. They create their own information and networks. They don't occupy dominant space or sanctioned space – they can't expect to occupy or have access to the dominant space because they are asking difficult questions, but they can find a way. Civil disobedience is a power of the people to express their needs. People use whatever means they can to achieve their ends if it is needs driven.
International support
It is important to act through small local campaigns but to get support and strength by combining with others and by getting outside solidarity. Sharing information and making alliances with those countries and bodies that are seen to be working towards the same outcomes are positive actions.
Social movements may need to present their case in another place, because of repression, and international networking and support has proved effective. For example, the Chilean people were not able to do anything concrete about Pinochet but through outside representation and international support Pinochet was indicted. International moral indignation protected Salman Rushdie. However, international pressure can also have negative effects where a regime feels so threatened that it increases repression.
An international index on diversity would be useful. The UNESCO Convention on Cultural Diversity could establish an international database to record and compare information, a mechanism to assess violations of cultural diversity in different countries, and a body to intervene and ensure corrective action.
There is an international instrument on academic freedom and, although it operates within an institutionalised context, there may be useful precedents to employ. Such instruments create discussion and a model or standard which social movements can use to base their proposals on and to take actions that have proved successful for other issues.
Information and education
It is important to communicate well, to use language that is clear and simple. Sharing expertise and knowledge is essential. Keeping in touch with trends in other countries and with worldviews helps to position the country and to develop policies that can interact positively.
The process of making policies is the mandate of the people of a country and their role can be enhanced through education, information and networking. People everywhere need to become more involved in policymaking.
Diversity not 'progress'
The last 20 years have shown that the concept of 'progress' is a myth; that countries are not following a uniform line to some common state of being 'advanced'. There are no grounds for believing that the western way is the 'right' way for everybody. The western 'progress' narrative is producing violent and negative results, and causing increasing poverty and injustice. Many western intellectuals have not yet accepted this or, if they accept it intellectually, they are not able or willing to put it into practice within the western model. We are always in process; culture and identity are fluid. No vision of the world is 'final' or 'true' or 'right' but is always open to variation and adjustment according to what people need.
Activists need to understand how their proposals may affect countries where people do not have the space to articulate their needs, or have completely different views and do not want to be co-opted no matter how much a policy is considered 'best' or 'right'.
Countries encounter problems when they propose an alternative path. The western paradigm always asserts its own interests. Funding is sometimes used as blackmail; such threats constantly occur. The Caribbean wants to establish free movement of artists within all Caribbean countries but the US wants to prevent this and is threatening the individual governments that, if they sign, funding for HIV/aids programmes will be reduced in their particular country. So, there are difficulties in sustaining regional co-operation in the face of such divisive tactics by foreign governments that are promoting their own agendas.
The challenge is to maintain and negotiate preferences with mutual understanding. Regional and South-South connections, and collaboration with countries with similar aims, can be potent methods as the recent Cancun challenge has shown. The important thing is to keep open space to question and not allow it to be taken over or closed down.
Special Event: Taste of Diversity – Thursday, June 28
Taste of Diversity
Thursday, June 28, 2007
Location: PricewaterhouseCoopers, Thomas R. Malthusstraat 5, 1066 JR Amsterdam

This evening has two parts:
Conference & Cultural Market

Conference
Registration: 18:30-19:00, Conference: 19:00-21:15
Tickets forthe Conference are € 30, 20 [discount] or 10 [students]
Location

With
H.E. Gábor Szentiványi, Ambassador of Hungary to the Netherlands
Central Europe: Values and traditions
Humberto Schwab, Director, Club of Amsterdam, Innovation Philosopher, Owner, Humberto Schwab Filosofia
Cultures as methods of realizing the radical human challenge
Iclal Akcay, Journalist, Turkey
Lives of muslim women, different perspectives
Florangel Maritza Russel, Chairwoman of the Association of Black Business Women in the Netherlands (ZZVN )
The diversity of black women in The Netherlands
and
Consul General Marjorie A. Ames, U.S. Consulate General in Amsterdam
Moderated by Peter C. van Gorsel, Director of the Institute for Media and Information Management, Hogeschool van Amsterdam
Cultural Market
18:30-23:30
FREE Entrance
Location
The market is outdoors or – depending on the weather – indoors with food, drinks, music, dance etc from different Cultures and Continents.
Live music, Brazilian dance, yoga, wines from Hungary and Switzerland, caipirinha, raclette, Indian dishes, goulash, sushi, art workshops and more


News about the future of Cultural Diversity

Commission on Integration and Cohesion – Our shared future [England]

The Commission's report, Our Shared Future puts forward a wide-ranging set of recommendations for practical action to address cohesion and integration issues at a local level, along with suggestions for a national framework to support these.
Some of the key areas covered by the report include how we promote and support English language speaking, developing a new role for local authorities with strengthened support from national government and how we put a renewed focus on citizenship.
The report contains detailed research into how cohesion issues are affecting areas in different ways and how the nature of the cohesion challenge has changed.
Chair of the Commission Darra Singh said: "Diversity continues to be both a huge economic and cultural strength for our country. As a nation we have a long tradition of fairness and tolerance and these traditions hold true today. We are also more united and cohesive than most countries across Europe and around the world."

Overcoming Indigenous Disadvantage: Key Indicators 2007
By Council of Australian Governments
Commenting on the results in the third edition, Mr Banks said, 'the positive news is that many Indigenous people have shared in Australia's recent economic prosperity, with improved employment outcomes and higher incomes. There have also been welcome improvements in some education and health outcomes for Indigenous children. Yet, even where improvements have occurred, Indigenous people continue to do worse than other Australians. And many indicators show little or no movement. Indeed, in some key areas, outcomes for Indigenous people have been deteriorating. Such results should challenge all Australians to do whatever is necessary to remedy the causes of Indigenous disadvantage'.
Club of Amsterdam blog
News about the Future

The Future of Oil: Energy Security, Climate Risks and Market Opportunities
The report from Ceres and the Civil Society Institute highlights key findings from an October 2006 oil analyst briefing at JPMorgan Chase in which Wall Street analysts, institutional investors, and oil industry experts examined how the future of oil will be affected by geopolitics, climate change, and new technologies. The report summarizes the briefing and analyzes several trends that could affect the valuation of oil companies' securities. The report concludes that there are many clean tech investment opportunities that lie ahead as the US government and other governments worldwide move to reduce oil dependence and greenhouse gas emissions.
Developing the Future

Developing the Future is an annual report examining the impact of the software development industry on the UK economy, from both a local and global perspective. The report is a collaborative work with partners from the IT industry and academia. By exploring emerging trends, the report stimulates debate between stakeholders and calls for positive action to support the UK software industry.
Open Architecture Network
What is the Open Architecture Network?
The Open Architecture Network is an online, open source community dedicated to improving living conditions through innovative and sustainable design. Here designers of all persuasions can:Share their ideas, designs and plansView and review designs posted by othersCollaborate with each other, people in other professions and community leaders to address specific design challengesManage design projects from concept to implementationCommunicate easily amongst team membersProtect their intellectual property rights using the Creative Commons "some rights reserved" licensing system and be shielded from unwarranted liabilityBuild a more sustainable future
Some projects




Childcare/Montessori in Sri Lanka
Hope's Home is a childcare/Montessori school for children in the local community, as many mothers find it necessary to work long hours to provide for their families. Also inlcuded on site are a seperate kitchen building and two guest houses.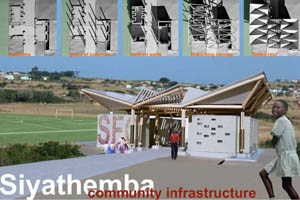 Siyathemba Community Infrastructure Project in Somkhele, Kwa-Zulu Natal, South Africa
The project proposes an infrastructure of simple architectural elements – platforms of compacted ground, a grove of composite columns, meandering self-buttressing earthen walls, a canopy of timber trusses and folded roof planes – employed to accommodate the football facility and to provide a flexible, multi-purpose home for community gathering. It is hoped that this initial phase will serve as a model for expansion exploiting the potential for the variation and elaboration of this basic architectural language, seeding the development – as requirements demand and finances allow – of a complex incorporating a potentially wide range of community resources and amenities: sheltered spectator seating; communal laundry and washing facilities; workshops and sheltered yards for small-scale manufacturing and craft industries; recycling facilities; a community marketplace. The proposal provides a 54m by 90m youth-sized football pitch, a sheltered bench for players, a small changing room, a secure equipment store and a clubhouse/community meeting hall with adjoining office/consulting room. Between these enclosed programmatic containers flows a permeable, semi-external space – in some areas fully sheltered and in others only partially shaded from direct sun – that can be appropriated for larger gatherings by opening the large wattle screen of the clubhouse/community meeting hall and that frames a "tunnel" through which players take to the pitch, as in a professional stadium. The project incorporates low-technology, passive systems [rainwater collection; passive ventilation; evaporative air-cooling in the clubhouse/community gathering hall; sun-shading and natural light maximization through the staggering of peak/valley in roof sections and turning up of roof at perimeter; thermal mass for internal temperature moderation], employs locally-available or site-sourced and/or -manufactured materials and can be constructed almost entirely by non-specialist labour.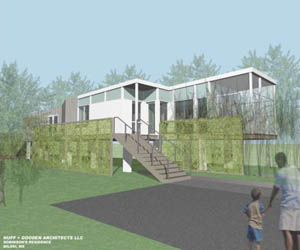 Biloxi Model Home: Robinson Residence, USA
The site strategy for the vacant lot is the creation of a set of "in-between" zones and middle grounds between landscape and building and between inside and outside. The program for the house is not defined in terms of rooms, but in terms of transitory programs that provide a nuanced meaning to the definition of "home." Examples of such spaces are a morning space near the kitchen where a mother can sit in silent meditation, a dressing area where children get a final review by a mother or father, and a study area with a window into the kitchen where a child can ask a parent a question about homework.

The spatial strategy creates expansion, contraction, tension, and inclusion. In the in-between zones can be reconfigured and activities can overlap. In contrast, a porch that allows for singular activities and moments of respite surrounds the perimeter of the house. One can view the landscape that is drawn up onto the house to provide shade and protection from the heat of the day.The house is constructed of post and beam construction with polycarbonate siding. Windows are made of hurricane impact resistant glazing and impact resistant polycarbonate sheeting. The roofing is a low-slope metal roof system on pre-fabricated roof trusses.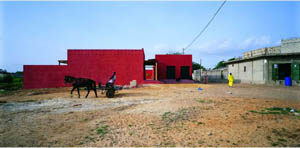 Women's Centre in Rufisque, Senegal
The general African way of women organising themselves in organisations, with the number of members ranging from tens to hundreds, also occurs in Senegal. An active and strong women's group attempts to ease its members' everyday life amidst poverty and strives to guarantee them a reasonable 'social security'. The schooling level is raised by independent initiative and literacy courses. The organisations supplement their incomes by selling home-made food and needlework. Also they help women to adapt to the change in life in moving to the city from the countryside. Their activities have an organised structure, which means a step forward from the traditional social network created by family and friends.

The women's centre, built in a suburb of Rufisque, offers facilities for the activities of the various organisations formed by the women. The idea and the spatial programme of the centre were born in cooperation with local women's groups. The building was carried out as an NGO project through 'Tekniska Föreningen i Finland', and was financed by the Finnish Foreign Ministry, the Senegalese-Finnish Association ARC, as well as by scholarships received from various foundations. The plot was donated by the city of Rufisque and donations were also given by locals.

According to the west African custom, the building is grouped around an internal courtyard; the line between private and public is clear albeit flexible. The simplicity of the street facades adapts the building to its surroundings; the corner facing a road crossing forms a small public square where the facilities reserved for commerce are located. The building's red colour gives the house its own identity amidst the grey tone of the city block structure.

The building frame is a column and beam structure cast on site, with the walls made from concrete blocks cast in a mould and dried on site. The roof is corrugated metal sheeting supported by a steel beam system, with thick woven straw matting forming an insulating ceiling structure; the spacing between is ventilated, which guarantees that the indoor air is kept pleasantly cool. Localness and recycling is emphasised in the material choices; for instance, the use of wood is limited to only those places where it could not be replaced by any other material; and in detailing, for instance, old car wheel rims have been used as ventilation holes and the bottoms of old glass bottles for windows. The reinforcement irons in the concrete have been made from recycled iron.

The centre was completed in October 2001. Hundreds of people participated in the opening festivities and the atmosphere was happy and relaxed; the building received its guests with open arms.
Recommended Book
The challenge of transcultural diversities – Cultural policy and cultural diversity
by Kevin Robins
The economic dynamics of globalisation have intensified not only the transnational flows of cultural goods, media products and information, but also human transnational migration. New forms of mobility have created new kinds of cultural juxtapositions, encounters and exchanges which have resulted in greater and more complex patterns of diversity within the European cultural space. Because these new forms of diversity and complexity are transnational and transcultural in their nature – functioning across national frontiers – they present a challenge for national policy frameworks. The established national mechanisms through which European states have hitherto managed cultural policy diversity and citizenship must now be supported by international or transnational strategies. The Council of Europe, which has for so long championed cultural co-operation as a mechanism for sustaining democracy and equity in cultural exchanges, has a new role to play in the transnational policy landscape. The challenge, at the beginning of the 21st century, must be to develop a democratic transnational and transcultural approach to cultural diversity policy in Europe. The Council of Europe has both the mandate and the experience to broker this.
Who designs your life?
| | | |
| --- | --- | --- |
| | | John Thackara is Program Director of Design of the Times (Dott 07); Director, Doors of Perception |
Dott 07 (Designs of the time 2007) is a year of community projects, events and exhibitions based in North East England that explore what life in a sustainable region could be like – and how design can help us get there.
An initiative of the Design Council and the regional development agency, One NorthEast, Dott 07 enables communities and individuals in North East England to collaborate with designers in real-life situations. These projects are small but important examples of what life in a sustainable region might be like.
Dott 07 projects set out to improve six aspects of daily life in practical ways. They deal with health issues, food, school, energy, tourism, and travel.
Inspired by the question, 'Who designs your life?', Dott 07 focuses on grass roots community projects; but there are also projects involving more than seventy schools, plus exhibitions and events in museums, galleries and rural sites. All events explore how design can benefit our lives in meaningful ways.
The year culminates in a twelve day Festival in NewcastleGateshead in October 2007. The Dott 07 Festival will bring together the results of projects and enable all the people involved to share experiences. The Festival will be an opportunity not only to celebrate their achievements but, more importantly, for many more people to find out how to do similar projects for themselves.
The community projects are:


Urban Farming, which helps schools, communities and businesses grow their own fresh food in a variety of spaces in Middlesbrough, and help them make it into meals in special kitchens called Kitchen Playgrounds.




Low Carb Lane, one street in Northumberland will look at a range of ways of making their homes more energy efficient, cutting their carbon emissions and reducing their demand on the National Grid by up to 60%.




DaSH (Design and Sexual Health) seeks to improve screening and treatment provision for sexual health in Gateshead in consultation with service users. The aim is to develop a system where anyone contacting the service will be seen within 48 hours.





Move Me in Scremerston, Northumberland looks for ways to improve transport provision within this small rural community. They'll investigate how best to use public and private transport resources in a radically more efficient way, and thereby make it easier and more energy efficient for people to get around.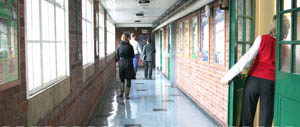 OurNewSchool brings together a whole variety of people to learn, share thoughts, discover opportunities and come up with new ideas to improve people's experiences of being at school. OurNewSchool at Walker Technology College has the support of designers and other experts. Students, staff and people from the wider school community explore how to change the ways things work and collaborate to design and try out solutions.





Alzheimer 100 will look how design can improve the daily life of people with dementia and their carers. The project will look at practical issues and seek to design new products and services that tackle them.
New Work is a codesign project to develop services that meet practical everyday needs of micro-businesses across the North East
Zero Emissions Future
The International Air Transport Association (IATA) issued four challenges to drive the air transport industry towards its vision of zero emissions.
IATA is an international trade body, created over 60 years ago by a group of airlines. Today, IATA represents some 250 airlines comprising 94% of the international scheduled air traffic.

"The environmental track record of the industry is good: over the last four decades we have reduced noise by 75%, eliminated soot and improved fuel efficiency by 70%. And the billions being invested in new aircraft will make our fleet 25% more fuel efficient by 2020. This will limit the growth of our carbon footprint from today's 2% to 3% in 2050," said Giovanni Bisignani, IATA Director General and CEO.
"But a growing carbon footprint is no longer politically acceptable – for any industry. Climate change will limit our future unless we change our approach from technical to strategic. Air transport must aim to become an industry that does not pollute – zero emissions," said Bisignani.
The four challenges are:
Air Traffic Management: Governments and air navigation service providers must eliminate the 12% inefficiency in global air traffic management. "Cut air traffic inefficiency in half by 2012 and we immediately save 35 million tonnes of CO2. Three mega-projects could deliver real results: a Single Sky for Europe, an efficient Pearl River Delta in China and a next generation air traffic system in the US," said Bisignani. "But governments are dragging their feet. The Single European Sky could deliver a 12 million tonne reduction in CO2. But it has been a 15-year European circus of talks, talks, and more talks – with no results. This is inconsistent and irresponsible," said Bisignani.

Technology: The aerospace industry must build a zero emissions aircraft in the next 50 years. "I challenge the US, Europe, Canada, China, Brazil, Russia and Japan to coordinate basic research on a zero-emissions aircraft and then compete to develop products based on this research. Clean fuel is also critical. Governments have cut alternative fuel funding while oil companies are busy counting the US$15 billion in increased refinery margins that the airline industry is now paying. The first target is to replace 10% of fuel with low-carbon alternatives in the next ten year. And the second is to begin developing a carbon-free fuel from renewable energy sources. It's time for governments and the oil industry to make some serious investments," said Bisignani.

A Global Approach: Climate change is a global issue, requiring a global solution. "The challenge is for the International Civil Aviation Organization (ICAO) and its 190 member States to deliver a global emissions trading scheme that is fair, effective and available for all governments to use on a voluntary basis. The September ICAO Assembly is an opportunity that cannot be missed. The relevance of ICAO depends on its ability to deliver a global solution on this important issue," said Bisignani.

Green businesses: "The final challenge is for airlines to implement green strategies across the business. IATA is developing IATA Project Green to help airlines implement global best practice Environmental Management Systems. This will place environment alongside safety and security as a core promise to our 2 billion passengers," said Bisignani.Bisignani noted, "This will not be achieved overnight. And nobody has all the answers. But the airline industry was born by realising a dream that people could fly. We can already see the potential building blocks for a carbon-free future: fuel cell technology, solar powered aircraft and fuel made from biomass. By working together with a common vision, a green industry is absolutely achievable."
Bisignani cautioned that governments are too easily sidetracked. "Politicians think green and see cash. In the name of the environment, UK Chancellor Gordon Brown doubled the Air Passenger Duty. The environment has not benefited, but airlines and their passenger are paying a billion pounds for his green credentials. And Europe is rushing to include aviation in emissions trading at the same time as governments are looking at carbon offsets. The policies are schizophrenic. We have had enough PR. It's time to deliver some real results," said Bisignani.
Agenda

SPECIAL SEASON EVENT
Taste of Diversity
Thursday, June 28, 2007
Location: PricewaterhouseCoopers, Thomas R. Malthusstraat 5, 1066 JR Amsterdam
This evening has two parts:
– The Conference: Registration: 18:30-19:00, Conference: 19:00-21:15

– The Cultural Market with food, drinks, music, dance etc from different Cultures and Continents.
18:30-23:30


Club of Amsterdam Open Business Club


Club of Amsterdam Open Business Club
Are you interested in networking, sharing visions, ideas about your future, the future of your industry, society, discussing issues, which are relevant for yourself as well as for the 'global' community? The future starts now – join our online platform …