Welcome to the Club of Amsterdam Journal.
Ever since humans became aware of their mind, they have been questioning its origin. Is the mind part of the physical body, or does it exists by it's own? New developments within the neurosciences address this matter in a way that will very likely change our view on ourselves and the world for good. The discovery of mirror neurons provides a neurological basis for social behaviour and it might even give an explanation for the explosive evolution of culture amongst human beings. Will these developments lead to the conclusion that we are all nothing but very complicated computers in the end, which can be replaced by robots? And where does this leave philosophical concepts as consciousness, free will, morality and art for instance?
…. interested in knowing more …. join us at the event about the future of the Human Mind – Thursday, 14 April!
Felix Bopp, editor-in-chief
Human Mind
Brain Anatomy and Function. This 3D animation shows the anatomy and function of the brain using color coded areas.


Consciousness, Creativity & the Brain

In this University of Washington program, award-winning writer, director, and producer David Lynch discusses his films and his 30-year relationship with Transcendental Meditation, and its role in his creative process. He is joined by physicist John Hagelin, who was featured in the documentary 'What The Bleep Do We Know?' and neuroscientist Dr. Fred Travis, Director of the Center for Brain, Consciousness, and Cognition at Maharishi University of Management. The program is sponsored in joint partnership by the College of Arts and Sciences and the University of Washington Alumni Association.
Brain Development

UCSD Cognitive scientist Joan Stiles reveals the latest understandings about the intricate relationship between biology and external influences in the development of the brain.
Consciousness, Qualia, and Self

Dr. V.S. Ramachandran, Director of the Center for Brain and Cognition at UCSD, discusses consciousness, qualia, and self.
Next Event
Thursday, April 14, 2011
Registration: 18:30-19:00, Conference: 19:00-21:15
Location: HTIB, 1e Weteringplantsoen 2c, 1017 SJ Amsterdam
The speakers and topics are
Luc Sala
Personality types and your brain Humberto Schwab, Philosopher Human mind is more body

Maurizio Zollo, Bocconi Dean's Chaired Professor in Strategy and Corporate Responsibility, Bocconi University; Program Director, Neuroscientific Foundations of Strategic Decisions
Strategic management and neuro-sciences

Moderated by Adda van Zanden, Actress
Exhibition by Maartje van Buuren
Brazil Automobile Forecast to 2013
Brazil is one of the fastest growing automobile manufacturing markets in the world. Driven by the strong domestic demand and tax reforms implemented proactively by the government, the country's automobile sector has been reporting positive growth rates, despite a slowdown in the overall automobile industry across the world. Moreover, the country is far ahead of its regional counterparts, i.e. Argentina and Mexico, and produced around 3.64 Million automobiles (excluding motorcycles) during 2010. However, the industry was dominated by the passenger cars segment.
According to the research report "Brazil Automobile Forecast to 2013", despite the recent economic crisis, sales of passenger cars and LCVs in Brazil are anticipated to post a CAGR of over 10% and 20% respectively during 2011-2014. The passenger car segment will continue dominating the overall market sales by the end of the forecast period, owing to the relatively low penetration rate of this segment in the country.
Flex-fuel vehicles remain the most accepted vehicle segment among Brazilians due to their multi-choice of refueling system. With supportive government regulations on biofuel usage, sales of flex-fuel vehicles have been registering blistering growth rates for the past few years. This segment accounted for nearly 81% of the total automobile sales in 2010, and the share is anticipated to rise further in future.
Although Brazilian automobile industry faced decline in exports due to the appreciation of the Brazilian currency in 2008, it boosted the automobile imports. The research indicates that the industry has been feeling marginal effects of the worldwide economic crisis, however the future remains bright in the long term.
Club of Amsterdam blog

Club of Amsterdam blog
http://clubofamsterdam.blogspot.com

March 24: Socratic Innovation
January 1: On the meaning of words
November 30: The happy organisation – a deontological theory of happiness
November 26: Utilitarianism for a broken future.
News about the Future

The portion of the brain responsible for visual reading doesn't require vision at all, according to new research presented in the journal Current Biology. Scientists came to this conclusion after brain imaging studies of blind people as they read words in Braille showed activity in precisely the same part of the brain that lights up when sighted readers read. They said their findings challenged the textbook notion that the brain is divided up into regions that are specialised for processing information coming in via one sense or another. 'The brain is not a sensory machine, although it often looks like one; it is a task machine,' says Dr Amir Amedi, senior lecturer at Hebrew University of Jerusalem.

Brussels wants no oil-fuelled cars in cities by 2050
The European Commission plans to step up its battle against oil-fuelled cars, and is drawing up strict targets to halve their urban usage by 2030 and "phase them out by 2050," according to an EU road map on transport to be published on Monday (28 March) and seen by EurActiv. These objectives will play an instrumental role in achieving the more comprehensive target of cutting CO2 emissions from transport by 60% by 2050. Currently, a quarter of EU greenhouse gas emissions come from transport. The Commission is therefore proposing an ambitious plan which eyes significant reductions of emissions especially in road transport, while it intends to increase rail traffic, on the grounds that is by far cleaner and more environment-friendly. The Commission plan targets mainly urban and road freight transport. The objective of car-free cities by mid-century is to be pursued through fiscal measures, promotion of alternative transport systems, and building of the necessary infrastructure to move to a widespread use of electric and clean cars.
The State of the World's Children 2011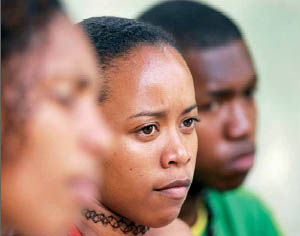 by UNICEF

The State of the World's Children 2011: Adolescence – An Age of Opportunity examines the global state of adolescents; outlines the challenges they face in health, education, protection and participation; and explores the risks and vulnerabilities of this pivotal stage. The report highlights the singular opportunities that adolescence offers, both for adolescents themselves and for the societies they live in.

The full report can be downloaded click here

Today's youth faces an increasingly uncertain world where climate change, rapid urbanization, the economic recession and rising unemployment pose unprecedented challenges. There are 1.2 billion adolescents across the world, nine out of ten of these young people live in developing countries. Millions are denied their basic rights to quality education, health care, protection and exposed to abuse and exploitation. Recognizing the need to turn this vulnerable age into an age of opportunity, UNICEF has dedicated it flagship publication State of the World's Children 2011 to adolescents. This video highlights the importance of investing in adolescents for breaking the cycles of poverty and inequity.
Recommended Book
SOCAP Europe

Europe's first impact investing conference comes to Amsterdam
May 30th – June 1st, join Europe's key social impact innovators in Amsterdam at SOCAP/Europe, Europe's first impact investing conference at the intersection of money and meaning. SOCAP/Europe will kick off with an opening night reception followed by two days of deep-dive sessions into the social enterprise space. Convening at the historic site of the first stock exchange, Beurs van Berlage, SOCAP/Europe gathers leading investors, entrepreneurs, philanthropists, government funders, and innovators for a dynamic conversation. Together we will explore models, form partnerships and fund innovative solutions to the world's great challenges.
Speakers include Marilou van Golstein Brouwers (Triodos Bank), Jean-Phillipe de Schrevel (Blue Orchard), HRH Prince Carlos de Bourbon de Parme (INSID), Matt Flannery (Kiva).
Futurist Portrait: Richard Florida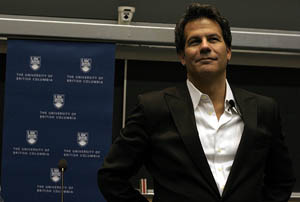 Richard Florida is author of the global best-seller The Rise of the Creative Class and Who's Your City? a national and international best seller and amazon.com book of the month. His new book, The Great Reset explains how new ways of living and working will drive post-crash prosperity.
He is author of The Flight of the Creative Class and Cities and the Creative Class. His previous books, especially The Breakthrough Illusion and Beyond Mass Production, paved the way for his provocative looks at how creativity is revolutionizing the global economy.
Florida is a regular correspondent for The Atlantic and a regular columnist for The Globe and Mail. He has written for The New York Times, The Wall Street Journal, The Washington Post, The Boston Globe, The Economist, and The Harvard Business Review. He has been featured as an expert on MSNBC, CNN, BBC, NPR and CBS, to name just a few.
Richard has also been appointed to the Business Innovation Factory's Research Advisory Council and recently named European Ambassador for Creativity and Innovation.
Florida's ideas on the "creative class," commercial innovation, and regional development have been featured in major ad campaigns from BMW and Apple, and are being used globally to change the way regions and nations do business and transform their economies.
Florida is one of the world's leading public intellectuals on economic competitiveness, demographic trends, and cultural and technological innovation. International diplomats, government leaders, filmmakers, economic development organizations and leading Fortune 100 businesses have benefited from his global approach to problem-solving and strategy development.
He is one of the world's most sought after speakers on global trends, economics, prosperity, competitiveness and growth. Combining in-depth analysis, cutting-edge trends, a fascinating personal story, and just a touch of self-deprecating humor, it's no wonder Florida was recently named one of Esquire Magazine's Best and Brightest, alongside luminaries such as Bill Clinton and Jeffrey Sachs.

Richard Florida's Who's Your City?
Agenda