Erik L.J. Klein Nagelvoort about ICT-breakthroughs
Erik L.J. Klein Nagelvoort, Partner, PricewaterhouseCoopers, Co-author of the EU report
Ten ICT-breakthroughs for reaching Lisbon goals
Europe has set itself the highest target, it wants to become the most competitive and dynamic knowledge-based economy, to have sustained and accelerated economic growth with full employment and a modernised social protection system. […]
ICT has a direct and substantial impact on productivity growth
The impact of ICT on productivity is undisputed. This impact goes beyond a direct return on investment. Scientific research in the USA demonstrates that computers are often the catalyst for bigger changes. Information and communication technology (ICT) is not only the technological basis for a fast growing industry sector but also an indispensable enabler and driver for an inclusive, dynamic and knowledge based economy and a modern social society. […]
ICT has turned into a key technology for pursuing sustained economic growth, in various ways:
• Investments in ICT infrastructure, networks, productive equipment and software (capital deepening) creates economic growth. OECD estimated that in the last decade ICT investments have typically produced an annual GDP growth of between 0.3% and 0.8%. This was a significant contribution to overall economic growth viewing an average European GDP growth of approximately 2%.
• The growth of the ICT sector itself produces economic growth. After the burst of the Internet bubble, the ICT sector experienced a few difficult years, but at present it outperforms many other sectors. Some countries have very strong ICT sectors that contribute significantly to the GDP growth (annual contribution in Korea, Ireland and Finland: approximately 1%).
• Firms that increase their efficiency by using ICT (multifactor productivity) create economic growth. The USA for example has obtained an annual average productivity growth rate of 1.4% (1996-2001). As a 'general purpose technology' ICT has a strong impact on a wide range of industries and it often is an enabler for major innovations in non-ICT sectors. The communications sector itself has been the largest contributor to labour productivity and is a key asset. The sectors that heavily depend on ICT, such as financial services, have also benefited a lot from such investment.
The Lisbon Agenda includes the following key political objectives to realise this ambition:
• to establish an inclusive, dynamic and knowledge based economy;
• to produce accelerated and sustained economic growth;
• to restore full employment as the key objective of economic and social policy, and reduce unemployment to the levels already achieved by the best performing countries;
• to modernize our social protection systems.
 Erik L.J. Klein Nagelvoort, Partner, PricewaterhouseCoopers, Co-author of the EU report speaks at the Club of Amsterdam about the future of ICT on Wednesday, October 27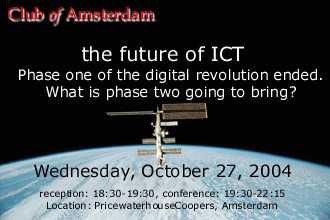 About the future of ICT

Why minds are not computers
by Raymond Tallis
"The once revolutionary and counter-intuitive notion that "the mind is to the brain as software is to hardware" now seems to be hardwired into the thinking of most people who have views on the nature of consciousness. In arguing against the conventional unwisdom, one has not only to demonstrate that minds are not computers but also to explain why such a daft idea should have seemed half-way plausible. Arguments against the Computer Theory of Mind, therefore, should include an explanation of the aetiology and persistence of a delusion."
My case has four strands. The first is the unremarkable claim that computers are not conscious. The second is the equally unremarkable claim that consciousness is not computational. The third will boldly assert that minds are conscious, so that if consciousness is not computational, neither are minds. (Many people pretend to believe that minds are not conscious or importantly so.) Finally, I will examine the language by which those who believe the Computer Theory are self-deceived."
See: The Philosophers' Magazine

W3C Celebrates Ten Years Leading the Web
"This special anniversary brings the opportunity to acknowledge the impact of the Web and the W3C's stewardship role. I hope it will also inspire ever more collaboration, creativity, and understanding across the globe." – Tim Berners-Lee
In 1994, the World Wide Web Consortium (W3C) was created to "Lead the Web to Its Full Potential." This year, W3C celebrates its tenth anniversary. The Consortium is organizing a one-day symposium on 1 December for Members and invited guests to reflect on the progress of the Web, W3C's central role in its growth, and risks and opportunities facing the Web during W3C's second decade.
News about the Future

HY-LIGHT
The fuel cell car HY-LIGHT is the result of a partnership between the research centre of Michelin Group, based near Fribourg, Switzerland, and the Paul Scherrer Institute (PSI) in Villigen, in the Canton of Aargau, Switzerland. PSI developed the fuel cell system, and contributed its long-term experience of basic electrochemical research. By using the new cells and improved supercaps, the scientists, engineers and designers achieved a technological leap forward in the efficiency of energy conversion. Michelin created the whole power train, the electric motors and the chassis management system, based on an active electric suspension. This gives the vehicle stability on bends and when it brakes, providing a safe, comfortable ride. Hydrogen and oxygen are stored in special vessels fitted into the structure of the vehicle and well protected against shocks. Both gases can be produced by electrolysis. A prototype installation was studied and realised with the support of the Electrical Power Company of Fribourg.
Within barely 20 months, this enthusiastic team from the worlds of science and industry have constructed and tested their prototype. The HY-LIGHT can now demonstrate its performance in Shanghai at the Challenge Bibendum, the largest competition in the world for environmentally-friendly motor vehicles. The fuel cell car will be presented in public for the first time in Switzerland before the end of November 2004.

Connected Health
Thought Leaders
Essays from health innovators
Edited by Kevin Dean
[…] There are formidable forces driving healthcare, and in particular the way information is used to support its management and delivery up the world's agenda:
• Ageing populations in the developed world, whose expectations of service and quality of life are ever rising through developments in other industries, be they banking, media, retailing, or leisure
• Massive leaps forward in the tools, techniques and treatments used to prevent and cure diseases, ever adding to the demand and cost of care
• An explosion of public access to information, rapidly accessed through the internet, changing the relationship between patients and the organisations that care for them throughout their illness
• Finite resources, even in the richest nations, that can be devoted to public services
• Increasing mobility of citizens, both inside their own regions or countries, and between countries
• Huge potential for both health-disasters and life-changing improvements in the quality of life, in developing nations, through often simple changes in public and personal health practice
• Rapid adoption of web-based technologies in many industries, and in many countries rich and poor, driving up the productivity and quality of almost all products and services
[…]
Summit for the Future 2005 – January 26-28, 2005
Club of Amsterdam
Summit for the Future 2005 – Visions & Strategies for 2020
Date: January 26-28, 2005
Location: HES Amsterdam School for Business, Amsterdam, The Netherlands


Gain critical insights and a deeper understanding of the issues that will shape the Knowledge Society. The Summit for the Future 2005 is a European conference that brings together experts, thought leaders, policy makers and knowledge workers.
Each Knowledge Stream can be attended by 25-30 participants. Please make your registration as soon as possible!
Please promote the Summit for the Future to your friends, collegues, your network!
Keynotes
Tom Lambert, Chief Executive, Centre for Consulting Excellence, Professor of Consultancy, Rushmore University, UK/USA; Vladimir Petrovsky, former Director-General of the UN in Geneva, Russia/France; Glen Hiemstra, Owner, Futurist.com, USA; Wendy L. Schultz, Futurist, Infinite Futures, UK
Knowledge Streams
the future of Trade / Service Industry
Catherine Distler, Deputy Director and Co-Founder, Promethee, France; Pascal Kerneis, Managing Director, European Services Forum, Belgium; Stefan Schneider, Head of Macro Trends, Deutsche Bank Research, Germany; Frank D Shaw, Director General, Centre for Future Studies, UK; Julian Baggini, Editor and Co-Founder, The Philosophers' Magazine, UK; HES Amsterdam School of Business, The Netherlands; Wanda van Kerkvoorden, SOLV new business advocaten, The Netherlands
the future of Energy
Gerd Eisenbeiss, Member of the Board of Directors, Research Centre Jülich, Germany; Michiel Jak, Senior Consultant Sustainability & Hydrogen, Altran Technologies Netherlands BV, Netherlands; Tim Harper, CEO, Cientifica, Executive Director, European NanoBusiness Association Spain; Arnulf Grübler, IIASA – International Institute for Applied Systems Analysis, Austria; Katie Begg, Principal Lecturer, Institute of Energy & Sustainable Development, De Montfort University, UK; Rob van Hattum, Head of Science Programmes, VPRO television, Content Director, Dutch Science Centre NEMO, The Netherlands
the future of Healthcare
Joerg-Peter Schroeder, Healthcare Solution Manager EMEA, Microsoft, Germany; Geoff Royston, Head of operational research, Economics and Operational Research, NHS – United Kingdom National Health Service, UK; Tamsin Rose, General Secretary, European Public Health Alliance (EPHA), Belgium; Gio Tettero, Managing Director, Siemens Medical Solutions, Director, Siemens Netherlands, The Netherlands; Petra Wilson, Associate Director for EU Affairs, European Health Management Association, Belgium; Kevin Dean, Director, Public Sector Healthcare, Internet Business Solutions Group, Cisco, UK; Bert Gordijn, PhD, Secretary of the European Society for Philosophy of Medicine and Healthcare, Clinical Ethicist, Assistant Professor of Medical Ethics, University Medical Centre Nijmegen, Department of Ethics, Philosophy and History of Medicine, The Netherlands; Wouter Keijser, e-health specialist, Wacomed, The Netherlands
the future of Media & Entertainment
Paul Kafno, Managing Director, HD Thames, UK; Wim van de Donk, President of the Netherlands Scientific Council for Government Policy. Professor, Faculty of Law, Tilburg University, The Netherlands; Helen Shaw, Managing Director, Athena Media Ltd, Ireland; Gerd Leonhard, Music Futurist, Switzerland/USA; René Gude, Managing Director, The International School for Philosophy – Internationale School voor Wijsbegeerte, The Netherlands; Jonathan Marks, Director, Critical Distance BV, The Netherlands
the future of Science & Technology
Simon Jones, PhD, DSc, CEng, Managing Director, MIT Media Lab Europe, Ireland; Bror Salmelin, Head of Unit Information Society DG, European Commission, Belgium/Finland; Valeri Souchkov, InBITween Consulting Group, The Netherlands; Andreas Neef, Executive Manager, Z_punkt, The Foresight Company, Information Scientist, Futurist, Germany; Mathijs van Zutphen, The Netherlands; Patrick Crehan, CEO & Owner, Crehan, Kusano & Associates sprl, Belgium
Recommended Book


Big Book of E-Commerce Answers: How to Turn Your Website into a Money Machine
by Tom Lambert
Managers need to manage. In e-commerce the "techies" far too easily pull the wool over their eyes. The alternative to building knowledge is to have the technical people, advertising agencies or marketing departments making the business decisions that would normally be the sole responsibility of the front-line manager. This book puts the control back where it belongs. No commercial enterprise can be without an effective web presence but to be effective as a business activity, business managers need to be able to produce a robust and viable e-commerce strategy. This book helps the reader plan and operate a well-founded e-commerce operation, whilst suggesting ways in which to make the best use of technology to improve productivity and reduce costs. This book provides a clear understanding of how the Internet, investment in technology and e-commerce work. In plain, it is a book aimed at those more interested in web profits, than web prophets.
Offshore Operations in India
Choosing a location for offshore operations in India
A NASSCOM – KPMG Study 2004
India's success with off-shoring is expected to continue over the next few years with expected growth of 30 – 40 per cent and an increase in the share of off-shored services from 25 per cent currently to 40 per cent.
What is lost in this evolution is where this growth is going to come from. While it could partially come from existing activities moving to the higher end of the value chain, it will also require expansion or entry of new players.
Most new entrants and existing players are faced with the lack of information or a framework to guide on the choice of location for their off-shoring operations. Should it be in the currently attractive locations that are encountering salary increases of 10 – 20 per cent and attrition jump to 30 – 40 per cent? Or, should it be in locations where costs could be 30 – 50 per cent lower in comparison but availability of necessary infrastructure / people skills may be an issue? How would the positioning of these locations change in the future (two – three years)?
The NASSCOM- KPMG study is aimed to address this gap and to guide the systematic evaluation of location choice for companies' ITeS requirements.
The study indirectly addresses the needs of three broad categories.
– Firstly, potential investors who have no clear understanding of operating out of India or even about specific location choices and are looking at an overall assessment as well as the experience of other players.
– Secondly, players with off-shoring operations in India that are evaluating expansion or relocation options driven by customer or competitive pressures and cannot keep track of changes across different locations.
– Thirdly, local or state government and regulatory authorities that are often very intent on attracting ITeS investments and generating employment but lack an understanding of how companies choose locations.
The report covers 13 city clusters across ten states that account for over 85 per cent of the country's IT / IT- enabled Services (ITeS) exports. Other states too are now attracting interest for ITeS but these were not considered for the current study at this stage, either due to lack of significant ITeS activity or information available within the resource constraints.
A typical approach to choice of location by companies for ITeS could involve multiple stages of information gathering and analyses or negotiations.
The evaluation during the process is based on a changing set of parameters, from 'a buzz about the location' to 'quantitative aspects of key factors like salary costs, bandwidth availability etc. ' to 'qualitative and experiential aspects of flexibility and special concessions'.

Blast Radius is a world-class team of experts focused on making technology work for businesses, transforming customer experience into reality. We've been at it since 1996, offering a unique integration of strategy, technology, and design to help industry-leading companies deliver superior experiences to their customers.
http://www.blastradius.com
Club of Amsterdam Upcoming Events