Welcome to the Club of Amsterdam Journal.
Join the Club of Amsterdam at the II International Dreams in Action Unconference:"Living in the Era of Art" – Bilbao 13.12.13
Our next Season Event is about the future of Urban Mobility Thursday, January 30, 18:30 – 21:15!
Efficient transportation and mobility are essential to make a city competitive and appealing. Current business models offer alternative and new mobility solutions, such as car or bicycle sharing and new leasing mobility offerings, electric vehicles, autonomous driving, talking cars, micro mobility or integrated mobility.
What future impact have key global mega trends on Urban Mobility?
What are the major challenges in balancing economic needs and environmental policies?
What role can innovation play or what innovation is needed?
Felix F Bopp, Founder & Chairman
Arcosanti explores the concept of arcology architecture + .ecology


Arcosanti is an experimental town and molten bronze bell casting community that has been developed by the Italian-American architect, Paolo Soleri, who began construction in 1970 in central Arizona, north of Phoenix. Using a concept he called arcology, he started the town to demonstrate how urban conditions could be improved while minimizing the destructive impact on the earth. He taught and influenced generations of architects and urban designers who studied and worked with him there to build the town.

The goal of Arcosanti is to explore the concept of arcology, which combines architecture and ecology. The town has the goals of combining the social interaction and accessibility of an urban environment with sound environmental principles, such as minimal resource use and access to the natural environment. The project is building an experimental town on 25 acres (10 ha) of a 4,060-acre (1,640 ha) land preserve.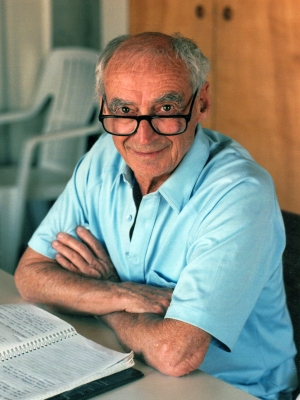 Paolo Soleri (1919-2013), the founder of Arcosanti
Through his work as an architect, urban designer, artist, craftsman, and philosopher, Paolo Soleri has been exploring the countless possibilities of human aspiration. One outstanding endeavor is Arcosanti, an urban laboratory, constructed in the Arizona high desert. It attempts to test and demonstrate an alternative human habitat which is greatly needed in this increasingly perplexing world. This project also exemplifies his steadfast devotion to creating an experiential space to "prototype" an environment in harmony with man.
In his philosophy "arcology" (architecture + ecology), Soleri formulated a path that may aid us on our evolutionary journey toward a state of aesthetic, equity, and compassion. For more than a half century, his work, marked by a broad-ranging and coherent intellect (so scarce in the age of specialization), has influenced many in search of a new paradigm for our built environment.
If the act of living includes the pioneering of reality through imagination and sweat, Soleri has given us more than enough food for thought in the examples he has left on paper and in the desert wind.


Arcosanti: An Urban Laboratory?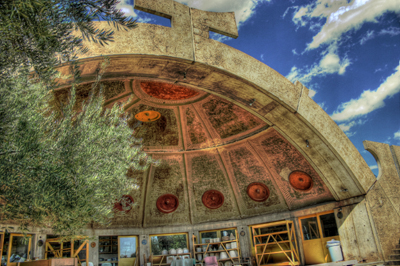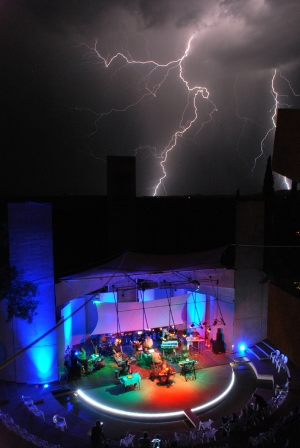 Electronic music performance and storm
photo by Youngsoo Kim

photo by Tomiaki Tamura


Construction broke ground at the site in 1970, and has continued at a varying pace through the present. The most recently completed building was finished in 1989. The population varies between 50 and 150 people, based on the number of students and volunteers on the site. Ultimately, the town is planned to have 5,000 people. Thirteen major structures have been built on the site, some several stories tall. The latest master plan, designed in 2001, envisions a massive complex, called "Arcosanti 5000", that would dwarf the current buildings.
Many features are particular to the design and construction of Arcosanti. For example, tilt-up concrete panels are cast in a bed of silt acquired from the surrounding area, giving the concrete a unique texture and color that helps it blend with the landscape. Many panels were cast with embedded art. Most buildings are oriented southward to capture the Sun's light and heat — roof designs admit the maximum amount of sunlight in the winter and a minimal amount during the summer. The bronze-casting apse is built in the form of a quarter-sphere or semi-dome. The layout of the buildings is intricate and organic, rather than a city grid, with a goal of maximum accessibility to all elements, and a combination of increased social interaction and bonds, together with privacy for the residents.

Arcosanti today

Arcosanti's intensive workshop program teaches students from around the world about Arcology while they participate in on-going construction. Concerts and other events in the Colly Soleri Music Center also allow visitors to experience Arcosanti. 35,000 tourists each year visit the facilities, gallery, bakery, and cafe. Guided tours introduce the philosophy, history, planning and ongoing construction of Arcosanti.
A diverse group of Arcosanti residents work in planning, design, construction, agriculture, landscaping, carpentry, metal work, maintenance, archives, teaching, hospitality, and communications. Residents also produce the world-famous Bronze and Ceramic Soleri Windbells through Cosanti Originals.
Next Event: the future of Urban Mobility
the future of Urban Mobility
January 30, 2013
Location: Info.nl- Sint Antoniesbreestraat 16, 1011 HB Amsterdam [Next to Nieuwmarkt]
This event is supported by Info.nl & TPEX (TelePresence EXchange International)
The speakers and topics are
Wim Korver, Head of Research & Development Unit, Goudappel Coffeng
The 21 century: the end of the car mobility as we know it
Robert Dingemanse, Co-founder and CEO, PAL-V
Flying cars, how will it affect future mobility?
Nick Cohn, Senior Business Developer, TomTom
TomTom on Urban Mobility: The Future is Now
Rohit Talwar, CEO, Fast Future Research
Global Forces Shaping Urban Mobility
Internet and electricity


What is the Freedom Ship?

"Envision an ideal place to live or run a business, a friendly, safe and secure community with large areas of open space and extensive entertainment and recreational facilities. Finally, picture this community continually moving around the world. You are beginning to understand the Freedom Ship concept of a massive ocean-going vessel. With a design length of 4,500 feet, a width of 750 feet, and a height of 350 feet, Freedom Ship would be more than 4 times longer than the Queen Mary. The design concepts include a mobile modern city featuring luxurious living, an extensive duty-free international shopping mall, and a full 1.7 million square foot floor set aside for various companies to showcase their products.
Freedom Ship would not be a cruise ship, it is proposed to be a unique place to live, work, retire, vacation, or visit. The proposed voyage would continuously circle the globe, covering most of the world's coastal regions. Its large fleet of commuter aircraft and hydrofoils would ferry residents and visitors to and from shore. The airport on the ship's top deck would serve private and small commercial aircraft (up to about 40 passengers each). The proposed vessel's superstructure, rising twenty-five stories above its broad main deck, would house residential space, a library, schools, and a first-class hospital in addition to retail and wholesale shops, banks, hotels, restaurants, entertainment facilities, casinos, offices, warehouses, and light manufacturing and assembly enterprises. Finally, this concept would include a wide array of recreational and athletic facilities, worthy of a world-class resort, making Freedom Ship a veritable 'Community on the Sea'."
Delve Into Your Past with DNA Testing
Science has improved dramatically in recent times, with DNA now able to track your ancestry back through thousands of years ago. This is a great opportunity for those of us who are endlessly curious. Finding out some fascinating facts could help a family piece together their history. The process of getting a DNA test done may sound strenuous, however, this post aims to relieve those worries.
Take Your Time & Research
There is nothing worse than rushing into making a judgement. Getting a DNA test done is a big decision. So it's very important to find out information on the process first. There are many different reasons for wanting to know your own ancestry. There may be a mystery that lies within your families past that you wish to uncover. Alternatively, some people may be of a mixed ethnicity. Therefore, they might like to gain a greater understanding of their background.
Order the Test
Once a person has gained enough information to feel comfortable, they should order the test. This is when the process truly begins. Before a person chooses which test to get, it's important to research. Different tests provide different answers, so be sure that they will be the ones you're looking for. Good quality DNA tests will give information on the female line as well as the male. The more modern tests are also able to give more information than others. It's even possible that a person's ancestry can actually be tracked to a specific country or region.
Take the Test
The actual DNA testing process may put some people off. This is even though they might not realise what actually happens. The first thought for some people will immediately be a mass loss of blood through different test taking methods. However, the process differs somewhat in practice. Some of the tests are done with a simple swab, which is used to collect saliva rather than blood.
Wait for the Results
Waiting for the answers of a big question can be difficult. For some people, this may actually be the most frustrating aspect of the whole process. It's important to remember that nothing can be done in this period by yourself. Ideally, before the test process, most people will have gained an understanding of how long it will take. Most good companies, such as easyDNA, will have results back in five days, meaning you won't have long to wait.
www.easydna.co.uk/dna-ancestry-test.html
Club of Amsterdam blog

Club of Amsterdam blog
http://clubofamsterdam.blogspot.com

Demography and Hegemony
Navigating the Transition
Will Green Buildings Help
Shaping our Future Evolution
Oh, The Humanities! Why STEM Shouldn't Take Precedence Over the Arts
The Egg
Joy Rides and Robots are the Future of Space Travel
The Transposon
News about the Future

Global Food Security Index 2013
by The Economist Intelligence Unit
Food systems today are under severe and increasing strains from population pressures, high input prices, changing consumer patterns and dramatic weather and price shocks. In this context, the EIU has created the Global Food Security Index, which looks beyond hunger to examine the underlying factors and key risks affecting food security in a structured, rigorous framework. The index is a dynamic benchmarking model that uses quantitative and qualitative indicators to provide a standard against which countries can be measured and reveal individual country strengths and weaknesses.

Gift Guide: Gadgets For Budding 3D Printing Fans
by John Biggs, East Coast Editor, TechCrunch
"3D printing is all the rage and it's hard to know just where to start. If you have a budding manufacturing magnate on your Christmas list we've got a few fun things for them to check out. One word of advice? Don't buy cheap 3D printers. I've tested a few so far and a number of the "cheap" open source models and some of the models you find at Office Depot are unusable at best. It hurts me to say this but there is really a race to the bottom when it comes to 3D printing right now. Things may be expensive, but like any early-adopter you should save your pennies and pick the right model for the job."
Club of Amsterdam in Bilbao, Spain
Club of Amsterdam in Bilbao, Spain


The II International Dreams in Action Unconference: "Living in the Era of Art" – Bilbao 13.12.13 – is a consciousness-raising event designed to advance the creative expression and reflection of the citizenry for the improvement of our society.
It is open to people from all spheres of activity, and will be held in Bilbao, on December the 13th.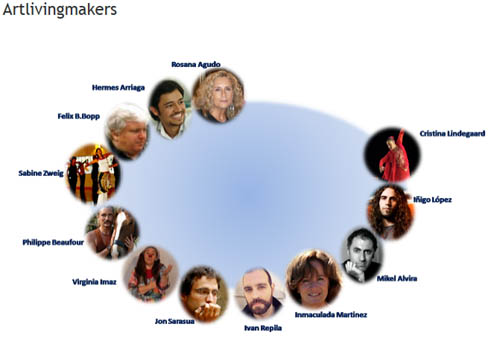 Recommended Book
Futurist Portrait: Scenario Planning
What is a Futurist?

By Patrick Dixon, futurist, author and business consultant.

"What Is Foresight?"
Professor Leon Fuerth – Research Professor of International Affairs, Elliott School of International Affairs – discusses the concept of foresight in the Project on Forward Engagement in a video produced by Olivia Hallihan.
Peter Schwartz – American futurist, innovator, author, and co-founder of the Global Business Network (GBN) – on Scenario Planning: The Shell Story
Futurist Portrait: Michael Rogers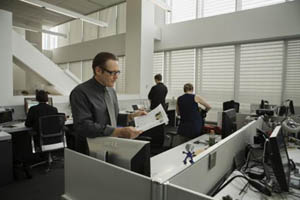 Michael Rogers is a different kind of futurist – one who combines real business experience with technology skills. Add to that the keen eye of an award-winning investigative journalist and the storytelling skill of a novelist, and you have The Practical Futurist.
Michael Rogers began his career as a writer for Rolling Stone magazine. He co-founded Outside magazine and then launched Newsweek's technology column, winning numerous journalism awards. For ten years he was vice president of The Washington Post Company's new media division, leading both the newspaper and Newsweek into the new century and earning patents for multimedia technology. He is also a best-selling novelist whose books have been published worldwide, chosen for the Book-of-the-Month club and optioned for film.
His recent work has ranged from serving as Futurist-In-Residence for The New York Times to writing the popular Practical Futurist column for MSNBC. He speaks and consults for clients worldwide, from startups to Fortune 500 companies, and is a frequent guest on radio and television.

Michael Rogers: "Practical Futurist" Author, Technologist and Keynote Speaker
A discussion with Michael Rogers, Practical Futurist, on cloud computing
Agenda

February 27, 2014
the future of Learning
The impact of culture on teaching and early learning.
Location: THNK, Haarlemmerweg 8a, 1014 BE Amsterdam (Westergasfabriek)
A collaboration between THNK, the Amsterdam School of Creative Leadership and the Club of Amsterdam
March 27, 2014
the future ofCreativity, Arts & Consciousness
Location: Mediamatic, Van Gendthallen (next to Roest), VOC-kade 10, Amsterdam
Co-location: The Vortex Dome, Los Angeles
A collaboration between c3: Center for Conscious Creativity, Vortex Immersion Media, TPEX and the Club of Amsterdam
April 24, 2014
the future of Women in Business
May 29, 2014
the future of Green Architecture
Retrofitting existing houses and historic buildings.
Location: Geelvinck Museum, Keizersgracht 633, 1017 DS Amsterdam
A collaboration between Geelvinck Museum and the Club of Amsterdam
June 26, 2013
the future of Transformation

Special Supporters