Content
Welcome to the Club of Amsterdam Journal.
The Future Now Show about Energy Efficiency with Michael Pachlatko
"The European Commission's proposed Green Deal is not lacking in ambition: mobilising 1 trillion Euros over the next decade will lead to a fundamentally different energy infrastructure across the continent. At the same time, the financial industry is increasingly put under scrutiny to disclose environmental, social and governance (ESG) criteria in the portfolio reporting. How can we ensure this transition will indeed be to the benefit of all citizens, and what is needed to accelerate capital deployment specifically in critical areas like energy efficiency and renewable energy?" – Michael Pachlatko, VP Finance, Joule Assets Europe, Italy
Special Anina.net from Beijing talking about Corona

BeThe Big Role of Small Business in Dealing with the Climate Crisis by Patrick Crehan
(…) If you are involved in running a business, you are invited to provide feedback on your awareness and training needs in relation to energy and climate related audits and other measures that you can take to help address the climate crisis. You can do this by responding to this ONLINE SURVEY. You will be informed of the results of the survey in a future edition of the Club of Amsterdam Journal. The focus is on energy efficiency, but the survey provides an opportunity for you to shape the program based on your specific needs. (…)

Felix B Bopp, Founder & Chairman
Richer countries must do more to help those already experiencing the climate crisis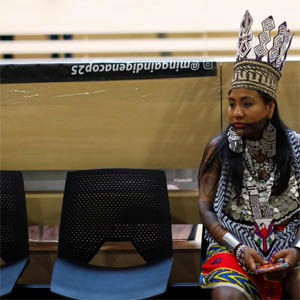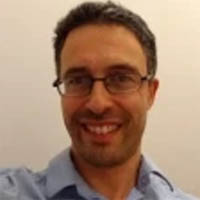 By Keith Hyams, Reader in Political Theory and Interdisciplinary Ethics, University of Warwick and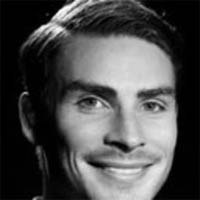 Morten Fibieger Byskov, Postdoctoral Researcher in International Politics, University of Warwick
The climate crisis is not just about the future. It is a reality that many people, especially those living in low-income countries, already have to live with. As is well documented, global heating increases the risks of extreme weather events that threaten human lives and livelihoods. Some of these effects are already being seen.
Our research over the past two years, for example, has brought us into contact with indigenous communities in Uganda whose livelihoods are increasingly precarious as a result of unreliable weather.
We have also worked in informal settlements in Zambia where disease prevalence is accelerating as a result of climatic factors. Elsewhere, coastal communities are losing income and food due to storm surges that damage crucial infrastructures and homes. And inland agricultural communities are experiencing prolonged droughts. This affects the quality and quantity of crops and leads to water shortages that kill off livestock. That, in turn, causes food insecurity for millions of people, such as in the case of the decade-long drought in Kenya.
Droughts similarly create water shortages for poor urban populations, as we have seen in our work in Cape Town. Elsewhere in sub-Saharan Africa, increased rainfall is flooding latrines, contaminating drinking water and spreading diseases.
A child collects plastic bottles near a house destroyed during cyclone Idai, Beira, Mozambique. EPA-EFE/Karel Prinsloo
Meanwhile, among mountain communities the world over, retreating glaciers threaten water supplies that depend on seasonal glacial melt-off.
For these communities, adapting to climate breakdown – by, for example, improving water infrastructure and management, and diversifying income sources – is an immediate and pressing concern. To make matters worse, global inequalities have left the global south lacking crucial infrastructural and institutional development necessary to build resilience to climate breakdown.
Addressing injustice
Not nearly enough action has yet been taken. We can, at least, say that it is increasingly accepted that we must sharply reduce greenhouse gas emissions. But this doesn't go far enough. We also owe it to those communities already experiencing climate breakdown – often those who have done the least to contribute to the climate crisis but experience the worst of it – to help them adapt to the new reality. Our failure to do so constitutes an injustice that is currently inadequately recognised.
A major issue at the recent COP25 climate conference concerned who should pay for this adaptation and for the loss and damage compensation in lower income countries. It was agreed that countries that have benefited from industrialisation should take some responsibility for their historical role in driving climate breakdown. This responsibility, then, falls primarily – if not solely – on the affluent, industrialised nations of the global north. But the adaptation finance that has so far been provided by these countries has been insufficient, and has often failed to reach the most vulnerable communities.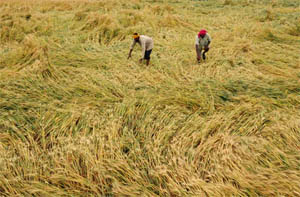 Workers inspect a wheat crop following unseasonal storms near Amritsar, India, 17 April 2019. Raminder Pal Singh/EPA-EFE
In order to address this, countries that have signed the United Nations Framework Convention for Climate Change (UNFCCC), the main governing body for climate action, must actually uphold the commitments made in the Paris Agreement, which highlights adaptation and loss and damage compensation as equal pillars of climate justice alongside mitigation.
Such action might include a closer collaboration with development programmes all over the world to promote development for adaptation, as well as the continued allocation of UNFCCC resources towards adaptation initiatives.
Such initiatives should aim to build resilient infrastructures in ways that support socioeconomic equality, addressing both physical and social causes of vulnerability. They should also provide alternative and sustainable livelihoods for poor and climate vulnerable communities, such as those depending on fishing and farming. And they must protect existing ecological knowledge and practices, such as raised fields among indigenous farmers in the Bolivian Amazon, which are key to resilience.
Representing the most vulnerable
Another key element of this concerns representation. The voices of poor and marginalised communities are too easily lost in a climate debates in the global north. For more well-off countries, significant costs from climate breakdown are still mostly in the future, albeit rapidly approaching. And so that is how the climate crisis is predominantly viewed.
Sidelined voices need to be platformed more. Some progress have been made in this regard on an international level, with the creation of the Local Communities and Indigenous Peoples Platform (LCIPPP) as an advisory body to the UNFCCC. But such platforms are lacking at most national and local levels.
Building on this, it is necessary to create opportunities for climate vulnerable communities to be actively involved in formulating both global and local visions of climate justice. These visions must give equal consideration to their present experiences of living with climate breakdown and the need to facilitate adaptation not only in the future, but in the here and now.
In the case of the Batwa Indigenous Peoples of Uganda, we have found that national adaptation plans largely ignore the interests of marginalised groups like them. Sometimes, they even make their situation worse, or violate basic human rights. In an attempt to help them adapt to climate breakdown, the Batwa, for example, were forcibly relocated from their native lands in the rainforest to areas that, while having some access to infrastructure, lack proper housing and arable land.
In many lower income countries, climate breakdown is already bringing very significant costs. But for many in the global north, the worst is still to come, and much of the focus of climate action is still on mitigation. Somehow, perspectives need to change: the climate crisis is an issue of global and social justice.


This article is republished from The Conversation under a Creative Commons license.
Data analysis: the dawn of precision agriculture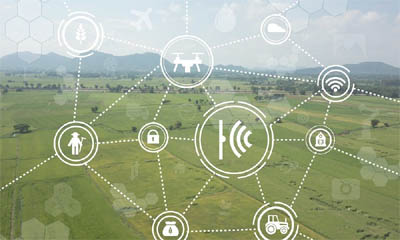 Digital technologies are now part of everyday life for farmers: small and large agricultural businesses, young and not-so-young farmers, almost everyone is using them. The sector is therefore producing a wealth of data, which can be used to improve economic and environmental performance and guide decision-making. However, the digital transition is only just beginning, and questions are still being raised.

Transforming data into decision-making tools
GPS, drones, robots equipped with sensors, mobile applications and connected devices are all tools that facilitate the everyday lives of farmers, helping them optimise the running of their businesses and make informed decisions. Monitoring fields, herds and buildings, examining weather and market developments and forecasting yields, agriculture as a whole generates a vast amount of valuable data.
With the availability of this "agricultural data", the stakes are high across the entire sector. "There is much to do on traceability, with high societal expectations for greater transparency on food products. The data collected can also be used to increase the competitiveness and productivity of farms, making it possible to enhance both their economic and environmental performance" states Guillaume Joyau,Head of Research & Innovation at the Department for Economy and Sustainable Development of the FNSEA (Fédération Nationale des Syndicats d'Exploitants Agricoles – French Federation of Farmers' Unions). He also notes the impact of using digital technology and data analysis on the everyday lives of farmers, reducing on-call time and informing them of incidents quickly, and often remotely.
"The value for farmers is very real. Being able, for example, to observe the health of crops, via sensors passing very close to the plants, means they can plan targeted actions in case of disease", concludes Jean Inderchit, Product Manager at Naïo Technologies.

Step-by-step digitisation
Although the use of data is already relatively widespread on vineyards, farm digitisation is, generally, still in its infancy, and barriers remain. Firstly, the investment costs, equipment renewal cycles being staggered over one, or sometimes even two, decades. Also, the necessary infrastructure deployment for good network coverage, some areas still being largely incompatible with constant connectivity. And there are still no standards for the tools and protocols used, making communication and interoperability between different data collection systems complex.
And then, using the data collected in the fields raises yet more questions. "Although it is the farmers who are actually producing this data, through their work, the analyse, aggregation and cross-referencing with other data and then transformation into usable information very often falls to third-party specialists", explains Guillaume Joyau. This raises questions about how the data is used, its portability and even its storage… The DATA-AGRI charter and label, created by the Conseil de l'Agriculture Française (French Agriculture Council) (of which the FNSEA is a member), aim to establish a code of ethics and fair practices for agricultural digital technology. "Ensuring transparency and guaranteeing that farmers have control of how their data is used, creates favourable conditions for data use right along the chain. These are the key issues in building the emerging ecosystem" sums up Guillaume Joyau.


Emergence of "Smart Agriculture"
What is more, the analysis and interpretation of "Agricultural Big Data" today represents an opportunity to profoundly revolutionise agricultural practices.
"The data collection must have a very precise and useful aim to offer genuine assistance in the running of a farm. If an autonomous robot can, at the same time as weeding lettuce plots, count the plants and determine their location, providing farmers with maps of their fields, the number of heads and the average diameter, this provides farmers with an extremely high level of information to optimise the manner in which they grow their plants", illustrates Jean Inderchit of Naïo. Yield forecasts, practice improvements and even early detection of disease, making it possible to act locally to prevent the spraying of products that are harmful to the environment and the user, are all areas in which the data can be highly effective, opening the way to precision agriculture.
For Guillaume Joyau, it is clear that "digital technology is a means of responding to many of the new issues with which we are faced. Climate change, for example, brings different diseases, different monitoring and new emerging risks, which digital tools can help us manage. And in the same way that mechanisation transformed agriculture in the 60s, these technologies will certainly lead us to change the way we approach production and the agricultural landscape, by designing new models".

Naïo Technologies develops and markets robots for agriculture and viticulture. We also hold a range of electric tools for weeding, hoeing and harvesting to help farmers efficiently collect the fruit of their hard work.
Our robots assist farmers in their daily tasks in order to relieve their workload and increase profitability while reducing impact on the environment.
The Future Now Show

Shape the future now, where near-future impact counts and visions and strategies for preferred futures start. – Club of Amsterdam
Do we rise above global challenges? Or do we succumb to them? The Future Now Show explores how we can shape our future now – where near-future impact counts. We showcase strategies and solutions that create futures that work.
Every month we roam through current events, discoveries, and challenges – sparking discussion about the connection between today and the futures we're making – and what we need, from strategy to vision – to make the best ones.


April 2020

Energy Efficiency
with
Michael Pachlatko

"The European Commission's proposed Green Deal is not lacking in ambition: mobilising 1 trillion Euros over the next decade will lead to a fundamentally different energy infrastructure across the continent. At the same time, the financial industry is increasingly put under scrutiny to disclose environmental, social and governance (ESG) criteria in the portfolio reporting. How can we ensure this transition will indeed be to the benefit of all citizens, and what is needed to accelerate capital deployment specifically in critical areas like energy efficiency and renewable energy?"
Credits

Michael Pachlatko, VP Finance, Joule Assets Europe, Italy
wwww.eu.jouleassets.com
eQuad platform
www.eu.jouleassets.com/about-equad
H2020 LAUNCH project
www.launch2020.eu
April 2020
Special
Anina.net from Beijing talking about Corona
Credits

Anina Net, Founder, anina.net
www.anina.netFounder, 360Fashion Network
www.360fashion.net
The future of zoos
Jo-Anne McArthur – Captive Animals and the Future of Zoos
Jo-Anne McArthur is an award-winning photographer, author, and educator based in Toronto. She has been documenting our complex relationship with animals around the globe for fifteen years; She was sharing in her photography exhibition that questions the future of zoos and the ethics surrounding animals in captivity.
A Vision of a Zoo to Preserve Wildlife
Few animals in modern zoos have to spend their entire lives behind bars and in the best cases, they can move around in spacious artificial landscapes based on their natural habitats. The World Zoo Conservation Strategy stipulates that the main priority of zoos today should be nature and species conservation and public awareness. So how effective are they at this?
Horizon explores the existence of Zoos – Horizon: Should We Close Our Zoos? – BBC Two

Liz Bonnin looks at the science behind zoos, what does it say about animal welfare? How good are zoos at conservation? How should they change in the future?

News about the Future

Self-healing potassium batteries
In research published in Proceedings of the National Academy of Sciences, researchers from Rensselaer Polytechnic Institute demonstrate how they can overcome a persistent challenge known as dendrites to create a metal battery that performs nearly as well as a lithium-ion battery, but relies on potassium — a much more abundant and less expensive element.
Batteries contain two electrodes — a cathode on one end and an anode on the other. If you were to look inside a lithium-ion battery you'd typically find a cathode made of lithium cobalt oxide and an anode made of graphite. During charging and discharging, lithium ions flow back and forth between these two electrodes.
In this setup, if researchers were to simply replace lithium cobalt oxide with potassium cobalt oxide, performance would drop. Potassium is a larger and heavier element and, therefore, less energy dense. Instead, the Rensselaer team looked to boost potassium's performance by also replacing the graphite anode with potassium metal.
"In terms of performance, this could rival a traditional lithium-ion battery," said Nikhil Koratkar, an endowed professor of mechanical, aerospace, and nuclear engineering at Rensselaer and the lead author on this paper.

The UVD Robots provide efficient and automated disinfection solutions for hospitals and life science customers. Application of UVD Robots in hospitals patient and operating rooms save patients' lives by reducing Hospital Acquired Infections (HAI's) and operational costs for hospitals.
Claus Risager, CEO of Blue Ocean Robotics and Chairman of the Board of UVD Robots, calls it a
tremendous satisfaction for employees, management and the circle of owners to witness the deployment of the UVD Robot. "We are now helping solve one of the biggest problems of our time, preventing the spread of bacteria and viruses with a robot that saves lives in hospitals every day."
Green chemistry
Source: Wageningen University
24 May 2019
he industry is seeking alternatives to petroleum-based products to help achieve the climate targets. Substitutes for petroleum can be extracted from biomass obtained from agricultural and organic waste streams. Scientists from Wageningen University & Research have been developing such green alternatives for use in cosmetics, detergents, paints and plastics. This will not only reduce CO2 emissions, but it will also result in a healthier environment for humans, animals and plants.

Dishwasher tablets contain polyacrylates, which are petroleum-based chemicals. Researchers from Wageningen University & Research have developed a product based on sugar beet pulp that can be used as a green alternative to these chemicals and help the industry to reduce its CO2 emissions. The new product is also biodegradable and less harmful to the environment. 'So we've killed two birds with one stone!' says Jacco van Haveren of Wageningen University & Research. The Programme Manager for Biobased Chemicals and Fuels is involved in the development of biobased products.

The chemical industry is seeking raw materials based on biomass to replace petroleum. Examples of these materials are agricultural and organic waste flows. Van Haveren believes they should not delay with the next step, which is to test the new ingredients to ensure that they are harmless and safe.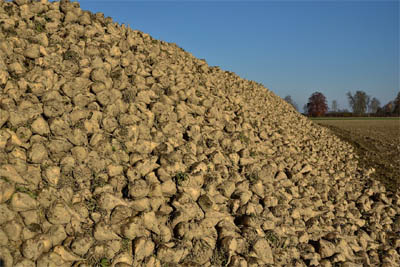 Harmful substances

Products like cosmetics, detergents, paint and plastic can contain toxic or potentially toxic substances and hormone-disrupting softening agents. These substances can be harmful to humans, animals and the environment. One example of such a substance is the resin used to fix tram rails in their bedding. 'The resin used is based on isocyanates, which are harmful to the workers who install the rails. We have replaced the harmful product with a resin that is partly based on vegetable oils,' explains Van Haveren. The new resin is currently being tested in practice.
Biodegradable bio-plastic

The researchers are also trying to find new biobased ingredients for cosmetics and personal care products. Moreover, many products and packaging materials contain non-degradable plastics. 'We need to increase the use of biobased plastics and recycle as much as we can. Where recycling is not possible, or if the plastic ends up in the environment, we need it to degrade more quickly and completely so that it does not pollute the environment. This is particularly important for products that are only used once or for a very short time,' says Van Haveren. His research team is hoping to find building blocks that can be used to create sustainable alternatives to packaging materials." Wageningen is truly unique in that it conducts research into fossil-free, sustainable alternatives to chemical products that are also safe and harmless to the environment. We have the world's most extensive and long-running research programme in this area." – Jacco van Haveren, programme manager Biobased Chemicals and Fuels
Business and government

Much of the research takes place in collaboration with businesses. 'Some industrial partners do not only want to achieve the necessary CO2 reductions; they also genuinely want to go greener,' says Van Haveren. For many major chemical companies, however, this is still a step too far. 'They are willing to reduce CO2 emissions by deploying biomass, but they also want to continue manufacturing the current petroleum-based products. It is hard for them to change.' The government is also supporting research into alternatives to 'substances of very high concern' and harmful substances, a field in which Wageningen has been active for some time now. 'Wageningen is truly unique in that it conducts research into fossil-free, sustainable alternatives to chemical products that are also safe and harmless to the environment. We have the world's most extensive and long-running research programme in this area.'
Recommended Book
Ethical Markets: Growing the Green Economy
by Hazel Henderson
With insight, clarity, warmth, and enthusiasm Hazel Henderson announces the mature presence of the green economy. Mainstream media and big business interests have sidelined its emergence and evolution to preserve the status quo. Throughout Ethical Markets Henderson weaves statistics and analysis with profiles of entrepreneurs, environmentalists, scientists, and professionals. Based on interviews conducted on her longstanding public television series, these profiles celebrate those who have led the highly successful growth of green businesses around the world. Ethical Markets is the ultimate sourcebook on today's thriving green economy.
The Big Role of Small Business in Dealing with the Climate Crisis
By Patrick Crehan, CEO and Founder, Crehan, Kusano & Associates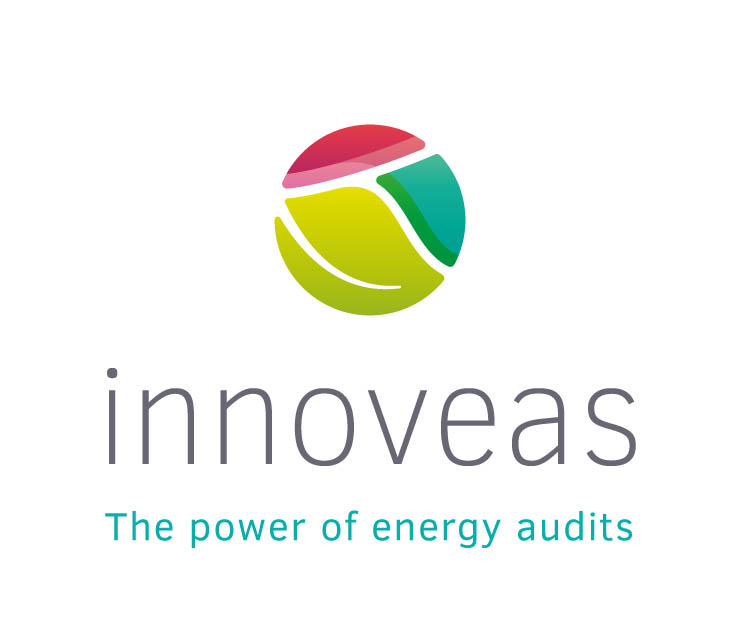 On 28 November 2019, days before the UN COP25 in Madrid, the European Parliament passed a resolution declaring a climate and environmental emergency. The conversation had changed from being one about climate change to talk about the climate crisis. After a year of extreme weather events that saw people from the EU and across the world dying from heatwaves, property and lives lost due to uncontrollable wildfires and more property and lives lost due to uncontrollable flooding, it was time to call out what Greta Thunberg called an existential threat to humanity. The media was full of discussion about the need for immediate action, by everyone citizens and business as well as governments, then along came the COVID-19 crisis, and it has dominated the news ever since.
We don't know how long it will take to get out from under the shadow of this global pandemic, but we do know that when we do, the climate crisis will still be there, just as urgent as it was before, and still in need of attention.
Anyone in business needs to know what they can do about the climate crisis. This is as true of small business owners and managers as it is for giant corporations. Every business has a role to play and any see it as a catalyst for change at the level of its business model, and in terms of the way it relates to its clients, customers and employees.
Received wisdom has it that small businesses have no time and no resources to devote to climate action. But this is not necessarily true. Recent conversations with Fréderic Mathout of CO2 Strategy and Mathieu Cribellier of CO2 Logic indicate that there is growing demand from small businesses for climate, energy and carbon audit services.
As independent auditors they usually start by talking with the business owners, managers and employees about the concern of citizens for the climate and the environment, for the way they live and work, for the products and services they consume. This provides the starting point for examining and updating the way the business operates. The formal audit identifies opportunities for aligning operations with the needs of society based on improving their energy efficiency and energy management, switching to renewable energy sources and reducing their overall carbon footprint, in some case by planting trees.
As a general rule, climate change is caused by the presence of greenhouse gases such as CO2 in the atmosphere. These are mainly due the way we use energy derived from fossil fuels. The contribution of a business to climate change can roughly be equated to the amount of CO2 emitted either directly by the business, due to energy consumed by the buildings it occupies, by its industrial processes, by its use of vehicles for transport and logistics, as well as the CO2 emitted indirectly based on products and services it consumes.
Switch to renewables. This may be as simple as switching electricity supplier. It may mean electrifying the company fleet, switching to biodiesel or adopting strategies based-on bicycle logistics. It may also mean becoming a prosumer or joining a renewable energy cooperative.
Reduce the use of energy or increase the energy efficiency of key processes. This might mean investing in better equipment, installing automated systems for energy management, re-inventing key processes and re-training staff to operate with a view to optimizing energy consumption in some way.
Finally, it is also possible to de-carbonize activities by simply planting trees. It is interesting to note that there is an international market for planting trees, one that creates the possibility of planting a mixture of trees that allow the business to de-carbonize much of activities at the least cost financially, while completing the project with a planting strategy in line with the restoration of local eco-systems.
The reality is that there are many things that even the smallest business can do. These efforts are not perfect and can always be improved; the threat of greenwashing is handled by having a certified auditor that can provide objective proof of the CO2 savings made.
Energy efficiency measures provide cost savings and play an important role in providing access to sources of credit or investment for projects related to the energy, climate and environment. But the real pay-off goes way beyond those cost savings, it can have a transformative effect on the image of the company, on its communication and marketing, on the way it relates to its clients, customers and employees.
The challenge for owners and managers of small businesses is to navigate the vast range of options available and choose a course of action that aligns with other business goals, such as responding to the needs of its clients who may want to green their supply chains, responding to the needs of customers who want to live in a more climate friendly way, and responding to the needs of employees who want to feel proud of the overall impact they have on the world in which they live. An independent energy, climate or carbon audit is a good place to start.
If you are involved in running a business, you are invited to provide feedback on your awareness and training needs in relation to energy and climate related audits and other measures that you can take to help address the climate crisis. You can do this by responding to this ONLINE SURVEY. You will be informed of the results of the survey in a future edition of the Club of Amsterdam Journal. The focus is on energy efficiency, but the survey provides an opportunity for you to shape the program based on your specific needs.
The survey has been created by INNOVEAS, an EU funded project to develop training courses and capacity building material aimed at small and medium sized enterprise, and intended to help them take climate action. If this is of interest for you, you are invited to join its LinkedIn group, Twitter feed and YouTube Channel for updates.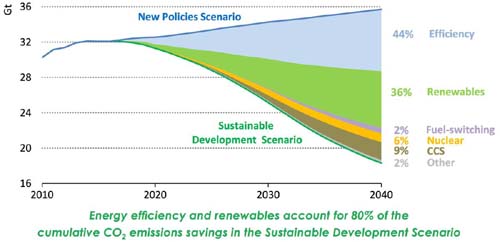 If have friends or colleagues who are small business owners or managers (business with up to 250 employees or a turnover of up to €40M), please forward this article to them, tell them that there is much they can do to contribute to fighting the climate crisis and urge them to provide feedback on their possible training needs.
25 March, 2020
Patrick Crehan of CKA is a member of the INNOVEAS project consortium
Climate Change Success Story: Sahara Forest Project
In 2050 about 9.3 billion people will share our planet. Already today the world is facing intertwined challenges of food, water and energy security, coupled with climate change, desertification and shrinking forests. None of these challenges are without solutions. At the same time it is ever clearer that we cannot afford to pursue responses to one challenge that come at the expense of another. The greatest challenges of our time are closely interlinked and the same must be true for their answers. To borrow the words of Albert Einstein: "We can't solve problems by using the same kind of thinking we used when we created them."
Considerable parts of what are now considered desert areas were formerly vegetated. The army of Julius Caesar conquered much of the African territory north of the Sahara, turning forests into farmland. For some 200 years North Africa supplied around two-thirds of Rome's total grain supply. This resulted in deforestation, increased salinity in the soil and loss of minerals.
In the same way that the extractive use of resources has contributed to the loss of natural vegetation, The Sahara Forest Project proposes to use restorative practices to establish vegetation in arid areas and reverse the trend of desertification. This process of restorative growth will be catalyzed by combining already existing and proven environmental technologies, such as the evaporation of saltwater to create cooling and distilled fresh water (i.e. in a saltwater cooled greenhouse) and solar thermal energy technologies. The technological combination in The Sahara Forest Project is designed to utilize what we have enough of to produce what we need more of, using deserts, saltwater and CO2 to produce food, freshwater and energy.
The Sahara Forest Project proposes to establish groups of interconnected economic activities in different low lying desert areas around the world. The simple core of the concept is an infrastructure for bringing saltwater inland.
A Sahara Forest Project facility will be successful only when it is well integrated with the local communities. In addition to mitigating effects of climate change and contributing to conflict reduction in resource-scarce areas, the SFP facilities will provide employment for both high- and low-skilled workers. Programs and facilities for knowledge transfer and training will be established to ensure that long-term social and economic development opportunities are created.
The Sahara Forest Project is not too good to be true. It is an integrated system designed to harvest technological synergies while minimizing waste. The design is founded on the premise that we must find a more holistic approach to successfully tackle challenges related to energy, food, and water security..
Futurist Portrait: Blake Morgan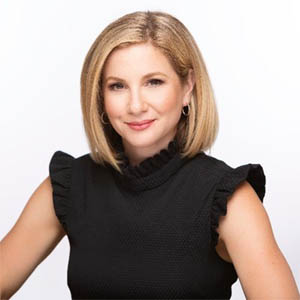 Blake Morgan is a leader in customer experience. She is a keynote speaker and customer experience futurist and author of two books on customer experience. Her bestselling second book is called "The Customer Of The Future: 10 Guiding Principles For Winning Tomorrow's Business" (HarperCollins). Her first book was "More is More: How The Best Companies Work Harder And Go Farther To Create Knock Your Socks Off Customer Experiences." She has worked with Comcast, Allstate, Genentech, Accor Hotels, Accenture, Adobe, Cisco, Parker Hannifin, Ericsson, Verizon, Omron and more. Blake is a guest lecturer at Columbia University, the University of California, San Diego as well as adjunct faculty at the Rutgers executive education MBA program. Blake contributes to Forbes, the Harvard Business Review and Hemispheres Magazine. She is the host of The Modern Customer Podcast and a weekly customer experience video series on YouTube. She lives in the Bay Area with her husband, daughter and their two dogs.
50 Leading Female Futurists
by Blake Morgan

Futurists are looking ahead to prepare themselves, their organizations and their audiences for how the world could change. And as they delve into the future, they have a chance to shape it.
The Company Of The Future Has A Soul