Welcome to the Club of Amsterdam Journal.
Madanmohan Rao: "India is now the world's fastest growing mobile market; CDMA and GSM subscriptions are finally taking off, and the traditional regulatory mess regarding licensing seems to have been finally sorted out. Interesting initiatives have been launched to bridge the digital divide via wireless access, but much more scalability is called for; the market for WiFi is also only slowly opening up. Research funding for wireless technologies is pouring into Indian R&D labs, numerous wireless startups have emerged, and outsourcing of enterprise wireless application development is playing to India's strengths as a software power-house."
IPTV – a different television
Source: European Broadcasting Union
By Franc Kozamernik, Senior Engineer, EBU Technical Department
IPTV will change television – viewers will decide when, where and how to enjoy it
"IPTV" is a relatively recent buzzword having emerged only three or four years ago. In a nutshell, it means the delivery of television over Internet Protocol (IP) networks. But for the telecommunication industry, which drives it to the market, IPTV means much more. For them, IPTV is an "entirely new multimedia experience" extending the borders of conventional "broadcast" television; it is an integrated, 'all-embracing' media platform offering a bundle of diverse content and communication services from a single provider over a single network to a single user device – all with a single payment.
IPTV deployments
Currently, the size of the IPTV market is still relatively small compared to the broadcast market. The total number of IPTV subscribers worldwide is currently estimated at around two million, with Korea, Hong Kong and Japan as the main markets. Subject to realistic market predictions, by 2010 IPTV could reach 34 million households (3). The leading country in Europe in rolling out IPTV services is France. At the end of 2005, 281,000 subscribers to the three main IPTV services (Maligne, Free and Neuf) were registered.
The Free IPTV service in France is an example of a successful IPTV service. It began in December 2003 and is a subsidiary of the Iliad Group. It currently offers a wide choice of broadcast and telecom services bundled together: 200 television channels (including EPG and pay bouquets), 30 radio channels, video on demand, HDTV, "multi-post" viewing, mediacentre with the FreePlayer, telephone services and broadband internet. It is interesting that the Free set-top box includes a DTT tuner to allow for reception of content available on the Digital Terrestrial Television platform from M6 and TF1, which are not available on Free IPTV platform. Up until March 2005, about 200,000 Free boxes were distributed. Subscribers only pay for phone and internet charges (€29.99/month) while the basic IPTV service (including the Free box) is free of charge.
Another successful project is Fastweb in Italy. Italy is a country with practically no cable TV, so IPTV found fertile ground. Fastweb is the first triple play operator in Italy and is operated by e.Biscom. Video on Demand (VoD) trials started from 2000 onwards, jointly operated by e.BisMedia and RAI Click. In August 2003, multicast TV broadcasting started, providing several football (calcio) channels to some 60,000 subscribers. Today, IPTV services are available in 250,000 homes and the total number of Fastweb customers is more than half a million in eight major Italian cities: Bari, Bologna, Turin, Genoa, Rome, Naples, Milan and Venice. Both fibre-to-the-home (FTTH) and ADSL are used. The former accounts for 20% of customers and the latter, 80%. The commercial service offer is very diverse and includes triple play. Phoning between Fastweb clients is free of charge. Fast Internet has a speed of 10 Mbit/s if a fibre connection is available. Live television channels (4 Mbit/s) include all the national channels (RAI, Mediaset, MTV, La7) and a selection of thematic and international channels (e.g. Music Box, Bloomberg, RaiNews 24, RaiSatSport, BBC World, TVE Internacional, TV 5 Europe, Disney, CNN and Cartoon Network). Pay-TV options include Cinema Sky, Sport Sky and Calcio Sky. Due to the huge popularity of football in Italy, there are thematic channels dedicated to three famous Italian football clubs: Milan, Inter and Roma (each costing €8 per month).
Since 2002, Fastweb has been offering VoD services with over 5000 titles. The OnTV on-demand service contains family-type programmes covering films, sports, children's programmes, music, lifestyle and documentaries, as well as games, T-commerce, interactive areas and interactive advertising. Another on-demand service is Rai Click. The EPG service offers a picture-in-picture preview and scheduling information. Some interactive TV services are also included: GiveMe5 Quiz game, Mini BMW and interactive films.
Fastweb uses extensive customer profiling services such as targeted banners and videos. Detailed data reports on service usage are obtained in order to design a better product. Fastweb has also created a customer care online service. Among the Fastweb communications services, we should mention TVcam, multi-party video conferencing, video messages, video galleries and chat & forums.

The above two examples show that IPTV is more than just conventional linear television. It may be an attractive package of very diverse innovative services likely to appeal to users.
Club of Amsterdam blog
News about Cross Media

Future of Media Report 2006
by Future Exploration Network
Five ideas transforming media:
Shifting
Media in every form will be shifted by users to suit them. For example, video-on-demand (or mobile video) is transforming the way people watch TV much in the same way that podcasting is changing the way that people listen to radio. Both put the audience squarely in charge of programming. In the future people will seek to watch, read and listen to what they want, when they want, on any device they want.
Time compression
One of the most powerful trends today is that people are busier and have less time. They are increasingly stressed and sleep deprived. If you want to connect with people you need to make it easy and make it fast. This does not necessarily mean the death of the two-hour movie or the 120-page magazine, but it will have to be good.
Infinite content
The supply of content will become effectively infinite. The "million channel universe" will include not just traditional media delivery and the Internet, but also a whole set of new devices and delivery platforms. Production tools in the hands of the masses will tap new talent – and lack of talent. It will be increasingly challenging to attract audiences' attention and build brand loyalty against infinite choice.
Generational change
The media is run by ageing baby boomers that still think wearing a pair of Levi 501s is cool. Many of these traditional media companies will fi nd it difficult to adjust to the new media landscape of mobile platforms and customer created content due to their investments in old-media infrastructure and business models. Most innovation will therefore come from the outside, either from young people, or from companies outside the existing media establishment.
Media is everywhere
In the future everything from walls and table-tops to cereal packets and clothes will be screens and video will be everywhere. E-paper will add video and audio functionality to the formerly static pages of newspapers, and books will play commercials for the author's latest novel. If the advertisers have their way, there will be no respite outside your front door.

Best Practices: Media, Broadcast & Entertainment
A collection of White Papers & Case Studies"2006 will go down in streaming media history as the year that broadband entertainment entered the mainstream. That's due in large part to the kinds of products and services described in Best Practices: Media, Broadcast & Entertainment, which make it easier than ever to publish, deliver, track, and – most importantly – monetize audio and video content on the internet.
From content delivery networks to ad insertion technology, from full-screen video players to multilingual translation services, the vendors presented here offer practical solutions for the online media and entertainment space. Whether you've got downloadable music, streaming movies, or interactive online games, these solutions can help you turn your content into profitable product."
News about the Future

Invasion of the clones
by Kerstin Bergman, a researcher at Lund University, Sweden
She discusses how positive images of human clones are infiltrating our entertainment media and slowly shifting our perception.
"After the birth of Dolly the sheep in 1997, however, cloning people became, once again, a distinct possibility. In parallel, films and novels about clones began to multiply, and today critics speak about "clone lit" as a well-established genre. Renowned recent examples include Kazuo Ishiguro's novel Never Let Me Go (2005), Kevin Guilfoile's novel Cast of Shadows (2005), and Michael Bay's film The Island (2005). […]
What consequences will these contemporary fictional depictions have for the future of human cloning? Surveying the historical evolution of cloning in 2000, Peter N. Poon concluded that "Science fiction and science nonfiction have increasingly become one and the same." According to Poon, science and fiction influence each other when it comes to both technological developments and attitudes towards cloning people. From this, it follows that contemporary clone fiction will both predict and inspire future scientific developments."

Research and Development Leading to a Revolution in Technology and Industry
by NNI (National Nanotechnology Initiative) Annual Report Highlights Programs and Activities
This report, Research and Development Leading to a Revolution in Technology and Industry, provides information on the collaborations and work in nanotechnology of the 25 participating Federal agencies. These agencies are maximizing individual and joint investments by participating in the NNI collaboration, now in its sixth year.
Next Event


Cross Media CEO Breakfast

September 27, 2006, 08:30 – 10:00

Location: Westergasfabriek, Oostelijke Meterhuis, Haarlemmerweg 8-10, 1014 BE Amsterdam
Entertainment, content, advertising, video, wireless, media rights, news, movies, TV, games, blogging, SMS …
Meet the Experts:
Gabriele Gresta, Deputy Chairman, Digital Magics Group (Italy)
Madanmohan Rao,
Consultant and prolific writer from Bangalore, Research Director, Asian Media Information and Communication centre (AMIC), Singapore
Sylvia Paull,
Founder, Berkeley Cybersalon (United States)
Mary Hodder, CEO, Dabble (United States)

Igor van Gemert, Founder & CEO, Innergy Creations BV

Jonathan Marks, Director, Critical Distance BV
Arnold Smeulders, Intelligent Systems Lab Amsterdam (ISLA)
Simon Jones, Director, Human-Computer Studies Laboratory, University of Amsterdam

Moderated by Bob Stumpel, Result Strategy, Cellsp
ace, OpenBC, Ideabroker, LBI, GetMobile, TCS, Mendix, FON

For decision makers in industry, government, science and education.

There are only a few seats left!
Picks from the Summit for the Future 2006
Elisabet Sahtouris, Evolution Biologist, Futurist, Living Systems Design


The Biology of Business: Key to a Sustainable Future

The way we do business is closely related to our scientific/cultural understanding of an inevitable Darwinian struggle in scarcity. Historical perspective, however shows that this theory was rooted more in the political economy of Darwin's day than in scientific observation. An updated scientific story of evolution shows this mode to be obsolete, inefficient, expensive and dangerous. The biology of sustainable natural systems, from our bodies to rainforests, has direct application to governance systems and how business will function in the future to everyone's benefit.

Chris De Bruijn, Chairman, Foundation, International Molecular Medicine Forum – IMMF
"My Genes, My Health"

This approach combines the analysis of genetic predisposition by means of gene variant testing ("genotyping") with an in depth analysis of the functioning of the immune system / brain network and metabolic profiles ("phenotyping"). This approach allows the establishment of an integral picture of an individual´s personal health situation and makes it possible to – on the molecular level – design a personalised anti-aging and wellness strategy.


Recommended Book
Turning the Future Into Revenue: What Business and Individuals Need to Know to Shape Their Futures
by Glen Hiemstra
With the world running out of oil, what new business opportunities will arise to fill the world's energy needs? As the world heads into population decline, how will business be affected when there are fewer customers every year? In Turning the Future into Revenue, Glen Hiemstra, founder of Futurist.com and noted expert on the future of business, explores how our changing world will change business and how individual people can take advantage of these changes to create new business opportunities. This book reframes the great challenges the world faces as individual and business opportunities, and looks at what people can do to shape the future they want.
Glen Hiemstra is the founder of Futurist.com, an Internationally respected consultant, and a speaker for business, government, and professional associations. A former award winning educator, he is now a full time futurist, and a Visiting Scholar at the Human Interface Technology Lab at the University of Washington. His past and present clients include Microsoft, Adobe Systems, Boeing, Northern Telecom, and Apax Partners.
European Bioplastics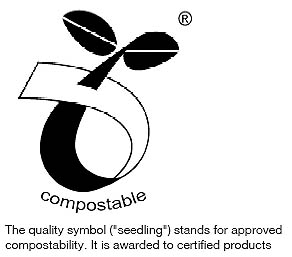 Bioplastics at a Glance
Bioplastics represent a relatively new class of materials which have much in common with conventional plastics. What differentiates them is
a) the use of renewable resources in their manufacture and
b) the biodegradability and compostability of many bioplastics products.
Environmental Aspects
Plastics in general can be considered to perform well with respect to their environmental impact: These light weight materials make efficient use of resources and energy during their manufacture, transport and application. After use they provide a high energy that can be exploited in thermal recovery. Other recovery options can be applied too.
Bioplastics have the additional advantage of using renewable resources. This does not necessarily go along with an advantage over conventional plastics, but it has often proven advantageous when the criterias "consumption of fossil resources" and "reduction of CO2 emissions" are being assessed. Using agricultural resources also allows a regional closed loop management. The environmental performance however should be proven by standardised assessment criteria.
Especially in countries with lack of humus (arid-zones) the compostability of many of the products offers an additional advantage. They allow the production of compost, which can be used as fertiliser and substrate to improve the soil quality.
Even if many bioplastics are biodegradable they are not intended to be disposed of in nature. They must be recovered in a controlled and eco-efficient way. European Bioplastics has a clear anti-littering position.
Resource: The Association "European Bioplastics" is the European branch association representing industrial manufacturers, processors and users of bioplastics and biodegradable polymers (BDP) and their derivative products.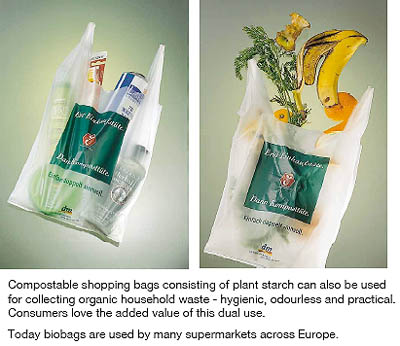 Belux
BELUX develops and produces lamps and lighting systems, and regards light as a fundamental element of spatial design. BELUX works closely with internationally renowned designers and architects. The idea behind this collaboration is the development of innovative lighting solutions and new kinds of lighting concepts.
CLOUD is the first lamp designed for serial production by master architect Frank O. Gehry. As both a sculptural lamp and a lamp sculpture, CLOUD is a design concept in which the user becomes co-designer. The design is convincing because of its uncommonly poetic and richly associative visual language, its simple construction and its many applications. Each lamp has an individual note in spite of all lamps having the same structure and the same predetermined shape. The idea is that the fold structure of the shade, which is shaped more or less by accident during production, can be changed by bulging it out or pressing it in. In doing so, Gehry makes users into co-designers who can repeatedly change the shape of the lamp if they so wish.
Agenda

Cross Media CEO Breakfast
September 27, 2006, 08:30 – 10:00
Location: Westergasfabriek, Oostelijke Meterhuis, Haarlemmerweg 8-10, 1014 BE Amsterdam

Entertainment, content, advertising, video, wireless, media rights, news, movies, TV, games, blogging, SMS …
Meet the Experts!
the future of Business Meetings
October 5, 2006, 18:30 – 21:15

the future of Food Design
November 23, 2006, 18:30 – 21:15

the future of Consciousness
January 25, 2007, 18:30 – 21:15

the future of Ambient Intelligence
February 22, 2007, 18:30 – 21:15

the future of Global Workplace
March 29, 2007, 18:30 – 21:15

the future of Success
April 26, 2007, 18:30 – 21:15

the future of Tourism
May 31, 2007, 18:30 – 21:15

Taste of Diversity
June 28, 2007, 18:30 – 21:15


Club of Amsterdam Open Business Club

Club of Amsterdam Open Business Club
Are you interested in networking, sharing visions, ideas about your future, the future of your industry, society, discussing issues, which are relevant for yourself as well as for the 'global' community? The future starts now – join our online platform …