Welcome to the Club of Amsterdam Journal.

Club of Amsterdam Journal.

"The climate change is reality and increasingly studied and discussed by scientists, media and society. Global warming is not only fact but also apparently human related and gives the alpine tourism industry a tough time. Switzerland Tourism started two years ago to explore how climate changes might influence our tourism. Since then, it has never stopped becoming a popular topic and both solutions and options are being eagerly presented by the rules: "The first one gets the fame". Switzerland Tourisms has now taken two steps back, in order to get a helicopter view over the situation instead reacting too quickly to these complex phenomena."
–
Martin Nydegger, Director, Switzerland Tourism, The Netherlands
Felix Bopp, editor-in-chief

Join our next Season Event about the future of Tourism – May 31st!:

And check out our lab in Girona near Barcelona:
LAB on MEDIA and Human Experience
– May 29&30

the future of Tourism – May 31st!:
The Future of Travel: The 'Disappearing Destinations' of 2020

By Churchill Travel Insurance

The report highlights that destinations we are used to hearing about or have on our wish list to visit one day may no longer be feasible tourist attractions for the majority of holiday-makers.By identifying areas at risk from tourist damage and climate change now, we can encourage tourists who are visiting these places to consider the environmental impact their visit is having, and in doing so hopefully extend the life of the destination for future generations of holiday makers.
Tomorrow's tourists may have to take Australia's Great Barrier Reef and Croatia's Dalmatian Coastline off their destination wish list. Climate change and tourism damage mean that, like the Seven Wonders of the World, certain sites and attractions could be in danger of disappearing by 2020.
The Future of Travel Report*, by travel insurer Churchill, assesses the future prospects of today's travel destinations. It reveals that World Heritage sites and other tourist destinations popular today, may be permanently closed or restricted by visitor capping or will remain at risk of irreparable damage.
Areas of environmental and historical significance such as the Great Barrier Reef, the Everglades or Kathmandu Valley, are likely to have reached visitor capacity by 2020. Such destinations may opt to minimise visitor numbers by continually raising entry costs or by charging additional taxes. It is likely that some destinations will go as far as to introduce visitor capping where travellers will either have to 'win' or 'earn' the right to holiday in a particular place via a holiday lottery.
Some tourist areas, particularly those which involve long haul flights from the UK, may require travellers to store up 'air mile credits' based on their personal needs and their overall energy use. Additionally, the social contributions that travellers put back into the communities they visit, may be considered before being granted visitation rights to a particular destination.
The report, issued in conjunction with think tank The Centre for Future Studies, reveals the top ten places that are at risk as holiday destinations by 2020:
Country
Place
Effect by 2020
Spain

Puerto de Mazarron (South-Eastern Spain)
Malaria has already resurfaced in Spain and parts of the country may become suitable habitat for malaria-bearing mosquitos. Flash floods, heat stress and forest fires may also become more prevalent.
USA

Everglades, Florida
This sub-tropical area of swamps, marshes and lakes is designated 'at risk' particularly in light of increasing hurricane danger.
Greece
Athens


Crete
Increases in summer temperatures to above 40C will reduce personal comfort and lead to more heat stress and associated mortality.A combination of high temperatures and scarce water supplies will have an impact on Crete. Creeping desertification may severely impact the landscape there.
Germany

Cologne Cathedral
Recently designated an 'at risk' sightseeing spot, environmental pollution may irreparably damage this monument where the repair work is on-going.
Croatia

Dalmatian Coastline
The last unspoilt Mediterranean coastline – of pristine waters, mediaeval towns and unspoilt beaches – may not survive the forecasted explosion in tourist visits.
Nepal

Kathmandu Valley
A designated 'at risk' area with its unique architecture set against the Himalayan peaks, holiday-makers should get there before the Himalayan ski market takes hold.
Australia

Great Barrier Reef
One of the world's largest marine ecosystems is at risk from increasing visits from cruise ships.
Italy

Amalfi Coast and Tuscany
The number of heat waves is forecast to rise dramatically, suffering unbearably hot and humid nights. The region will be at increasing risk of fire, seeing at least 20 more dry days per year.
India

Goa
Coastal zones that support the tourist trade will suffer from beach erosion. More powerful cyclones are also predicted raising the probability of wind damage and coastal flooding.
Maldives

Taj Coral Reef
At best, a rise in sea level would cause coastal erosion in the Maldives, and at worst a sizeable proportion of the landmass could become submerged. The coral reefs could also be destroyed.
News about the future of Tourism

Travel and Tourism Competitiveness Report 2007

The World Economic Forum has launched the first-ever Travel and Tourism Index covering 124 countries around the world. In many countries, travel and tourism is a critical sector impacting national prosperity and economic growth. A cross-country analysis of the drivers of competitiveness in travel and tourism will provide useful comparative information for making business decisions and provide additional value to governments wishing to improve their travel and tourism environments. "The index is not a 'beauty contest', or a statement about the attractiveness of a country. On the contrary, the index measures the factors that make it attractive to develop the travel and tourism industry of individual countries," said Jennifer Blanke, Senior Economist of the World Economic Forum.

Debate on Climate Change and Tourism

The World Travel & Tourism Council (WTTC) launches an international campaign to call to dialogue the issues on climate change.

WTTC President Jean-Claude Baumgarten said, "The risk of an energy crisis is forcing a re-think on consumption levels, efficiency, and alternatives. Know-how is being developed and already Travel & Tourism leaders are working on making a real difference, not only on the carbon footprint of their activities, but also the overall impact of Travel & Tourism on our natural environment. Rather than demonizing any industry or activity, the task now for individuals, corporations, communities and governments, is to cut through misconceptions and to work on realizing practical solutions for a sustainable future."
Club of Amsterdam blog
News about the Future

Who were our ancestors? From where did we originate? If we came out of Africa, what factors governed our routes? And when? Now finally this interactive map reveals an exciting journey of opportunity and survival, confirmed by genetic science and documented by ancient rock art.
Now finally this interactive map reveals this epic journey.
The Bradshaw Foundation, in association with Stephen Oppenheimer, presents a virtual global journey of modern man over the last 160,000 years. The map will show for the first time the interaction of migration and climate over this period. We are the descendants of a few small groups of tropical Africans who united in the face of adversity, not only to the point of survival but to the development of a sophisticated social interaction and culture expressed through many forms. Based on a synthesis of the mtDNA and Y chromosome evidence with archaeology, climatology and fossil study, Stephen Oppenheimer has tracked the routes and timing of migration, placing it in context with ancient rock art around the world.

Hot Rice with Cold Water
An environmental consulting firm and other developers here have come up with a non-perishable food pack that creates steaming hot rice with the simple addition of cold water.
The group has recently introduced the product, named "Hotto! Raisu," to the market.
By subjecting rice to 4,000 times normal atmospheric pressure, the developers were able to preserve rice for long periods in a soft form that holds moisture. When water is poured over an exothermic agent in the pack, steam warms the rice contained within, and after about 15 minutes, the dish is piping hot.Officials say the product could be useful in areas that have been hit by natural disasters, when electricity is often unavailable. The product is not cheap, costing 10,000 yen [Euro 60] for 30 packs with pickled ume plums, but its producers say they are ready to work on new ideas.
WikiSKY
WikiSKY

WIKISKY reduces the night sky to a clickable map on your computer screen, linked to astronomical catalogs that list distance, magnitude and other data for more than half a billion stars. It's like Google Moon or Google Mars turned inside out, a browsable map of a large area made accessible through an intuitive interface.Users can zoom into the starfield, "dragging" the night sky to reveal various regions and clicking on any object for catalog data. The database is also searchable by name or ID, and many regions of the sky are linked to photographs.Beyond its main display, WIKISKY includes directly searchable catalogs of the underlying data, a rather sparse (so far) collection of astronomy-related articles and a striking gallery of notable objects, including galaxies, globular clusters, nebulas and quasars. There's enough material here to support hundreds of hours of browsing, and as it grows the site will make an increasingly useful resource for amateur astronomers.

Next Season Event

the future of Tourism
Thursday, May 31 , 2007
Registration: 18:30-19:00, Conference: 19:00-21:15
Where: Info.nl, Sint Antoniesbreestraat 16, 1011 HB Amsterdam [Next to Nieuwmarkt]


With
Joachim Willms, Managing Director, Tourism Futures Institute
The Future Trends in Tourism: Global Perspectives

Wybren Meijer, Futureconsult
Main Drivers in the Future of Tourism

Martin Nydegger, Director, Switzerland Tourism, The Netherlands
Switzerland's reaction to the climate change challenge

Marc Bolick, Dmarc8 International
The Web and Tourism: The Future of Online Travel

Moderated by Joep Dirven, Partner & Consultant, X-markt

Recommended Book

Managing Sustainable Tourism: A Legacy for the Future
by David L. Edgell
Intelligently designed tourism strategies for the twenty-first century!
Successful tourism development and marketing are dependent on maintaining a delicate balance between economic growth and the protection of environments. Managing Sustainable Tourism: A Legacy for the Future tackles the tough issues of tourism such as negative environmental impact and cultural degradation, and provides answers that don't sacrifice positive economic growth. This essential book offers practical plans for fostering harmonious relationships among local communities, the private sector, not-for-profit organizations, academic institutions, and governments at all levels as well as develops management practices and philosophies that protect natural, built, and cultural environments while reinforcing positive and orderly economic growth.
Managing Sustainable Tourism discusses in-depth the sensible guidelines for protecting environment, heritage sites, and local culture while developing realistic tourism goals for compatible economic growth. Useful strategies for sustainable tourism are detailed for each tourism type, along with useful tried-and-true marketing techniques aimed at cooperation and respect for all types of environments. Case studies, research, and supplemental reading lists clearly illustrate ideas and the author's qualified suggestions.
E-Solex
E-Solex
Eighteen years after the closure of the production lines in Saint-Quentin, the Solex has risen from its ashes in a modern form. No longer just economic, but ecological to boot!

Italians have the Vespa, the French have their Solex! These two-wheelers were designed in the aftermath of WWII for the same reason: as a popular means of individual transport in countries weakened by the war. All in all, some eight million VéloSolex were produced and sold, mainly in France.

Incidentally, Solex and Vespa are both celebrating their sixtieth anniversary this year. On this occasion, the Cible group, which brought the brand in 2004, has decided to bring out a new version of the famous 'bike that rides itself' by adapting it to fashion and the concerns of the time.

The design of the e-Solex has been entrusted to the Italian design company, Pininfarina, known worldwide for its work with Ferrari. So the e-Solex is automatically beautiful! The main elements of the original model have been kept, in particular the large black case on the front wheel. This case hid the small two stroke engine that drove the front wheel by a roller. This is no longer the case today since this re-dimensioned attachment now serves to carry the battery charger. That's right, the 2006 version of the Solex is electric-powered!

The central tube of the frame hides a housing for a Lithium-ion type battery (weighing 5 kg) that can be removed and recharged on mains power either at home or at your office. In three hours this battery is 70% recharged (100% in 6 hours) and its life is estimated at 1000 recharging cycles.

This electrical source supplies a small 36V 400 Watt engine, placed in the rear wheel hub. The e-Solex has therefore switched to rear-engine rear-wheel drive!

The rider can choose between two operating modes: 'economic' or 'maximum'. The former allows a 60 km driving range or 2h 15 of use approximately, whereas the latter has a better performance but is limited to 45 km or 1h 30. In economic mode, peak speed is 25 km/h, while in maximum mode it is 35 km/h.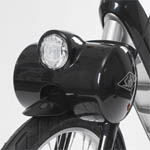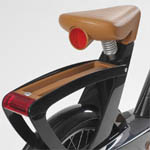 Media LAB
LAB on MEDIA and Human Experience
An immersed experience of a Do-Tank
May 29 & 30, 2007
Location: Girona near Barcelona, SpainMax. 20 DelegatesPlease use our Media LAB Registration

Old and new media are designing our world externally and internally. It is an immense challenge to draw the new role and position of digital and cross media in our economies and societies. Can the media consumer & producer be more active in designing their own worlds? Can we innovate creative cultures with and in media landscapes? Can we on a global scale foresee business opportunities that synergize with sustainable goals of the coming generations?

Not only media players are important in this dialog, we need all stakeholders to redefine and design the concrete impact of media on society. What can be the positive power of media in our world shifting towards a real transparent focus on needs of citizens? Let's start design.
Moderated by Humberto Schwab, Director, Club of Amsterdam, Innovation Philosopher and the Thought Leaders
Laurence Desarzens, urban communicator, beatmap.com
Media & communication specialist for lifestyle companies
Paul F.M.J. Verschure, ICREA research professor, Technology Department, University Pompeu Fabra
Psychologist. Specialist for wheeled and flying robots, interactive spaces and avatars
Ricardo Baeza-Yates, Director, Yahoo! Research
Specialist for content and structure organization of a website and for blogs, vlogs and social networks
Rudy de Waele, Founder, M-trends.org
Wireless communication expert
Food Art
Source: food creation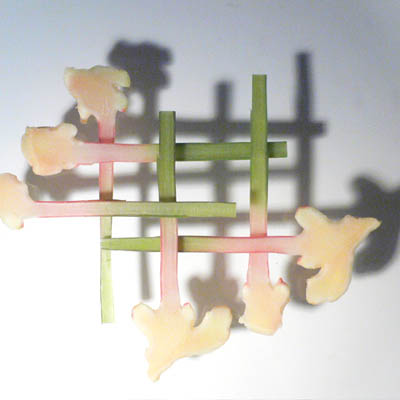 Ayako Suwa makes food art with unexpectedly tasteful results: "This
is a special kind of ginger form the Tokyo area. It naturally comes in
these colours." From her 'Stimulus and Relaxation' exhibition at
POINT gallery in Ebisu last year.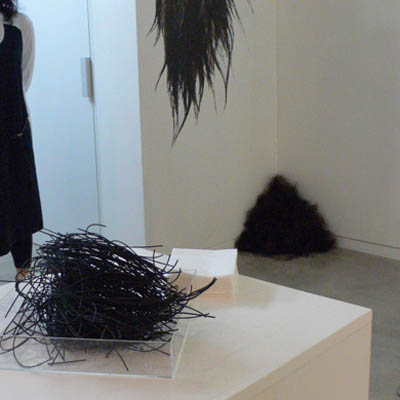 Hair food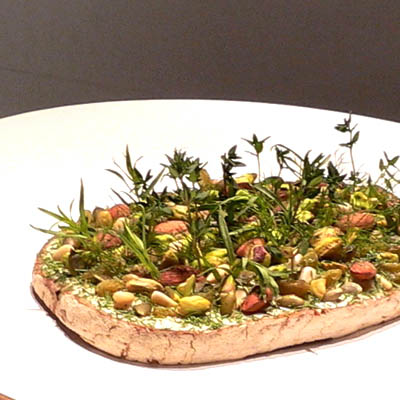 Utopia food
Agenda

Our Season Events for 2006/2007 are on Thursdays:
the future of Tourism
May 31, 2007, 18:30 – 21:15
Location: Info.nl, Sint Antoniesbreestraat 16, 1011 HB Amsterdam [Next to Nieuwmarkt]


SPECIAL SEASON EVENT
Taste of Diversity
June 28, 2007
Location: PricewaterhouseCoopers, Thomas R. Malthusstraat 5, 1066 JR Amsterdam [Near metro stop Henk Sneevlietweg]

This evening has two parts:
– The Conference: Registration: 18:30-19:00, Conference: 19:00-21:15

– The Cultural Market with food, drinks, music, dance etc from different Cultures and Continents. FREE entrance. 18:30-23:30


Club of Amsterdam Open Business Club