CONTENT

Welcome
Lead Article
Public perceptions of forestry and the forest-based bioeconomy in the European Union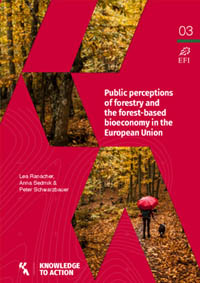 By Lea Ranacher, Anna Sedmik, Peter Schwarzbauer
The forest-based sector's contribution to a bioeconomy depends on policymakers, citizens and consumers, and how they perceive, accept and promote the forest-based value chain and its products and services.
In the past decade, several surveys looking at perceptions and attitudes towards forests, forestry and the forest-based sector have been carried out in different European countries. A new meta-study from the European Forest Institute now reviews and summarises current knowledge, providing a European-level perspective on public attitudes to four topic areas: forest ecosystem services, forestry and forest management, forest-based industry and wood and wood-based products.
The study team carried out a systematic literature review, focusing on peer-reviewed studies based on primary data. Analysis of those studies showed that:
Primarily, European citizens perceive forests to be beneficial for the climate, as a place of biodiversity and to experience nature and recreation in the forest.
Mixed forests and diversity of stands are preferred and perceived as being "more natural".
The economic role of forests, specifically as provider of raw materials and for generating regional income – central aspects in bioeconomy – was less recognised.
Forest management activities, especially clear cuts, the use of exotic tree species and the application of chemicals for productivity or pest measurement, receive little acceptance.
The public has a limited understanding of the activities related to forestry and the forest-based industry.
Wood and wood products have a positive image. Yet the positive impact of wood and wood-based products on climate change mitigation is questioned.
Sustainable wood sourcing (country and legal origin) is an important piece of product information. Yet consumers assign similar or even more importance to product quality and prices and little is known about the actual purchasing decisions of consumers.
European citizens are fond of forest-based sector innovation, despite having little awareness of them and few studies being available.
Respondents' characteristics, such as socio-demographics and psychographics (e.g. values, beliefs, attitudes), influence their perceptions of forestry and the forest-based bioeconomy.
The review further shows that there are no transnational studies that monitor public perception of forests in the European Union on a regular basis. The only exceptions are the Eurobarometer studies, which sometimes contain forestry related questions. As forests and their use is a very emotional topic for the general public, surveying these perceptions is recommended in the future to develop socially accepted forest policy and forest-based value chains.
Lea Ranacher, Anna Sedmik, Peter Schwarzbauer (2020).
Public perceptions of forestry and the forest-based bioeconomy in the European Union. Knowledge to Action 3. European Forest Institute.
https://doi.org/10.36333/k2a03
The study is published on 27 October and is freely downloadable.
Making bioeconomy circular: How far can circular economy principles be applied
to the bioeconomy?
The European Commission has adopted an ambitious new Circular Economy Package to help European businesses and consumers make the transition to a stronger and more circular economy where resources are used in a more sustainable way. At the same time, the bioeconomy has become a policy priority in Europe.
The concepts of circular economy and bioeconomy have similar targets, but none is fully part of the other nor embedded in the other. The Circular Economy proposal can be seen as an opportunity to link the circular and the bio-based economies.
The bioeconomy encompasses the production of renewable biological resources and the conversion of these resources and waste streams into value added products, such as food, feed, bio-based products and bioenergy. And the circular economy is presented as the economic space "where the value of products, materials and resources is maintained in the economy for as long as possible, and the generation of waste minimised". It is clear that the bioeconomy and circular economy have a common target and both concepts are crucial for a more sustainable and resource efficient world with a low carbon footprint.
EURACTIV organised this workshop to examine where the bioeconomy and circular economy connect, and how synergies can be further developed. Questions included:
– How can the bioeconomy contribute to the circular economy?
– How does circularity contribute to the bioeconomy?
– Will the bioeconomy promote further investment in environmental research, innovation and skills?
– What should be in the Commission communication on the update of the Bioeconomy Strategy?
>> Click here for more information about the event.
> Click here to check out our upcoming events.
Article 01
https://www.x.company/projects/makani/
regenerative agriculture
Solastalgia
The Future Now Show
picture
Shape the future now, where near-future impact counts and visions and strategies for preferred futures start. – Club of Amsterdam
Do we rise above global challenges? Or do we succumb to them? The Future Now Show explores how we can shape our future now – where near-future impact counts. We showcase strategies and solutions that create futures that work.
Every month we roam through current events, discoveries, and challenges – sparking discussion about the connection between today and the futures we're making – and what we need, from strategy to vision – to make the best ones.
Artikel 02
Why don't we all just use Geothermal Energy?
By Just Have a Think
Science tells us there's enough energy in the first 10 kilometres below our planet's surface to provide all our energy needs for millions of years. The Romans tapped into it for their hot water spas. Today, we all know it as Geothermal Energy. There's no carbon dioxide emissions and no air pollution with geothermal, and it's literally right there beneath our feet. So why isn't our entire planet powered by it?
News about the Future
Article 03

https://www.rega.ch/im-einsatz/rega-drohne?fbclid=IwAR0No4J9ljbAemPPQ3bGVr8dlvpd_mU6oAZITxXA6MvjgEPc71SAVsyCA5Y
Recommended Book
Article 04

The fastest drummer in the world is a cyborg | Big Think x Freethink
Climate Change Success Story
Futurist Portrait